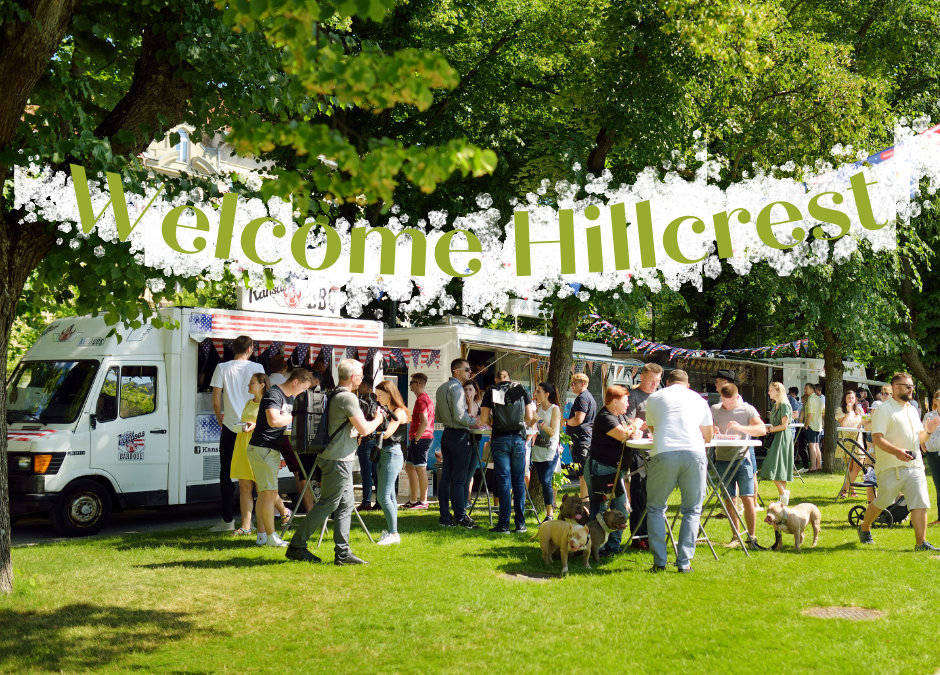 It's finally here, The first annual, Hillcrest Spring Fling.  This year the neighborhood event will be held in Owyhee Park, on May 14, 2022, from 12-4 PM.  All Hillcrest neighbors are invited and are welcome to bring their friends and family who would also enjoy the event.
Activities and Events
For the first annual event, we went all out to make it memorable, after all, Hillcrest is a one-of-a-kind community and deserves the best.
Food
There will be two food trucks at the event, The Rusty Dog, serving gourmet hot dogs, fries, and drinks and for the more mature, outdoor-loving pallet we have Smoked & Baked BBQ.  If you RSVPd you will get two free vouchers to sample the trucks per household and a free drink at the Registration booth (BBQ or Rusty Dog voucher for adults and Rusty dog for kids).  Still hungry? The trucks have lots of other goodies if you want to try more or get an extra plate for reasonable prices.  Click on the links above for more on their menus and prices.  Have a sweet tooth?  Don't worry, we have you covered!  There will be a cotton candy spinner spinning non-stop during the event and everyone is welcome to try one.
Photos
We are so fortunate to have a talented family photographer at the event. Not to mention her family is part of the Hillcrest Community. Jolyn Laney with Laney Photography will be there to capture this special day, but also to take family, couple, and friend photos over at her booth.  She'll have all the info so you can download and purchase a photo or two of you and your loved ones after the event.  So bring your matchy matchy shirts and best park clothes and don't forget to smile.
Music
Lauren and the Nostalgics will be playing from 12:30 – 3:30 their blend of pop/rock/blues/r&b covers to get you movin' and groovin'!!!  Bring your chair or blankets, and possibly an umbrella (it is Idaho after all), and sprawl out and enjoy the music.
Games
Grab your potato sack and hop over to the finish line for a chance to show off your skills to your neighbors and win some fun prizes from local companies.  We will have races at 1:30 PM and 3:30 PM an adult version (over 10 years old) and a kid version (under 10 years old).  There will also be a table with hula hoops and other fun and games.  
Prizes
We have some amazing sponsors at our event from the neighborhood and they will be raffling off prizes that you won't want to miss.  Make sure to stop by each of their tables to sign up for the raffle.  Raffle winners will be announced just before each Potatoe Sack Race.
Fun
You won't be able to miss the 50′ inflatable obstacle course, smack in the middle of the park.  There will be event staff there to help you or your kiddos through the course, and only two at a time, so there could be a line.  Also, don't miss the talented Andrea who will be offering face painting for the young and less young as well as a balloon twister, twisting up your favorite animals, and well, whatever strikes your fancy.  Need to relax, but still have a good time?  Check out the reading corner set up at The Library! at Hillcrest's tent.
Program
12 PM – Opening – Hillcrest Spring Fling – Get your green event band and register at the Welcome to Boise and Beyond tent.
12:30-3:30 PM – Lauren and the Nostalgics Band
1:30 – Raffle Winners Announced First Round
1:30 PM – Potato Sack Race kids
1:40 PM Potato Sack Race Adults
3:30 – Raffle Winners Announced Second Round
3:30 PM – Potato Sack Race Kids
3:40 PM Potato Sack Race Adults
4 PM – That's it, see you next year.
Sponsors
Check out our sponsor's tables for great info that is useful for this neighborhood. Sherwin Williams on Orchard, OneTrust Home Loans, Eco Tree & Shrub, the Library at Hillcrest, Welcome to Boise and Beyond, Idaho Websites, and The Hillcrest Neighborhood Association.