Winter is a time that buyers and sellers tend to put off buying and selling real estate until the holiday season is over and the warmer weather appears. However, this year it seems only the sellers took a few months off, while buyers frantically try and snap up anything as soon as it hits the market.
Once again it comes down to inventory. We've continued to see a surge in buyers in the area for the past year and with fewer and fewer homes for sale creating a major supply/demand issue and hence driving up prices. What does this mean for buyers and sellers? Let's examine the facts and trends and find out.
The above comparison shows just how dire the inventory situation is in both existing homes and new construction for sale this time of year. As we approach the new year we should start to see inventory increase, but most likely not to a healthy level of (six months of inventory) like we would like to see in a balanced market (or 5,000 homes for sale more or less). This means we will continue to see an increase in home prices into 2021 and most likely through Summer, perhaps Fall.
Here's a look at the Market Trends for all of Ada and Canyon Counties for existing homes over the past year. (Some of the numbers may slightly vary to the chart above due to the fact that manufactured homes were not counted above.)
Courtesy of KW Realty Boise Market Trends.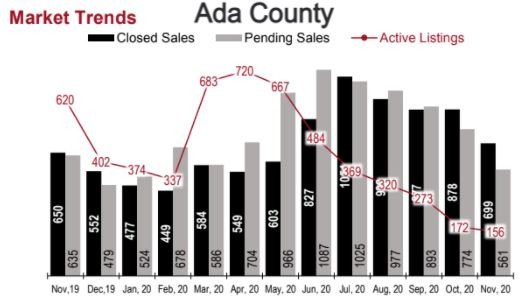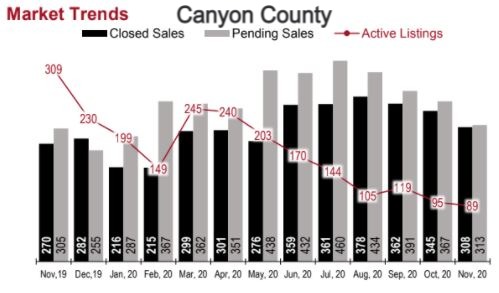 Should I sell now, or wait for Spring?
The question I hear the most from both buyers and sellers is, "Should I buy or sell now or wait for Spring?" The quick answer is, now. If you are considering selling and looking to maximize your home price, now is the time. With such low inventory selling a home, even in the midst of winter will make your home even more appealing as buyers are scrambling to find something.
For example, when I list a home I check to see what other comparable homes are on the market that same week to see how we compare. In November and December there were times that in Boise there were only 1-2 homes that were for sale that a prospective buyer with the same criteria and price range as my listing could consider. This means the home I'm listing will most likely sell quickly and for asking price, if not over.
For buyers, it can be a bit more complicated due to the low inventory and high demand, but statistically there are less people moving into the area in the middle of winter, so you have less buyer competition and more opportunity. Also, once you buy in a market that is going up then you can start building equity a lot quicker. With this said, buyers should be prepared that the right home can take time to find and have temporary housing lined up or a place to stay while shopping for their next home.
What can we expect in 2021?
With the pandemic still in full swing we can expect it to continue to influence the real estate market until the curve is flattened or disappears. With warmer weather and a decline in COVID numbers we may start to see more homes go on the market in both Ada and Canyon Counties which will help stabilize the market. However, Realtor.com, Forbes and list of others have put Boise on top 5 list of markets that will continue to grow in 2021.
The growth will come from neighboring states seeking refuge in Idaho's more "affordable" housing market and natural setting. After months of lock downs, quarantining, and working and schooling from home many are looking for a home that offers more bang for their buck and often Idaho fills that need.
Realtor.com estimates a 9.1% growth in 2021 over this years' 18% growth we've already witnessed. Home prices will continue to rise through the Spring and most likely through the Summer. Days on market may fluctuate as more homes become available to buy.
As a reminder, now is the time for those considering buying or selling a home to get their affairs in order. For buyers that means having their financing in place, making a backup plan for temporary housing, should it take longer than expected to purchase a home, and have a clear idea of exactly what home they are looking for before starting to shop. Home owners looking to sell should prepare that their home could sell quickly once on the market. Packing now before going on the market can save sellers a lot of time and stress once their home goes pending.
If you would like to know more specific details about the current real estate market in Ada or Canyon Counties please contact jennlouis@welcometoboiseandbeyond.com for more details. Click here to stay up to date on real estate trends for the area, visit local neighborhoods, take a home virtual tour, home buying and selling tips and more.
Jennifer Louis is the owner and operator of Welcome to Boise and Beyond, a full-service real estate company dedicated to those relocating to the area and locals looking to sell their home, and maximize value. Jennifer writes and produces with her team weekly updates on the real estate industry in Boise and the surrounding Treasure Valley. Her blog contains insights into some of Boise's best local businesses, places to visit and neighborhoods to discover. If you'd like to schedule a free consultation please call: (208) 509-9122 or via email.