As buyers in the Boise Metro area snap up what little housing inventory exists many are hopeful that Spring will bring an increase in homes for sale, but will it?
Traditionally, Spring is when the Boise Metro Area housing market really opens up. As temperatures rise and days are longer many homeowners on the cusp of selling start the preparations of getting their home ready to sell, but this year may not bring as many homes to the market as some may hope. Mainly due to the pandemic situation dragging on and the fear of moving in such uncertain times has made many put an indefinite hold on selling their home.
Yet, as sellers put the brakes on selling their homes, the Boise Metro area is seeing a huge influx of buyers moving to the area looking to escape crowded higher-priced cities for Boise's more affordable housing and outdoor draw. So what can we expect as we approach Spring? Pretty much the same as we've been seeing since Winter, low inventory, high demand and rapidly increasing pricing.
Here's a snapshot of the Boise Metro Market Trends in January this year compared to one year prior: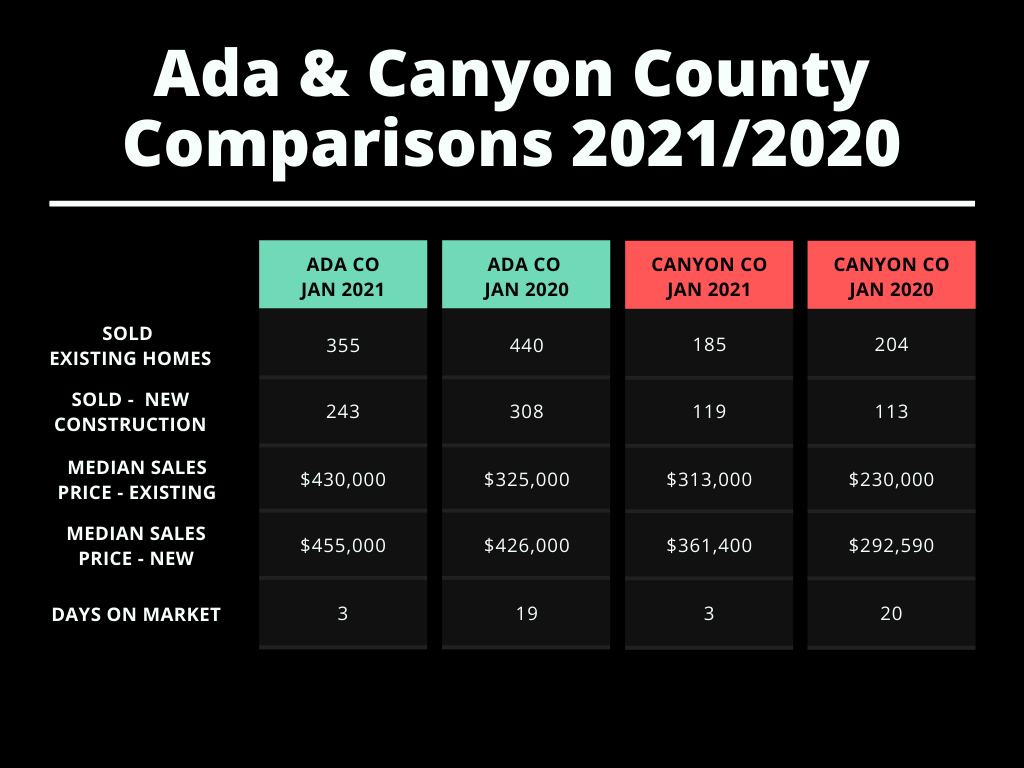 Home prices have risen in Ada County by over 20% and in Canyon County by 33% annually. Here are some other interesting trends we saw in January:
In Ada County of the 355 existing, single-family homes that sold in January 56% of them sold over the asking price, and 24% of those homes sold with cash financing. In Canyon County of the 185 existing, single-family homes that sold 56% sold over asking price and 23% sold with cash financing.
Boise's market and trends could be considered good news or bad news depending on your role in this market.  
For sellers, it's good, if they are ready to sell now while the market sizzles. We're seeing more homes for sale include terms in their listing such as "selling as-is", "seller to make no repairs", etc. Many buyers are agreeing to buy the home while removing their inspection contingency and also removing their appraisal contingency to make their offers more appealing. In the end, it seems price is the ultimate deciding factor. In homes that are priced under Fair Market Value, we can see up to 25 offers on a home and offers up to 30% over asking price. This is why it's imperative that sellers price their home correctly to draw this kind of interest on a home and ultimately get the best offer.
The above stats can be disheartening for buyers looking to purchase a home in the area, but the reality is that homes are out there, and with a good strategy, the right agent and patience, buyers do eventually get the right home. My blog article lays out proven tips for buyers looking to buy into this market. The trends are showing that while inventory remains low home prices will continue to rise making it a good time to invest in a home and start building equity. Additionally, interest rates remain incredibly low making rising home prices more affordable in the long-term. Since the majority of homes sold are still be financed via a lender it's a great time for buyers to see if they qualify for the low-interest rate and start their home search.
---
Here is the median price breakdown for single-family existing & new homes in the Treasure Valley for January 2021:
Boise: $432,750
Meridian: $433,000
Eagle: $746,442
Star: $460,000
Kuna: $430,000
Nampa: $343,000
Caldwell: $307,000
For more details on the market and trends in the Boise Metro Area please contact Boise Area Real Estate Expert, Jennifer Louis at (208) 509-9122 or jennlouis@welcometoboiseandbeyond.com