The past two months plus have been a whirlwind in Boise real estate.  With a growing number of buyers and a dwindling number of homes for sale, we've seen home prices shoot up to never-before-seen prices here in the Treasure Valley.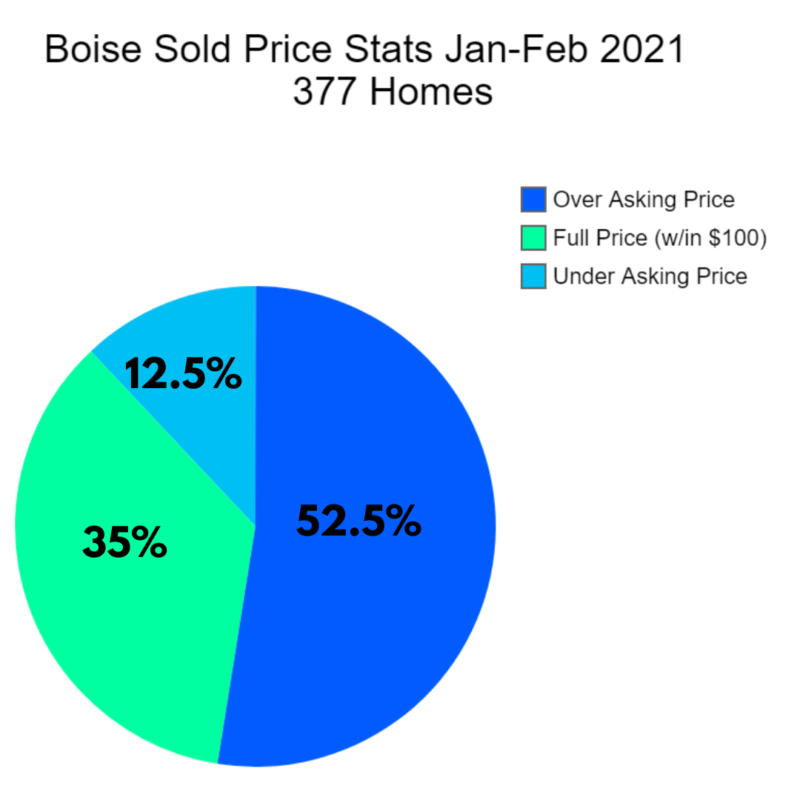 In Ada, the median price for a single-family home was $450,000 for home sales as of March 15th.  That's up nearly 29% from the same time period a year ago.  The city of Boise is also setting new records with the median price at $448,500 as of March 15th.  The surprising fact is that of the 377 homes that sold in January and February of this year,  52% of those homes sold at over the asking price, several of which sold at over $100,000 over list price.  Nearly 25% of the recent sales sold cash and 80% of these homes sold in six days or less.
Are We In A Housing Bubble?
With pricing going up so quickly one of the most common questions is: "Are we in a housing bubble?" The warning signs are there, but it's important to look at a few facts before assuming there is a  bubble and that it's about to burst:
Supply and Demand. The difference between today and the housing bubble we saw back in the mid-2000s is the drastic lack of inventory.  A healthy market, in favor of neither the buyer or seller, should have six months of inventory.  In Ada County, we have about a 1.5 week supply or as of 3/15/21 290 home for sale.  Pretty dire indeed.
According to Mark Fleming, First American's Chief Economist what we're seeing in home prices today is nothing like what we saw in the mid-2000s.  He said,   "During the housing bubble, rapid house price appreciation was not entirely supported by economic fundamentals, but in today's housing market, nominal  house price appreciation has been driven by a historic shortage of supply relative to demand and rate-driven surge in house-buying power.  May find it hard to believe, but housing is actually undervalued in most markets and the gap between house-buying and sale prices indicates there's room for further house price growth in the months to come." 
Housing Demand. The current demand for housing is spurred on by many reasons such as the low mortgage interest rates, the pandemic forcing many to look for housing that is better suited to a work-from-home and learn-from-home environment, and don't forget all those millennials who are now reaching the age to invest in their first home.
Reduced Risk of Foreclosure. Back in the mid-2000s many homeowners, unfortunately, were cashing out on their home's equity or were locked into negative interest mortgage loans creating negative equity.  This means many homeowners back then owed more than their house was worth.  Today's situation is just the opposite, according to  an article on keepingcurrentmatters.com  "Cash-out refinance volume over the last three years is less than a third of what it was compared to the three years before the crash. More than 38% of homeowners have paid off their mortgage "free and clear," and another 18.7% have paid off over 50% of their mortgage."  This means the current market is much more stable with little risk of foreclosure as we saw in previous bubbles.
So if we're not in a bubble is this a good time to buy a home?  Armed with the fact that the housing market in the Boise Metro Area is very strong and continuing to go up, not to mention historically low-interest rates, now is a great time to purchase a home and start building equity, but that leaves the question:
As a buyer, how can you be prepared to buy in this market?
Be Realistic.  In this market, it may be necessary to compromise on some of the ideal features you would like in a home.  Can you overlook the old carpet, outdated features, and budget in slowing remodeling the home yourself to your own taste?  Could you live with a two-car garage, over a three-car?  Compromising can save thousands and more importantly get you in a house in one of the greatest cities in the US now.
Broaden your search area.  Homes near the Greenbelt and downtown go for a premium, as do newly built homes or homes with a large property.  Consider moving to neighborhoods that are less popular (now) with the knowledge that they may soon be a hot neighborhood to live in.  Check out homes in Nampa and Caldwell as these are great alternatives to get more houses for less money just 20-30minutes from Boise.
Financing.  It is imperative that you have your financing in place BEFORE starting the home buying process.  A local lender, that understands this market and your options is the best place to start.  Have earnest money set aside as well as closing costs before you start the process, so you know how much you can afford and put your best offer forward.  If you are planning on using all cash to pay for a home have your proof of funds letter ready so this can be submitted with an offer, making your offer look reliable.
Put your best offer out there.  Remember, turn-key homes, or competitively priced homes in desirable areas attract multiple buyers.  To get your offer noticed, put together the best offer possible and remember most homes are selling at full-price or over asking price.  "Good Deals" aren't really happening right now.  Put your best number and terms out there that you can comfortably live with.  The right home always comes around so be patient that it may take a few tries before finding the right home, but have faith it's out there.
What's the best way to sell a home in the current market?
If you've been reading the news and just finished this article it may seem rather simple to sell a home in today's market.  Although most homes are selling in a record short period of time, it's still imperative to price your home correctly and market it appropriately.  Remember, Idaho is a non-disclosure state meaning the sales price of homes sold is not public record, so those Zestimates and other online resources are often off by thousands of dollars.  Have a real estate professional who has experience selling in your neighborhood help you find the right starting price and prepare your home for the market.  Starting out right when selling your home can make the entire process less stressful and in almost all cases more profitable than trying to sell on your own or hiring the wrong person to sell your home.
Here is the median price breakdown for single-family existing & new homes in Ada and Canyon County for February 2021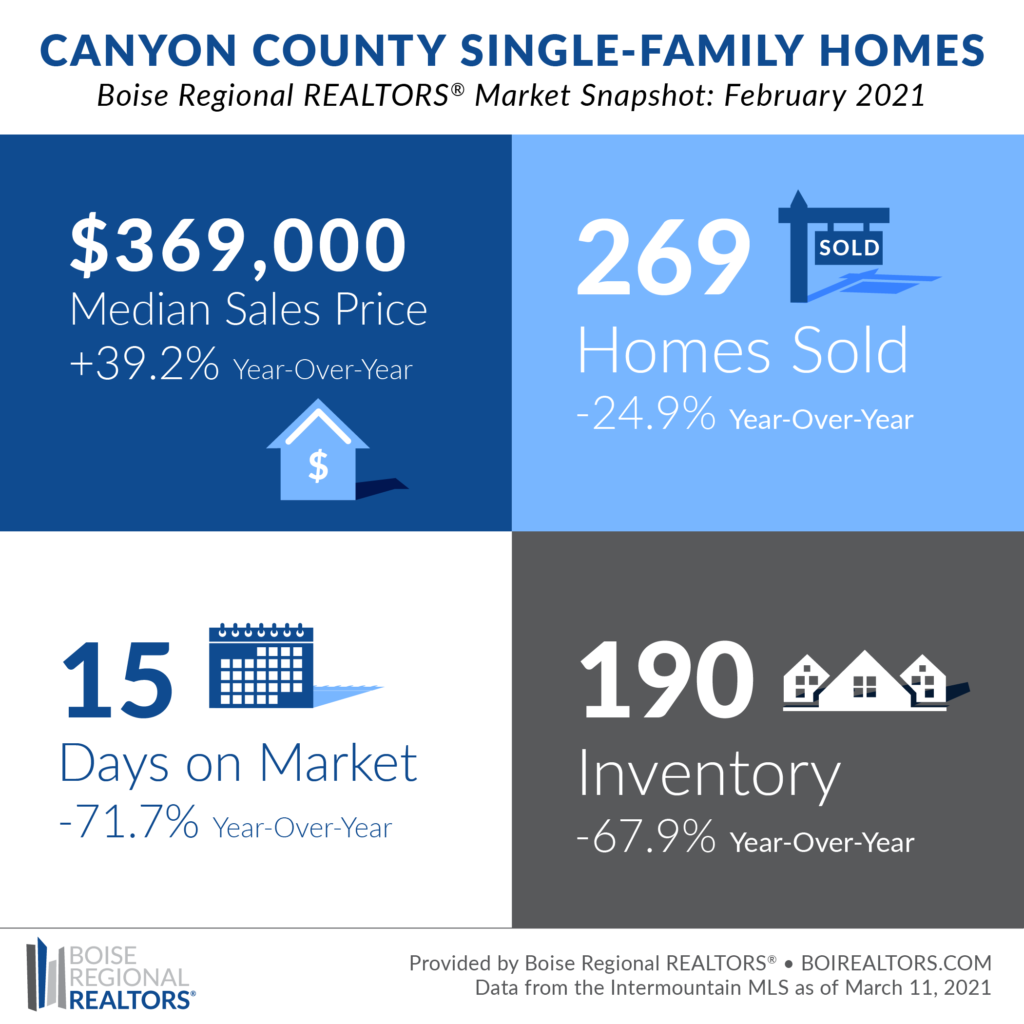 Median Sold Price
Nampa: $360,000
Caldwell: $350,000
Middleton: $365,000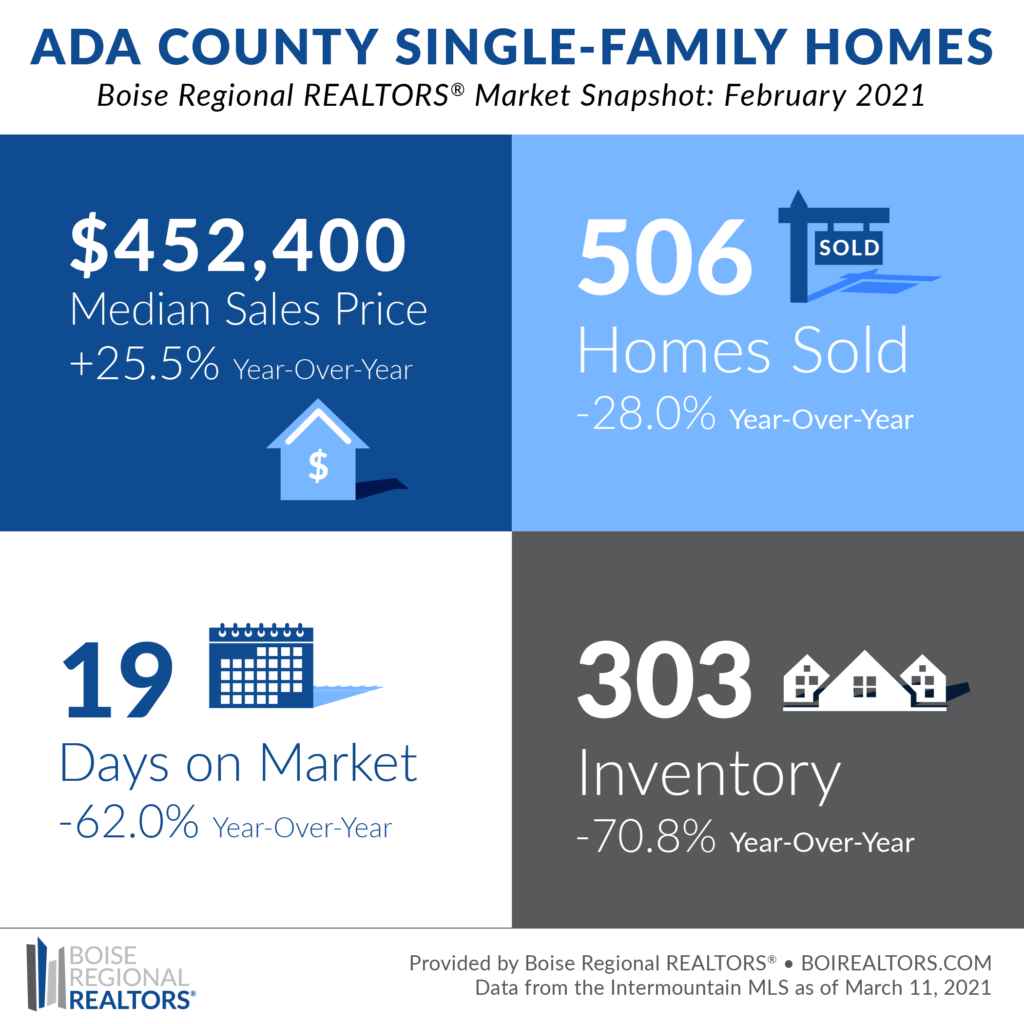 Median Sold Price
Boise $450,000
Meridian: $442,772
Eagle : $7706,000
Star:  $482,450
Kuna: $400,490