The year 2023 has unfolded as an unusual chapter in the real estate world, catching many off guard. Nevertheless, the market has demonstrated remarkable resilience, outperforming expectations despite the slowdown experienced in 2022.  Here are the Boise real estate market trends for October 2023.
The Facts Year-to-Date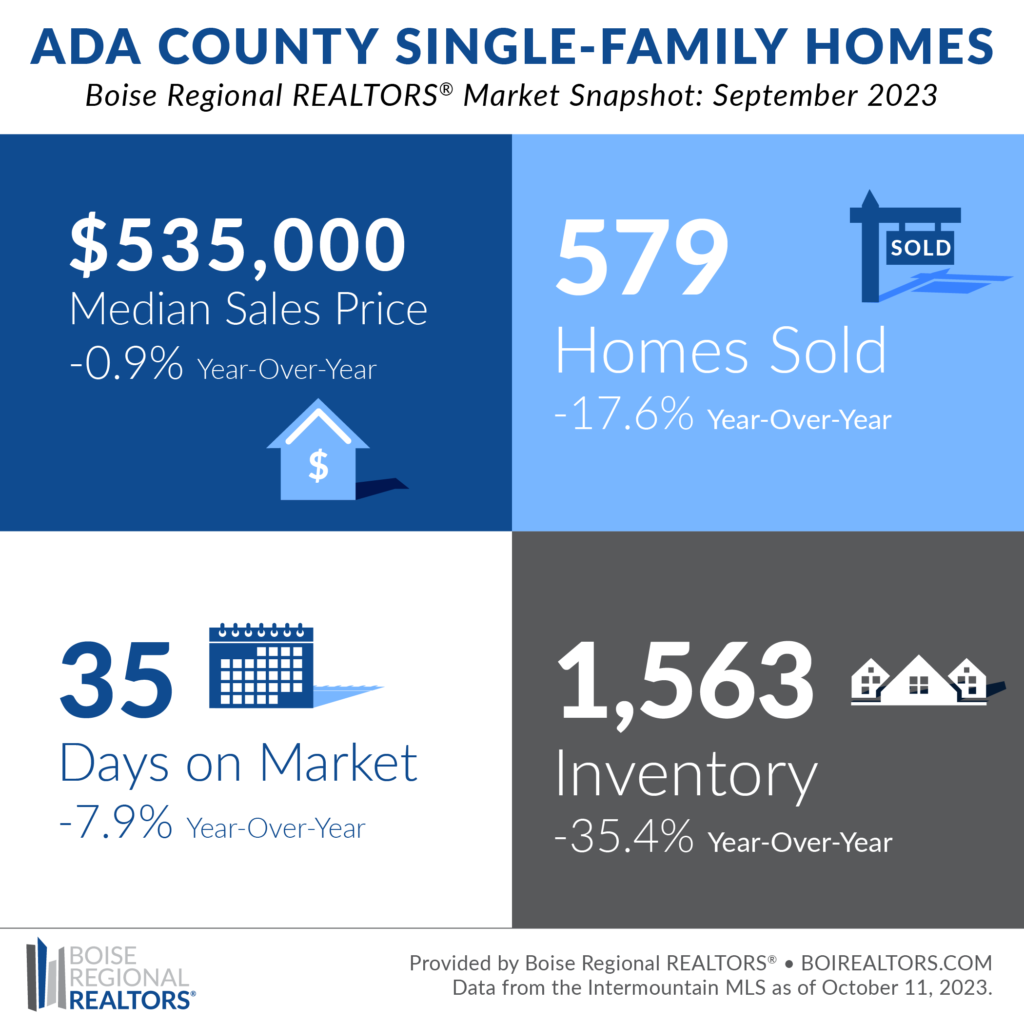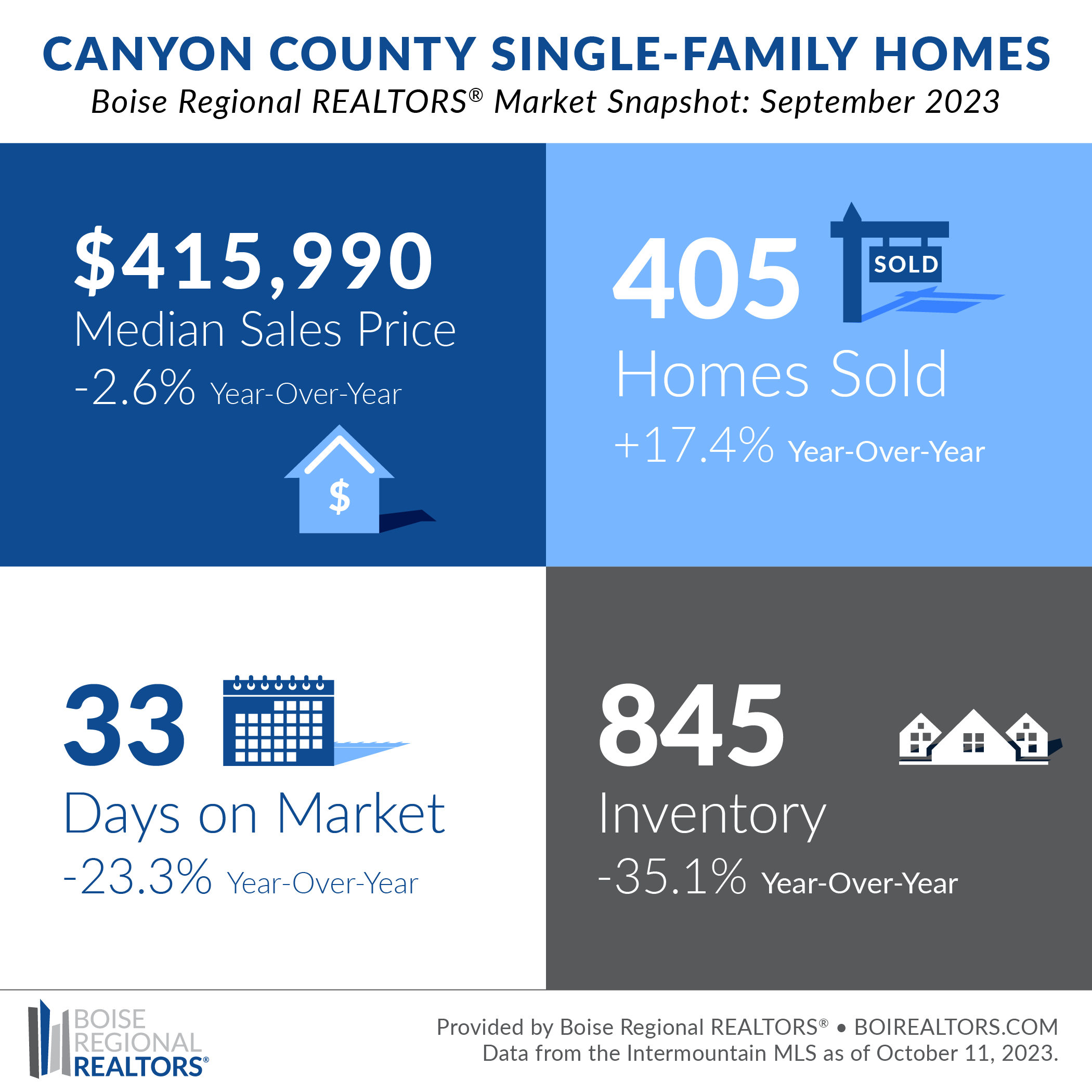 Ada County's Surprising Turnaround
Within Ada County, encompassing cities like Boise, Meridian, Eagle, Star, and Kuna, the real estate landscape has witnessed an unexpected resurgence. Home prices have rebounded, now hovering at levels nearly identical to those of a year ago. This unforeseen stability in home values has left numerous individuals, including both buyers and sellers, as well as some real estate experts, pondering the direction of the market.
Shifting Inventory Dynamics
As of September 2023, the inventory of existing homes available for purchase stands at approximately 1,560, a significant decline from nearly 2,400 homes during the same period in the previous year. This sharp reduction in inventory is a key factor in maintaining home prices. The median price for single-family homes in Ada County currently sits at $535,000, marking a .9% decrease from 2022. In Canyon County, the median price is $416,000 down 2.6% from 2022.  However, it's important to note that the year is not yet over, and market conditions could continue to evolve.
Here  are two interesting market stat sheets created by the Boise Regional Realtors for September 2023.

Here is a chart for Ada County and Canyon County's market statistics compared to the same time last year:
Market-Report-September-2023-Ada-County
Market-Report-September-2023-Canyon-County
An Active Fall Season
This fall season has witnessed a surge in real estate activity, with an influx of out-of-state individuals considering relocation to Boise before the arrival of the holiday season and winter weather. Notably, despite mortgage rates hovering around 8%, the demand for homes has remained surprisingly robust. This could be attributed to homeowners across the nation having accumulated more equity in their homes than in the past, prompting them to cash out and make the move.
Clearing Up Misconceptions
Contrary to some misconceptions, homes priced correctly—within the value range of recently sold, comparable homes in their respective areas—are selling swiftly. In September in Ada Co., the average days on the market dwindled to 30, a notable reduction of about 13% from over 30 days in the previous year. In certain instances, bidding wars have erupted, resulting in homes selling above their asking prices. This may perplex new buyers who assume that offering below the asking price is the new norm.
Year-End Projections
As we approach the year's end, the market is anticipated to remain relatively stable, with home prices holding firm. The recent uptick in mortgage interest rates may lead to a decrease in the number of homebuyers. Moreover, as the holiday season approaches, fewer homes are expected to be available on the market, which should help maintain a balanced supply and demand scenario. If more homes do surface for sale, this could present a favorable window of opportunity for buyers, with less competition in the market.
It's imperative to talk to a real estate professional who understands the market you are buying and selling in to truly understand the best timing to sell and buy.  There are a lot of opinions out there on the Internet, or even trusted friends, colleagues, and family, but unless it's coming from someone with the pulse on the market you are dealing in, you might be getting the wrong data and that could potentially cost you thousands.  Set an appointment today to understand the market trends in Boise and the surrounding Treasure Valley.
Buyer Opportunities
That said, opportunities do still exist for buyers. Homes that have lingered on the market for over 21 days and remain vacant may be more inclined to negotiate on price. Having a seasoned agent like Jennifer Louis, a real estate and relocation expert specializing in Boise and the Treasure Valley, is invaluable for understanding when and how to negotiate effectively in the current market.
With rent prices going up local buyers should seriously consider buying a home versus renting.  There are places in the US where it makes more sense to rent than to buy, but the Treasure Valley, unfortunately, has limited housing and has forced rent prices up.  For first-time home buyers Idaho has some great options to assist with down payment and closing costs don't forget, even though the market is picking up, you can still negotiate with the seller to have them help with closing costs or even buying down the interest rate to get you a lower monthly payment. Also, it was just recently announced that those who qualify for FHA loans can save thousands over the course of their loan.  I've just helped several first-time home buyers get fantastic deals on their homes in the Valley and are paying close to if not less than what they were renting for.
Talk to an Expert
Whether you are buying or selling consult first with a professional that understands Boise real estate market trends and the best way to succeed.  Schedule a 30-minute no-obligation consultation with Jennifer Louis, Boise Metro Area Real Estate Expert at (208) 509-9122 or jenn@boiseandbeyondrealty.com.