Welcome to Boise and Beyond's blog series focusing on living like a local in Idaho.  If you are one of the many who have recently relocated to Boise and the Treasure Valley here are some of the best ways to fit in and acclimate to your new home.
Discovering Boise's Coffee Scene – Best Cafes and Brews
Whether you're a Boise local, a weekend explorer, or a long-time resident, there's something undeniably alluring about the coffee culture in the City of Trees. While it might not rival Seattle's coffee empire, Boise is making its mark as a fantastic place to savor your next cup of Joe, with an ever-growing number of delightful coffee shops throughout the Treasure Valley. Let's dive into some of the Best Boise coffee spots that are keeping Boise's caffeine enthusiasts buzzing.
Primal Coffee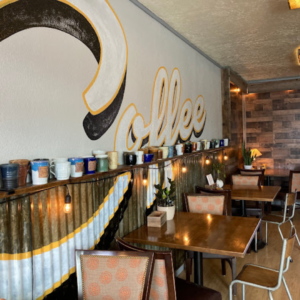 Tucked away snugly on The Bench in Boise, Primal Coffee is a cozy, intimate coffee haven. The moment you step inside, you're enveloped in a friendly, chill vibe that sets the perfect tone for your coffee experience.  It's common to hear the baristas welcome you by name and know your favorite beverage before you order.  Serving pastries and goodies from the popular Gastons Bakery as well as some other treats makes it a well-rounded place for a meet-up or to catch a bit before work if you live in the area.  The coffee is so good and you can tell the owner really cares about the quality of each brew and what goes into his customer's cups.  If you are on the Bench it's worth the stop.
If you haven't checked it out, I highly recommend it. Primal Coffee:  20 N Latah, Boise, ID 83705
Sunshine Spice Cafe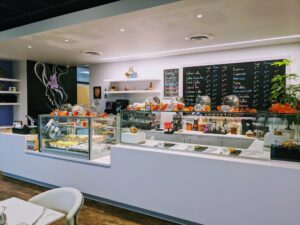 This is another one of the local Boise dining spots you may not know about, Sunshine Spice Café.  One of my good friends and long-time clients, Lisa loves to try new spots.  We try and meet monthly to check out a new coffee spot and this was her pick.  I never noticed it because of its location in a strip mall off of Fairview in NW Boise, but oh man, I wish I had discovered it before.  It's owned by four sisters from Afghanistan and it highlights Middle Eastern baked treats with an American/European twist. They are so friendly when you walk in and the café is pleasantly decorated with paintings from local artists available for purchase.  The Turkish coffee is delightful and strong, and if you are looking for a little spice in your coffee the Safron Latté is worth the trip alone.  Don't miss this unique, one-of-a-kind café.
Sunshine Spice Café is so good that there was a line out the door when we were leaving and they were recently featured on the Food Network show, The Next Diners, Drive-Ins, and Dives last month.  You can try it out yourself here, Sunshine Spice Café and Bakery: 6911 W Fairview, Boise, ID 83704
Push and Pour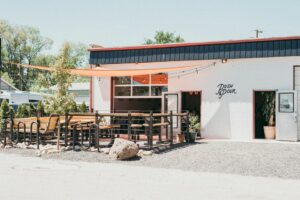 Boasting not one but two fantastic and dog-friendly locations in Boise, Push and Pour offers a unique warehouse ambiance that instantly puts you at ease. Plus, their avocado toast is the stuff of legends, featuring homemade sourdough bread and what feels like an entire orchard of avocados generously spread on top.  I love both locations for different reasons.  The location on the Bench features loads of outdoor seating and something for everyone if coffee isn't their thing.  The Garden City location is just a few steps away from Quinns Pond and the Surf Wave part of the Whitewater Park experience.  Bring your dog inside or sit outside on their patios, but either way just a great overall experience and worth the trip.
They have several great locations in Boise.  Push and Pour is located at 214 E 34th St, Garden City, ID 83714, 501 S Ash St, Boise, ID 83702, and 13 S Latah St, Boise, ID 83705
Form and Function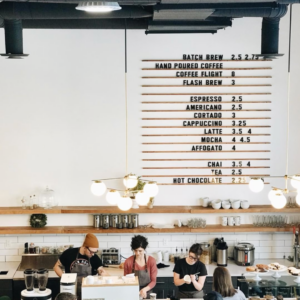 Nestled in the heart of downtown Boise, Form and Function offers a modern, loft-inspired ambiance that's bound to get your creative juices flowing. As coffee roasters, they take their craft seriously, and their skilled baristas brew up some of the city's best coffee. With ample seating and a pleasant atmosphere, it's an ideal spot to catch up with friends or get some work done.
Here is more about this trendy coffee spot:  Form and Function located at 511 W Broad St, Boise, ID 83702
Alchemist Coffee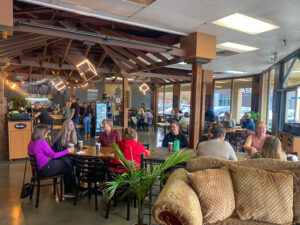 Known for its amazing atmosphere and laid-back vibe, Alchemist Coffee is a local favorite. And, of course, they deliver delicious coffee that's bound to make you a regular.
They have two great locations both with easy access and ample parking.  Check out Alchemist Coffee located at 10650 W Overland Rd, Boise, ID 83709, and 2701 W Stewart Ave, Boise, ID 83702.
Boise's coffee scene is continually evolving, and these popular spots are just a glimpse of the caffeinated treasures you can discover here. Whether you're seeking a quiet moment for yourself or a lively gathering with friends, Boise's best coffee shops have something special brewing for everyone. Don't miss out on this vibrant and growing coffee culture – come, explore, and sip your way through the City of Trees!
Don't let the Fall and Winter months keep you inside, there are so many great places to explore in Boise and the surrounding Treasure Valley.  Looking to discover more about Boise Metro Area?  Follow this blog or set up your personal consultation with Jennifer Louis, Boise Metro Real Estate Expert, and local relocation guide.  (208) 509-9122 or jennlouis@welcometoboiseandbeyond.com