Welcome to Boise and Beyond's blog series focusing on living like a local in Idaho.  If you are one of the many who have recently relocated to Boise and the Treasure Valley here are some of the best ways to fit in and acclimate to your new home.
Discovering Boise's Winter Scene
If you haven't yet experienced the colder months in Boise, you really should. Winter in the Treasure Valley stands out from most other cities in the US, mainly due to its mild weather, while offering a plethora of enjoyable winter activities. With only a fraction of annual snowfall and consistently sunny skies, it's easy to stay active throughout the winter season. Here are some of the best activities to partake in this winter in Boise and the surrounding Treasure Valley.
Winter Markets in Boise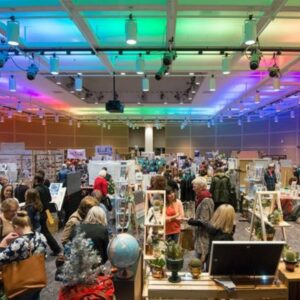 Boise is renowned for its support of local businesses and hosts several outdoor markets during the warmer months. Even in winter, you can still experience these markets at two different locations.
The Wintry Market is situated at the Boise Centre in Downtown Boise (850 W Front St, Boise, ID 83702) from November 17th to 18th. This indoor event showcases the creations of local artists, craftsmen, and vendors, featuring over 175 participants. This year, they have expanded to include artists from Arizona, Montana, Oregon, and Washington, offering unique goods and crafts at affordable prices.
Boise Farmers Market, one of the most popular weekend events all year long in Downtown Boise, moves indoors during winter. You can purchase produce and goods from local farmers and vendors on Saturdays from 9 AM to 1 PM, from November 4th to December 23rd. They will be at two different locations; click here for details and a map to the markets.
Sledding/Hiking/Tubing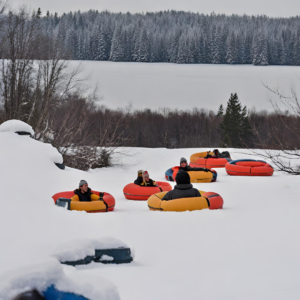 While snow doesn't stick around all winter in Boise, when it does, it creates fantastic opportunities for outdoor fun. Here are a few of my favorite places for sledding and hiking:
Camelback Park in Boise's Northend transforms into a sledding adventure when snow arrives. At the beginning of winter, preparations are made by attaching hay bales to many trees, ensuring safe sledding. Hike up the hill and enjoy tubing or sledding down, all while taking in some of the most breathtaking views of Boise. Even without snow, Camelback Park is a great place for hiking, offering ample hiking and running trails with extraordinary valley views.
Eagle Island State Park, hosted by Gateway Parks, opens its popular tubing hill from November to March every year. There is an entrance fee, and additional charges apply for activities. The park provides food, drinks, and a firepit at the base for spectators.
Bogus Basin, a non-profit winter park only 16 miles from Boise, offers a wide range of winter activities. It's an ideal spot for a half-day or full-day trip to enjoy the snow. You can explore a tubing hill or purchase a pass to take a chairlift and ski or snowboard down any of the 90 runs on the mountain. The views are breathtaking, and you'll find various spots for food and drink as well as indoor areas to warm up.
Soak in Idaho's Hot Springs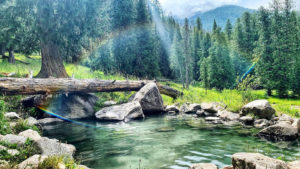 Idaho is literally covered with hot springs waiting to be discovered and enjoyed. You can pick up a guidebook or visit a website to find many springs you can hike to during the day or twilight hours. Some are privately maintained and family-friendly just outside Boise. Here are two of my personal favorites:
The Springs in Idaho City, are located just 45 minutes northeast of Boise near the historic mining town of Idaho City. Here, you can enjoy a spa-like experience with a soak in their natural hot spring pool while listening to local musicians or indulging in local cuisine. You can also rent a private pool or get a massage. Kids are welcome on Saturdays and Sundays, but reservations are required.
Gold Fork Hot Springs, north of Boise on the route heading towards McCall, is situated in the town of Donnelly in the foothills of the North Fork Range. They offer multiple pools at different depths and temperatures, making it an excellent soak for the whole family, from young to old. Please note they are closed on holidays and Tuesdays, and cash is the only accepted payment method. It's advisable to call ahead to ensure they are open and have ample space.
Boise's Winter Gardens and Parks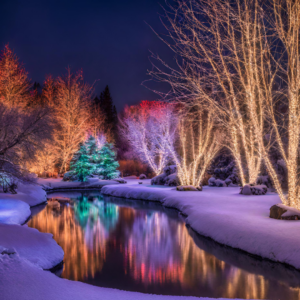 The Treasure Valley is brimming with beautiful parks that come alive in winter. There are several private gardens and parks that are a must-visit in winter, as well as places to play, run, or build a snowman during the day. Here are a few of my top recommendations:
The Idaho Botanical Gardens light up with their Winter Garden aGlow from November 23rd to December 31st. Here, you can stroll through paths adorned with twinkling lights and explore a winter wonderland. They offer food and warm drinks, such as hot chocolate, or you can check out an adult beverage at the Snow Globe Bar. Additionally, they feature a Gingerbread Village and have numerous fire pits scattered throughout the gardens.
Edwards Greenhouse is one of the best places to escape the cold and still feel like you're outdoors throughout the winter. The thermally heated historic greenhouses in NW Boise provide a warm and tropical environment, allowing you to shed your coat and immerse yourself in the beauty of plants and natural aromas. You can bring your lunch and enjoy it under their gazebo. You can also partake in yoga classes or potting classes in their flower shop. Don't forget their kids' pop-up park in February, where an entire greenhouse is cleared and transformed into an indoor playground and picnic area.
Ann Morrison Park is an excellent public park for letting your dog play on Dog Island and run in the snow, or you can head to one of the many grassy areas and build a snowman. Located on the Boise Greenbelt, it's an ideal place to soak in some sunshine and enjoy the winter ambiance.
Go to the Movies, Boise Style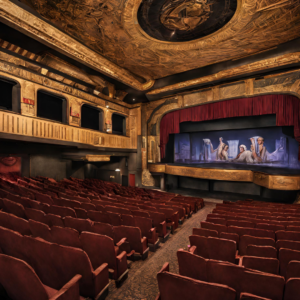 If you need a break from the cold but still want to get out, winter is a great time to visit some of Boise's coolest cinemas.
The Flicks, located in downtown Boise, is a one-of-a-kind cinema for movie lovers. They feature independent, foreign, art films, and some of the best Hollywood movies on their four screens. Additionally, they have a café serving local fare, where you can grab a snack, dinner, or enjoy wine and beer before or during your film.
The Egyptian Theatre is a historical gem in Boise that you shouldn't miss. During the colder months, they showcase seasonal movies like "Love Actually" and other past blockbusters. Be sure to check their calendar for live performances, including the Nutcracker and popular comedians and musicians.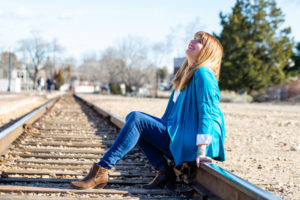 Don't let the Fall and Winter months keep you inside, there are so many great places to explore in Boise and the surrounding Treasure Valley.  Looking to discover more about Boise Metro Area?  Follow this blog or set up your personal consultation with Jennifer Louis, Boise Metro Real Estate Expert, and local relocation guide.  (208) 509-9122 or jennlouis@welcometoboiseandbeyond.com