This is looking to be a very bumpy ride in real estate in the Treasure Valley in 2023.  With buyers out again shopping and sellers who held off selling last year getting their homes on the market we are seeing and can expect more activity in 2023 than 2022.  However, the Fed has made a few announcements that may make the real estate roller coaster a bit bumpier than anticipated.  Here's a look at the Boise Metro market stats and trends which include what has happened so far this year and what we can expect as the year progresses.
The Facts Year-to-Date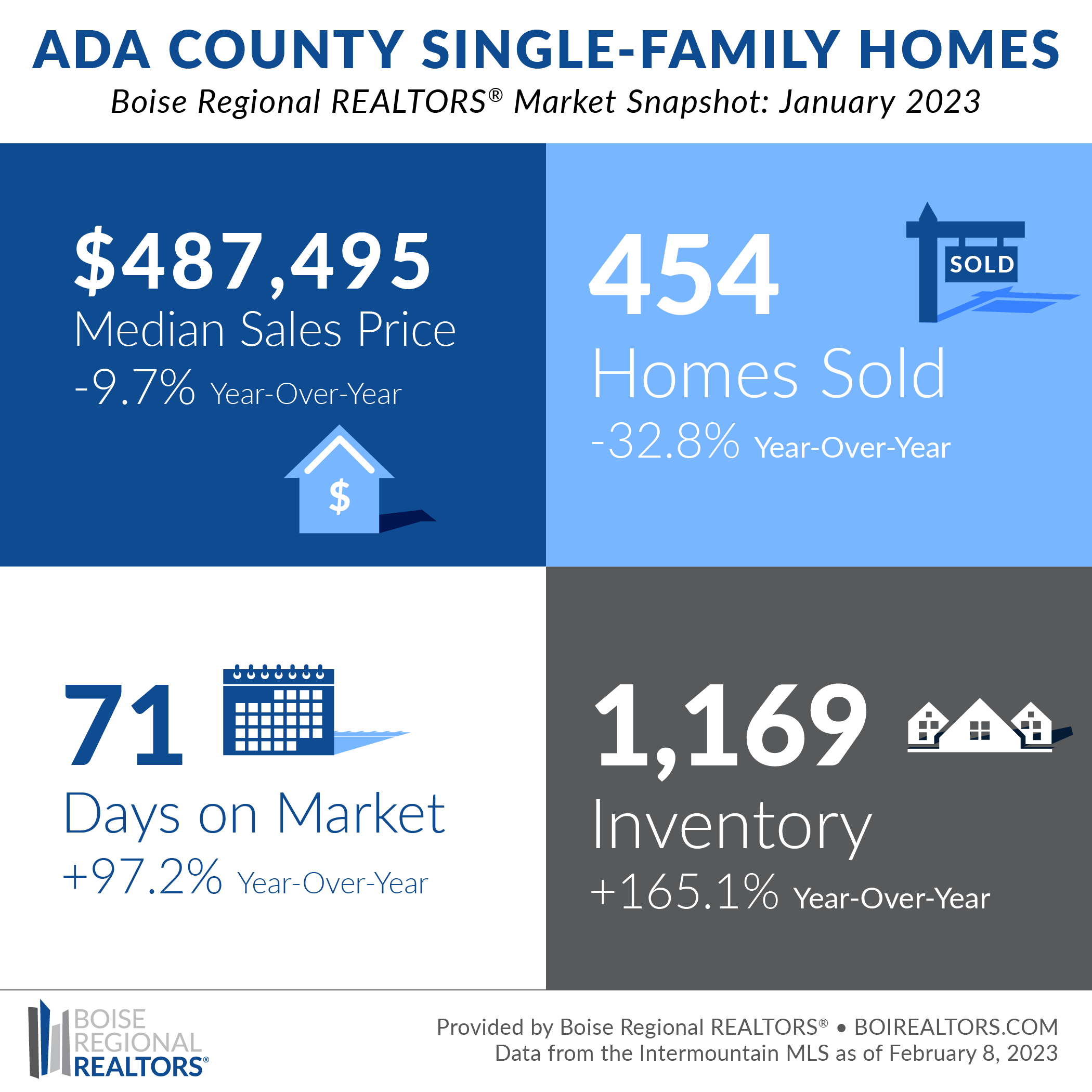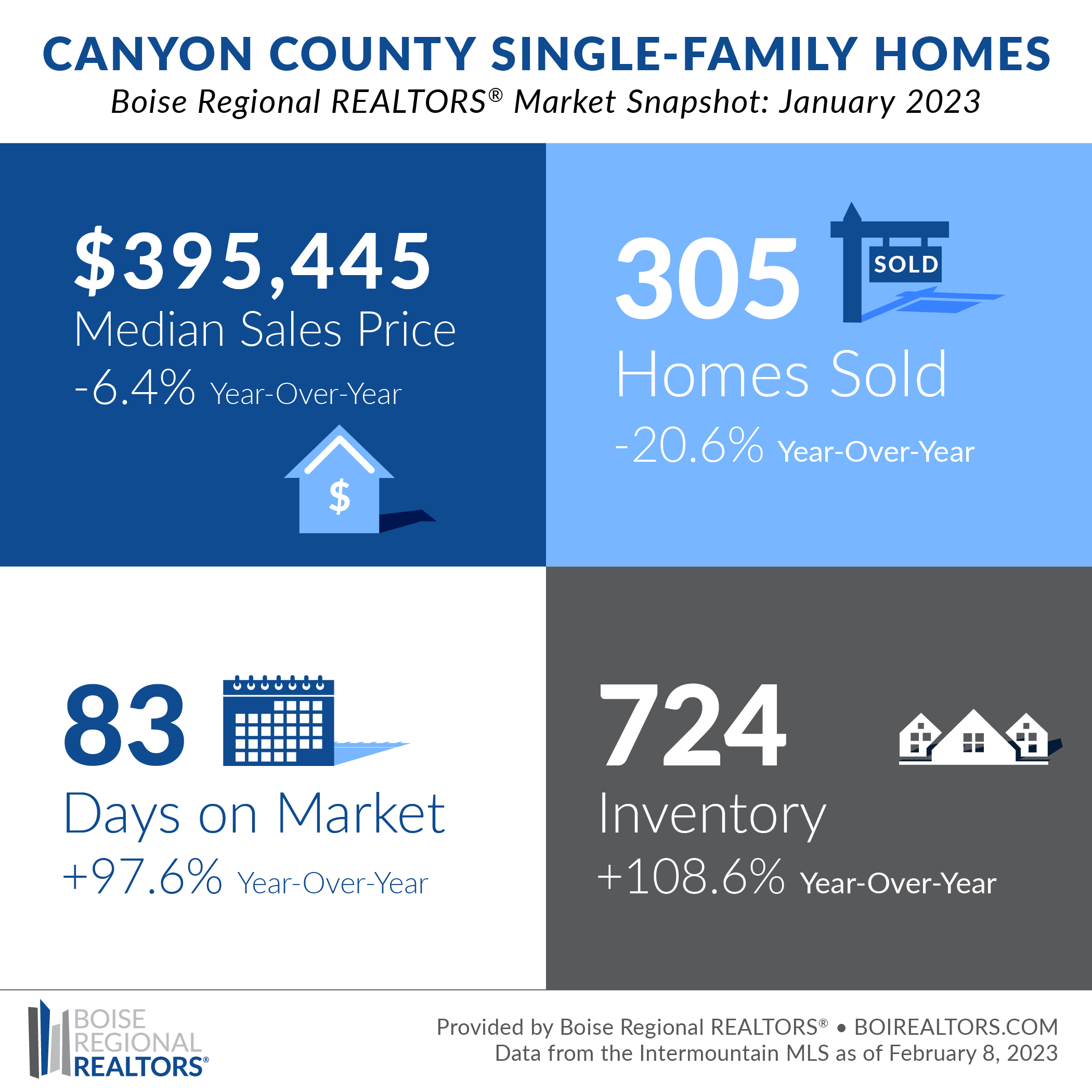 The data put together by the Boise Regional Realtors in January 2023 may paint a grim picture of what is happening in real estate, however, these numbers can be explained.  January traditionally is a slower month in real estate.   The data shows that home sales in Ada County were down 32% from the previous year, however, it's important to remember homes that close in January, were often viewed in November or December.  As interest rates were still over 6% and the holidays were in full swing many buyers hesitate to home shop during those months.  Not to mention it was an exceptionally cold holiday season with flights getting delayed across the country, many out-of-state buyers put off their holiday travels and which included looking at homes in the Treasure Valley.  The data also shows that inventory is up by 165% in Ada County and 108% in Canyon County compared to a year ago and this is due to the fact that homes are sitting on average more than double what they were from last year.  With more homes sitting on the market, and fewer buyers out shopping, inventory increased dramatically and this flowed over into January of 2023.
The median price of homes in January 2023 was $487,000, down by 9.7% from the previous year.  In Canyon County, the median price was $395,000, a 6.4% decrease from January before.  These declines in home values have alarmed many homeowners, with most having the concept that their homes have gone down by over 20%, but the facts show it's actually quite a bit less.  One reason many have the conception their home prices have gone down by 20%+ is Zillow's Zestimates.  Since Idaho is a non-disclosure state and sales prices are not public Zestimates in Idaho are way off.  Zillow then plugs in whatever list price they can find in the area to create an algorithm of a general home value range, however without accurate comps, their numbers are WAY OFF.  Read this article to understand how to use Zillow accurately in Idaho.  Considering how much the market shifted last year home prices didn't actually come down as far as anticipated.  Especially when you consider that home prices in Ada County went up by 23% in 2021 and 26% in Canyon County.  However, in 2022 the overall value of homes in Ada County increased by just under 11%, so homes in January of this year are just about where they were one year ago.  In Canyon County in 2022 homes increased in value by 6.3%, so once again we see 2023, January market value at almost exactly where it was the previous year.   It's not as dire as it seems.
Here is a chart for Ada County showing if you bought a home in previous years, the potential amount of equity you have in your home today, even with the current shifted market: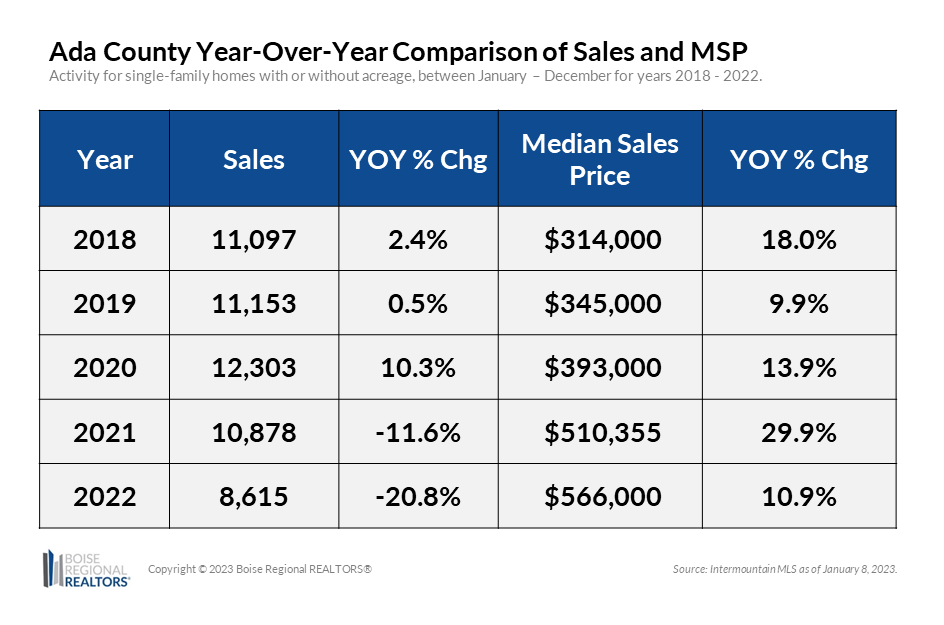 This chart demonstrates that home prices have continually gone up over the past five years.  Also, home prices did go up in 2022 by 10% compared to the previous year, however, the median price for January mentioned above is only taking into account the median price for homes sold in January 2023.  We can expect that we lost a percentage of our value increase, but still substantially higher than when the pandemic started.  There's also one other key factor that will impact real estate in the Boise Metro Area this year and for the years that follow, people are still moving to Boise.  It may not be the "gold rush" we saw pre-pandemic and during the last couple years, but Boise remains a desirable place to move to.  For one, the median home price is under $500,000.  Compare this to neighboring States and Cities like California, Seattle, Portland, Denver, etc. and you can see Boise is still quite affordable to those who can sell higher and buy lower here.  Not to mention compared to other major cities, Boise still has relatively low crime, less traffic and the great outdoors continues to draw out-of-staters to the land of potatoes.  The out-of-state buyers will keep Boise's real estate market moving and it's estimated that about 15,000 people from California alone will be moving to the Boise area this year.   
Should I Sell/Buy Now or Wait?
If you are looking to sell your home, now is still a great time.  Buyers who held off buying in 2022 are back out on the market shopping.  It's taking longer than in the past because they have a bit more to choose from, and there is still uncertainty about where the market is heading buyers are more hesitant to pull the trigger, but they are out there.  My last two listings had over forty showings within the first 7 days and one of them received multiple offers going over the asking price.  Homes priced competitively and that show well get a lot of attention.  For each home, I recently listed I had to have them pack and clear out a lot of personal items and furniture, and have the home staged, partially staged, or virtually staged.  The homes were professionally cleaned and had professional photography before going live on the market.  This is imperative in a more competitive market for sellers needing to stand out among the competition.  Hire a professional that understands your home, and how to make it look its best.
Buyers should seize this shift in the market to snatch up good deals, get seller contributions to pay for closing costs, lower interest rates, etc.  There are currently 3 bedrooms, 2-bath homes on the market, move-in ready for under $350K.  This is something we have not seen in the past.  Here are some single-family homes in Nampa currently for sale and in Ada County as well.  If you are considering buying let's set up a consultation to see how to get you into a home and find a great deal.  There are builders out there looking to offload inventory and offering great incentives.  If you are a buyer and willing to do some repairs there have never been so many fixer-uppers on the market that are actually available and not being bought up by out-of-state investors.  This is a fantastic time to get into a home now without having to deal with bidding wars.
It's true interest rates are higher, but you can often negotiate with the seller to buy down your rate, or refinance down the line once interest rates come back down.  Also, it was just recently announced that those who qualify for FHA loans can save thousands over the course of their loan.
Schedule Your Consultation
Whether you are buying or selling consult first with a professional that understands this market and the best way to succeed.  Schedule a 30-minute no-obligation consultation with Jennifer Louis, Boise Metro Area Real Estate Expert at (208) 509-9122 or jenn@boiseandbeyondrealty.com.