Analyzing the data from February we see that Boise home prices continue to decline compared with the same time the previous year, however, February sales showed that the prices were just a tick higher than the month before.  According to the Boise Regional Realtors monthly analysis, prices are still adjusting to mortgage rates and buyer demand, but comparing February to January of this year, the slight change in prices may indicate that we're reaching a new normal with prices. Mortgage interest rates and supply versus demand will be the ultimate determining factors on where prices go, but it will be interesting to see if prices continue to level out.
The Facts Year-to-Date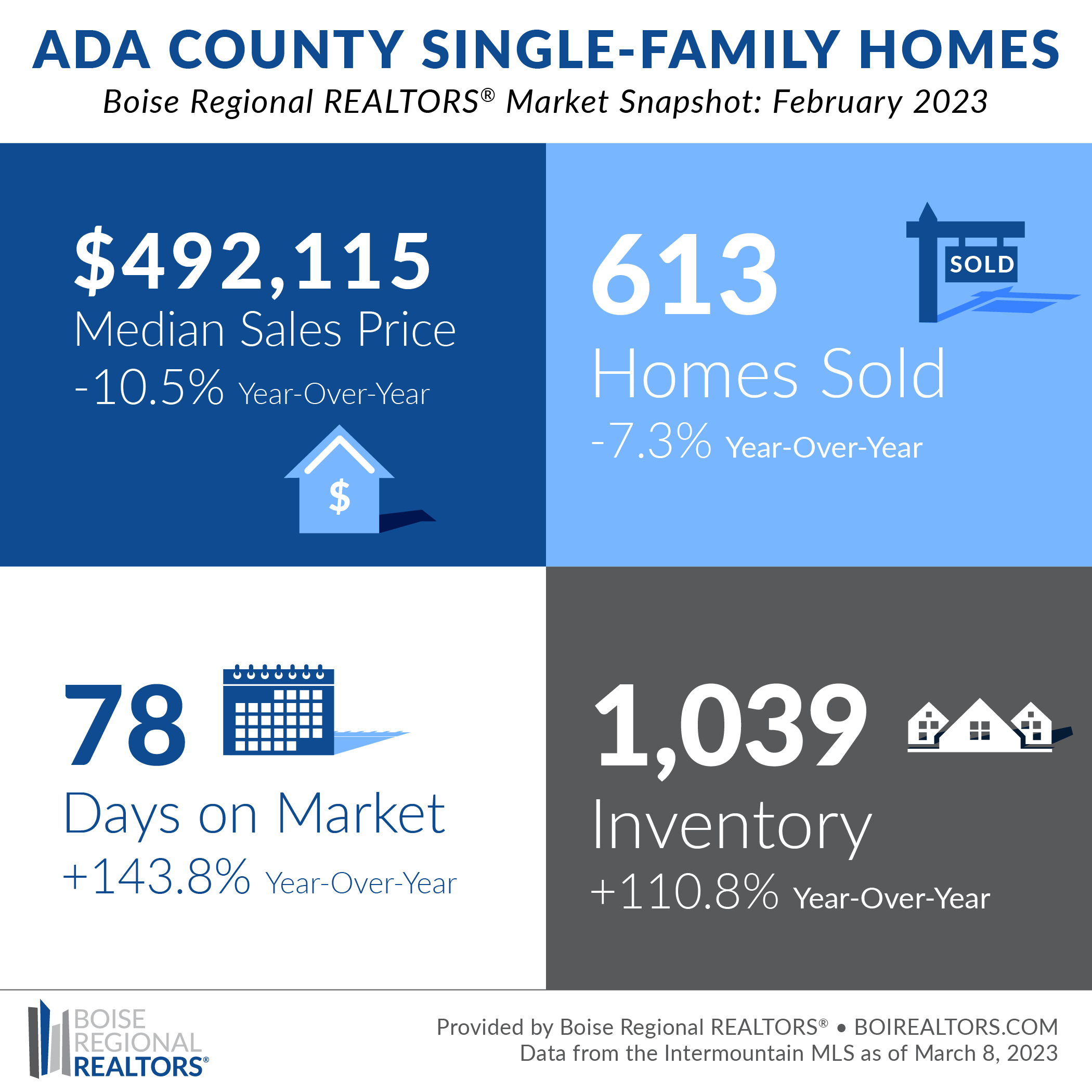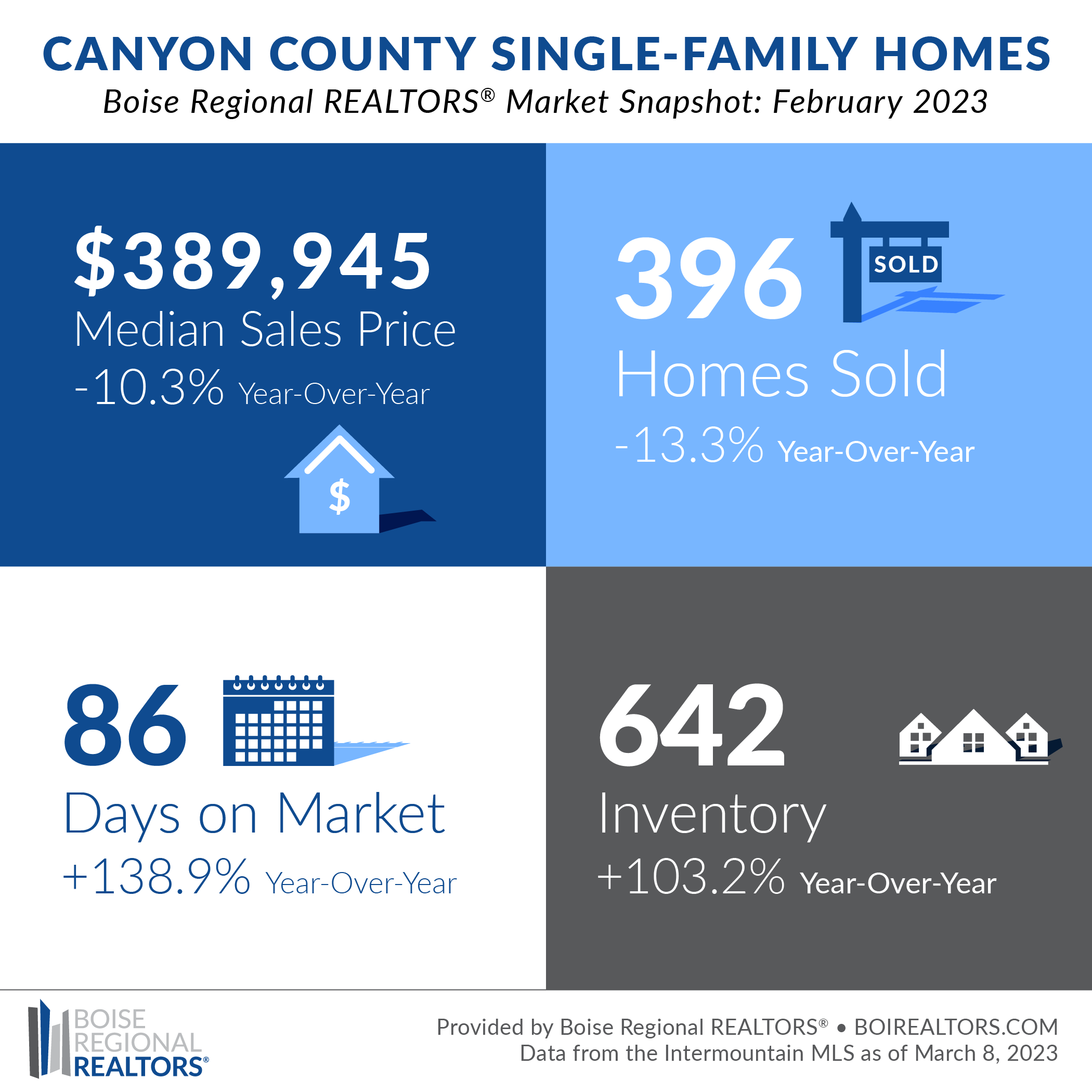 More than 40% of all home sales that closed in February were new homes, which typically sell for more than existing/resale homes. However, the chart above shows that in Ada County the median sales price was $492,000, and in January it was $487,000.  In Canyon County, the median price was $390,000 down from $395,000 in January.  Days on market are about 3 days longer on average from the previous month, holding at around 86 days til a home goes pending.
The last two months are showing that home values are staying close to stable and agents are getting more and more calls from buyers.  They are out shopping again, despite the higher interest rates.  I have a listing in Meridian and in the first 30 days we had over 75 showings of the home.  Another listing I had in Boise had 35 showings in the first 5 days on the market.  Buyers are out there, but they are taking longer to put in an offer, as they carefully view all the available homes for sale within their budget.  Buyers are able to shop without the pressure of bidding wars and have much more negotiation power than they have in years here in the Treasure Valley.
The inventory overall is definitely higher than it was a year ago and this supply/demand has also impacted the price.  We can attribute the decrease in inventory to existing homes.  Much of that is due to the fact that homeowners who bought over the past five years, locked in at a much lower rate than what is available today.  If they are to sell, they will give up that rate, and combined with lower sales prices, it often doesn't make sense to sell and buy something else right now from a financial point of view.
We do see more homes for sale in new construction and the builders are often offering substantial incentives to get their homes sold which has had a great impact on the overall home prices.
Here is a chart for Ada County's new construction compared with the previous year: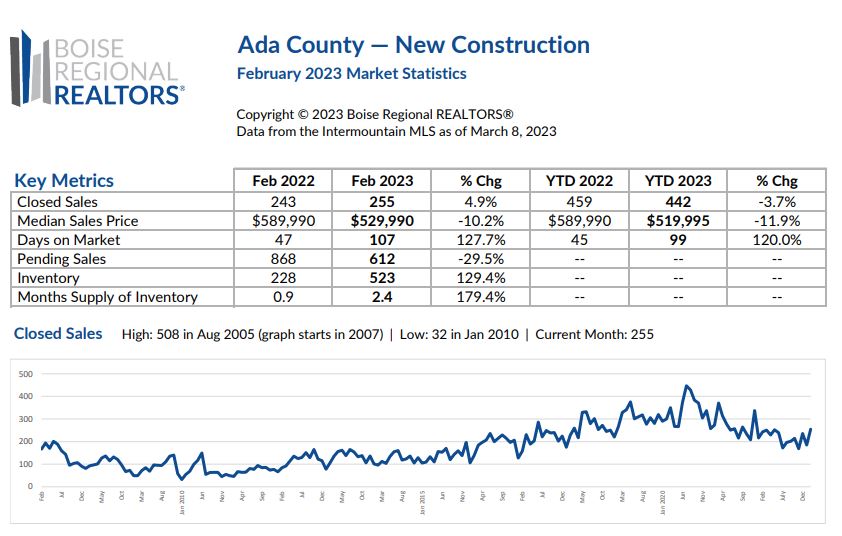 What to Expect The Remainder of 2023
If you've looked over the facts and read up to now you will see that the market is stabilizing.  Home prices have gone down, but with more buyers entering the market we should start to see the pricing level out through the warmer months of the year.  If the rumors are right and the interest rates tick down to closer to 5%,  then we could possibly even see home prices go up slightly.  As soon as the rates go down we will most likely see a large influx of homes hitting the market and buyers filling out loan applications. Supply and demand will come back into play and affect home values.  As of the end of February 2023, we have nearly double the homes on the market than the previous February, however, there is still only about a 1.2-month supply of homes for sale in Ada County for existing homes.  That's still quite low for inventory.  A healthy supply or balanced inventory would be closer to six months, so just over a month of inventory is low should more buyers enter the market.    
Should I Sell/Buy Now or Wait?
If you are looking to sell your home, now is still a great time.  Buyers are out shopping again and homes that are priced right, and marketed correctly are still selling under the average days on market. 
Many sellers who are looking to downsize, or upgrade are hesitant and repeatedly I hear the same thing, maybe we should wait til the market is hotter.  However, it's important to consider this when selling and buying simultaneously.  It doesn't matter if you sell and buy in a hot market, a stable market, or a buyers market, it will most likely be apples to apples or even trade.  The only real difference is if you need to sell to maximize value and don't plan to purchase in the same market then timing plays a much more important role.  It's always best to sell high buy low, but the only way to do that in the same market is to sell when the market is hot, rent or wait it out in temporary housing until the market cools and then buy, but most people do not have the circumstances to do this, plus it's very inconvenient to have to move twice. Not to mention it's hard to predict when a market is at its hottest or coolest, as the economic situation fluctuates. 
It's imperative to talk to a real estate professional who understands the market you are buying in and selling in to truly understand the best timing to sell and buy.  There are a lot of opinions out there on the Internet, or even trusted friends, colleagues, and family, but unless it's coming from someone with the pulse on the market you are dealing in, you might be getting the wrong data and that could potentially cost you thousands.  Set an appointment today to understand the market trends in Boise and the surrounding Treasure Valley.
Buyers should seize this shift in the market to snatch up good deals, get seller contributions to pay for closing costs, lower interest rates, etc.  There are currently 3 bedrooms, 2-bath homes on the market, move-in ready for under $350K.  This is something we have not seen in the past.  Here are some single-family homes in Nampa currently for sale and in Ada County as well.  If you are considering buying let's set up a consultation to see how to get you into a home and find a great deal.  There are builders out there looking to offload inventory and offering great incentives.  If you are a buyer and willing to do some repairs there have never been so many fixer-uppers on the market that are actually available and not being bought up by out-of-state investors.  This is a fantastic time to get into a home now without having to deal with bidding wars.
It's true interest rates are higher, but you can often negotiate with the seller to buy down your rate or refinance down the line once interest rates come back down.  Also, it was just recently announced that those who qualify for FHA loans can save thousands over the course of their loan.
Schedule Your Consultation
Whether you are buying or selling consult first with a professional that understands this market and the best way to succeed.  Schedule a 30-minute no-obligation consultation with Jennifer Louis, Boise Metro Area Real Estate Expert at (208) 509-9122 or jenn@boiseandbeyondrealty.com.