Welcome to Boise and Beyond's blog series focusing on living like a local in Idaho.  If you are one of the many who have recently relocated to Boise and the Treasure Valley here are some of the best ways to fit in and acclimate to your new home.
Enjoying Spring in Boise Like a Local
Springtime in the Boise area is a magical time of year.  This is the time of year locals get outside and enjoy warmer temperatures while still marveling at the snowcapped surrounding mountains.  There are literally activities for everyone this time of year and their is a buzz in the air as everyone heads outside to enjoy one of Boise's best attributes:  the great outdoors.  Here are some of the top Boise Spring events and activities that the locals love:
First Thursday
Every first Thursday of the month head downtown where window shopping takes on a whole new meaning.  Enjoy events that include art, shopping, music, dining, and tasting by local stores, restaurants, retailers, and services.
Local businesses put together one-of-a-kind engaging in-store events including food and beverage tastings, local art exhibits, retail trunk shows, live music, family activities, and entertainment in a special and unique way you'll only find in Downtown Boise. It's a great way to try out a new place and enjoy a fun evening with friends all while supporting local businesses.
What kind of businesses participate?  Such a variety that it may blow your mind.  You can go dancing at Fred Astaire Dance Studios on Main Street, then head to the Capital Contemporary Gallery or the Art Source Gallery on Grove St to check out local artists being featured, then take a tour of the super cool, trendy Crazy Neighbor on Grove St, before heading to Bardenay Distillery and Restaurant on Grove st for some food and drinks.  If you're curious about our city and the upcoming programs make sure to stop by City Hall Plaza on Capital Blvd, and enjoy free snacks while you learn.
So when is this event?  You guessed it, the First Thursday of every month and it starts April 6, 2023, from 5-9 PM, but some businesses may have longer or alternative hours so make sure to check out all the events by clicking here.
Boise Farmers Market & Capital City Public Market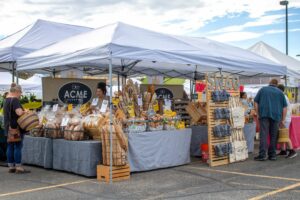 Two incredible outdoor farmers markets take place starting in Spring.  The Boise Farmers Market in Downtown Boise and the Capital City Public Market in Downtown Boise.
The Boise Farmers Market is a food-centric and agriculturally based market. Within our guidelines, the majority of the members must be agricultural. 95% of the vendors are food and agricultural products with 5% dedicated to non-food items.  You can find it every Saturday from 9 AM – 1 PM from April through December at 1500 Shoreline Drive.  But if you're looking for a mix of food-centric and local artisans then you definitely want to check out the Capital City Public Market in Downtown Boise from April 15th-December from 9:30 AM – 1:30 PM in the Grove Plaza
If you still want more make sure to check out the Nampa Farmers Market which runs from April through October and the Eagle Saturday Market in Heritage Park in Eagle, ID from May through October.
Patio Dining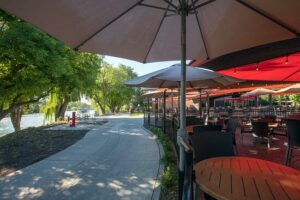 With warm weather, the beautiful outdoors so many great places to eat in and around Boise there is literally something for everyone.  Here are a few places you may or may not have heard of with great food and drinks and some of the best patios around.
Sandbar Patio & Bar & Grill serves local pub fare and looks right over the Boise Greenbelt and River.  The outdoor patio is almost always packed on the weekends when they have live music.  It's located in the Riverside Hotel, near Downtown Boise at 2900 W Chinden Blvd.
Wyld Child is part of a collaboration of outdoor dining, coffee, drinks, and ice cream.  Wyld Child is the sister restaurant of The popular Wylder located in Downtown Boise.  In their offshoot, you can find delicious burgers, fries, and salads, grab a beer at Push & Pour and finish it off with ice cream at The Stil all-in-one spot with an incredible outdoor eating area with firepits and other activities throughout.  Dogs are welcome.  Its located in the Bench area in Central Boise at 13 S Latah St.,
One of my favorites for breakfast, lunch, or coffee is Rembrandts in Eagle, ID.  This converted historic church from the late 1800s became a coffee shop and eventually the popular restaurant it is today.  It has a fantastic patio and some of the best coffee and fare in Eagle for breakfast or lunch.  It's located at 93 S Eagle, Rd, Eagle.
A patio we can't leave out is Barbacoa in East Boise off Parkcenter Blvd.  It's considered fine dining with exotic fare and they have a fantastic happy hour.  Its outdoor patio is highly popular during Spring and Summer due to its view of the Parkcenter Park Pond.  It's located at 276 Bob White Court, Boise.
Edwards Greenhouse Gardening Classes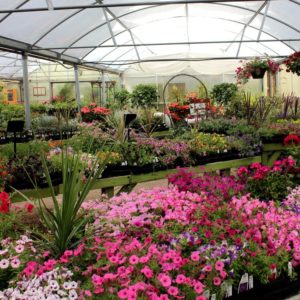 Edward's Greenhouse is a beloved garden center, greenhouse, and flower shop in NorthWest Boise.  Its historical greenhouses are almost all powered by geothermal waters and even in the colder weeks of Spring, it's a great place to warm up and check out the greenery.  But Edwards is much more than just a garden center, they are known for its incredible gardening classes, and Summer outdoor events.
If you have a green thumb or would like to have one click here to find some of the amazing classes you can find at Edwards this Spring.  If you'd like to discover the history of this amazing place you can watch our YouTube Video all about Edwards here or read the full article here.
They are located at 4106 Sand Creek St., Boise 83703
The Boise Greenbelt and Bike Tours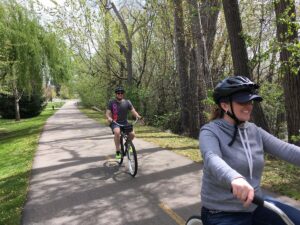 One of the best ways to discover Boise is via the Boise Greenbelt along the Boise River. The Boise River Greenbelt is one of Boise's most beloved parks. The 25-mile tree-lined pathway follows the north and south sides of the Boise River through the heart of the city and provides scenic views, wildlife habitat, and pedestrian access to many of Boise's popular riverside parks. The "Ribbon of Jewels" is a series of parks located along the Greenbelt.
A great way to discover multiple places around the Greenbelt is to bike it.  Pedego Bikes offers rentals and tours of great electric bikes right off the Greenbelt.  Or you can sign up with Boise Bike Tours and get a great view of the Greenbelt and other areas in/around town.
While on the Greenbelt you can stop off and enjoy food and dining at some great spots, or check out the giraffes having their breakfast/lunch at the Boise Zoo in Julia Davis Park.
Looking to discover more about Boise and the surrounding Treasure Valley?  Follow Jennifer Louis, Boise Metro Real Estate Expert, and local relocation guide.  (208) 509-9122 or jennlouis@welcometoboiseandbeyond.com