Does Paint Color Matter When Selling a Home?
If you've ever listed a home with me you know I most likely will bring up paint color.  It could be because growing up paint color was a regular topic around my dinner table.  My mom was/is a color consultant and interior designer and my father was a painting contractor for luxury subdivisions and custom homes.  So, yeah, paint has been ingrained into me since I was little.  But, in my years in real estate working with buyers I have observed which homes tend to attract more attention from my clients, and which homes, even great ones they turn their nose up to, and often it comes down to paint color.  If you are selling a home here are the paint color trends in Idaho you should know about:
Exterior Color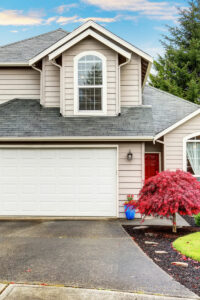 It may not be everyone's favorite, but overall buyers are attracted to neutrals.  According to a recent article by Better Homes and Gardens classic white exterior continues to have the highest resale value.  I spoke with Janice Trudeau, a color consultant for Sherwin Williams, (and my mom) and she said here in Idaho the trend with builders and homeowners has been the white farmhouse look.  This is typically painting the exterior in a shade of white or off-white and then using gray or a dark trim.  Another popular look is the Greige exteriors.  Greige is a mix of Gray and Beige paint colors, finished off with white or dark trim.  According to Trudeau, the farmhouse look may be a trend that will slowly go away, but greiges and tans for exteriors are here to stay.  Here are a few other key things to keep in mind when painting your exterior.
Choose Wisely.  When choosing a new exterior color for your home, consider what you have going on around your home that could impact the way your exterior color looks — items like the roof, stonework, windows, and landscaping. For example, if your home has a brick façade what color are the undertones?  If you have a light roof, a light exterior might not be the right way to go.
The Sheen Matters.  In Idaho, we have a lot of different weather and unless you want to power wash and repaint your house every couple of years, picking the right sheen is imperative.  The key to keep in mind is the glossier the paint, the more it will magnify imperfections.  Stick with an eggshell or a satin finish.  These tend to hold up with Idaho's changing temperatures and are easier to clean.
Don't Forget the Front Door.  Your choice of color for your front door can also greatly affect your home's value.  According to several studies, including one by Zillow in 2022, Black or Slate Blue colored doors tend to sell for more, up to $6,400 more to be precise.
Interior Color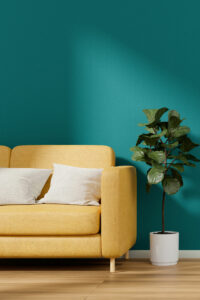 Interior paint choice is where it gets tricky because paint color can be very personal.  I've had many clients over the year that just can't understand why anyone would not love the red, yellow, blue, or violet wall color they chose, and the truth is color IS personal.  One person may view a color as warm, and cozy and another finds it glaring and loud.  One person may view a color as soft and soothing and another finds it cold and sterile.  The goal to remember when selling your house is for the buyer to fall in love with your house and offer the best price, not feel the same way you do about color choices.  In order to do this, we need to neutralize the house, this means taking out anything that could cause a buyer to feel they are in YOUR  house and not THEIR future home.  Trudeau recommends brightening the home by painting mainly in off-white.  A very popular color by Sherwin William is City Loft, it's off-white, and paired with a bright white trim it really pops.  I know, because I did my whole house this color.  I have a mid-century modern home with typical 8′ ceilings, so using this color brightened the home tremendously.
Zillow did a study on interior colors and found which interior colors impacted home value.  To get the highest price, they highly recommend avoiding dramatic or bright colors.  Bold and creative color choices are not necessarily appreciated by buyers, it's better to keep those for the home you will live in and enjoy.  A few other colors such as bright pink, bright green, and bright purple are not good choices when selling a home. In a recent Zillow survey of real estate agents, they unanimously recommended sellers repaint primary rooms in their houses that are one of those shades. Here are the colors that sell, and the colors that don't:
Red.  It's bold, it's beautiful, but don't paint it in your house.  Zillow found that on average homes sold for $1500 less just for having a red accent wall or room.
Yellow.  It's right up there with red.  It's bright and bold and unfortunately turns many buyers off, according to the Zillow Survey.  Buyers tend to comment that it's glaring, or unattractive and it can negatively impact the price a buyer will pay for a home.
Blue Bathrooms.  If you have painted your bathroom blue, keep it!  According to the Zillow Survey, the buyers surveyed said they would pay about $5000 more for a home (at about $290,000 value) with a light blue bathroom.
Teal/Turquoise.  According to Trudeau, this color is becoming trendy and can look great as an accent wall.  One of Sherwin William's popular colors in this hue is Sea Salt.  If painting an accent wall it's recommended to paint two walls that connect in one color and the other in a more neutral color.
Details Matter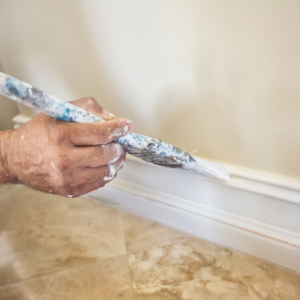 Another often overlooked area of a home is the trim, baseboards, doors &  ceilings.  The baseboards and trim are some of the most banged up, marked up, and soiled parts of the house.  If you have kids you understand.  I cringe as I watch my five-year-old son roll his trucks across the floor and inevitably smash into the baseboards leaving a nice scuff mark.  Kids, pets, dust, grime, and furniture all contribute to the worn look of baseboards and trim, so having these freshened up can really make a home look updated, even if the paint color stays the same.  The general rule on trim or baseboards is to get something with a higher sheen than the walls.  Semi or high gloss is ideal and usually a very bright white looks great.  Ceilings should be light and bright, and it's best to avoid dark colors, otherwise the rooms tend to look smaller.  You can use the same color on the ceilings as your trim and it will look great.  While you're at it touch up and scuff marks on door jams and frames around the house.
The front door color mentioned above tends to really give a home that WOW factor, but another trend is cabinets.  Blue, Green, and even Gray cabinets or kitchen islands have also been quite the paint color trend in Idaho.  Some of the higher-end builders regularly add color to their new builds and were starting to see this pop up in DIY cabinet stores as well.  Traditional wood grain or white still looks good if paired with the right counters or backsplash, but a touch of color can really make a kitchen stand out.
The cost to repaint a home's interior is roughly $1,500-$5,000, depending on the size.  In a shifting market, where first appearances count, this small investment can make all the difference.  Attracting buyers, and lots of them is what affects value.  The more buyers can see themselves in your house, the more they are willing to pay, especially if they think they may have competition.  Neutrals, light blues, and teals may not be your personal palette of choice, but once you've made the decision to sell, it's all about presentation and getting the home sold so you can move on to your next home and if red or yellow is your thing, go for it then.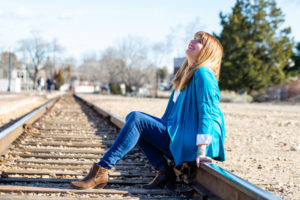 If you'd like to see if it makes sense to paint before selling give me a call.  I offer a free, no-obligation home consultation and will leave you with the market trends for your area and recommendations to get your home sold for top value.  In the meantime, make sure to follow me,  Jennifer Louis, Boise Metro Real Estate Expert, and local relocation guide on Instagram, Facebook, or my blog for fun facts about Boise and of course a few things real estate.  (208) 509-9122 or jennlouis@welcometoboiseandbeyond.com.