For several years Boise has made headlines when it came to its laid-back lifestyle, affordability, and housing market, however, recently the headlines have a different tone. Several market studies and news sources, including CBS News, named Boise The least affordable housing market. Boise Realtor, Jennifer Louis, and her clients were interviewed about affordability and Boise's housing market for this story in December 2021.  Watch the full CBSN Report here or click below.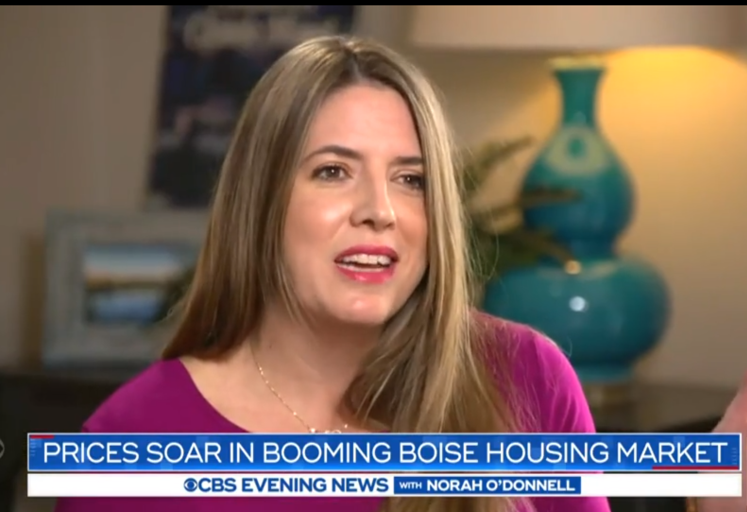 Does it make sense to buy or sell in 2022?
If Boise is considered unaffordable, what does this mean if you are buying or selling? Since September 2021 we've started to see the impact of fast-rising home prices on the overall market.  As Fall approached many Buyers have hesitated to enter the market, in hopes home prices will go down in the Spring.  Potential sellers have also put the brakes on selling, after watching homes for sale sit longer than expected on the market, and often accepting offers lower than the asking price.  In Fall and Winter real estate traditionally slows down in Boise, but not for the past few years.  Home prices continued to increase even though the coldest months.  So, is the recent holding pattern seasonal or something else?
A little of both.  We have definitely seen the market slow down compared to last year, most likely due to the drastic increase in home prices we saw in 2021.  Ada County saw a 30% increase and Canyon had a 31% increase.  This has led to an affordability wall.  Meaning, for many first-time homebuyers or buyers unable to afford or qualify for loans at the median price, the chance to own a home has become challenging, if not impossible.
Yet, compared to many neighboring markets homes in the Boise area are still considered "affordable".  The entire Treasure Valley continues to face record low inventory when it comes to homes for sale, and there is no end in sight.  Even if there are fewer buyers in the buying pool, prices here are expected to continue to increase.  Click here to access your own portal to the MLS and find out in real time what homes are selling for in the Boise area. 
Estimates are showing a 7-12% increase in home prices in 2022 in Ada County.
For buyers, this is a great time to get in while interest rates are still low.  With lower rates, and an increase in home prices, buyers can get in now and start building instant equity on their home.  Find out if you qualify to purchase a home is the first place to start. For Sellers, this is also a fantastic time.  Sellers can either cash out on their equity in this hot market and move up into a larger home, or one that better suits their family, keeping their monthly payment about the same.
A realist approach is key.
The key for both buyers and sellers is to be realistic about the market before buying a home or selling the one they are in.  For buyers, there are some fantastic home loan options out there for first-time home buyers and coupled with a low rate, buyers may be able to afford more home than they thought.  Buyers also may want to broaden their search criteria, consider other cities in the Treasure Valley that may be more affordable, and have all their ducks in a row before starting the home buying process.  This means being pre-approved by a reputable local lender, and truly understanding how much house you can afford.  Having a downpayment set aside, and mentally preparing to react quickly when the right home comes about.
Sellers also need to take this time for a reality check.  Although it is a Sellers Market, the signs are there that 2022 won't be as dramatic as previous years.  With a median price of $534,000 in Ada County buyers are wary of throwing in an offer, so homes may sit longer than before.  We may start seeing fewer bidding wars, and fewer cash offers.  The first step is finding out how much your home is worth.  Set up a free consultation to find out.
Regardless, Boise is still a great city and place to live so real estate will continue to be bought and sold here, but perhaps at a slower pace than the past several years.
It's key to hire the right real estate professional that knows, and understands the market you're buying or selling in.  Contact Treasure Valley Real Estate Expert, Jennifer Louis for a free consultation.