October was another exciting month in Treasure Valley real estate, instead of the majority of homes selling over asking price, more Boise homes were selling below list price, leaving many to wonder if this trend is seasonal or an indication that the local real estate market has peaked.
Let's Look At The Data
To some extent the decrease in inventory and pricing should not come as a surprise as this is a common trend during Fall and Winter in the area, however, in 2019 and 2020 we saw home prices continue to go up even during the seasonal slowdown.  Observing the past couple years of unusual trends, many home sellers anticipated the same would happen in 2021 and priced their homes accordingly.  Yet, this year as the Fall approached home prices suddenly started to become less affordable to many of the buyers, hence the affordability wall that is facing many buyers today.
In Ada County in October, 980 single-family homes were sold, and just over half sold for under asking price, The homes that sold under asking price averaged an original list price of $608,000 or 14% over the current median home price.  These homes ended up dropping their prices, or accepting offers around an average of 7% lower than their asking price.
The homes that sold over the asking price averaged a list price of $593,000 and sold 4% over the original list price.
When analyzing the two categories,  homes with an asking price of over $600,000 in many cases sat much longer on the market and either reduced their price or accepted a lower than asking price on their home. On the other hand, the homes selling at the median price of $533,950 or lower, especially turnkey and in desirable neighborhoods many received multiple offers and a sales prices over the asking price.  Here are the charts comparing sales price in October compared to two months earlier.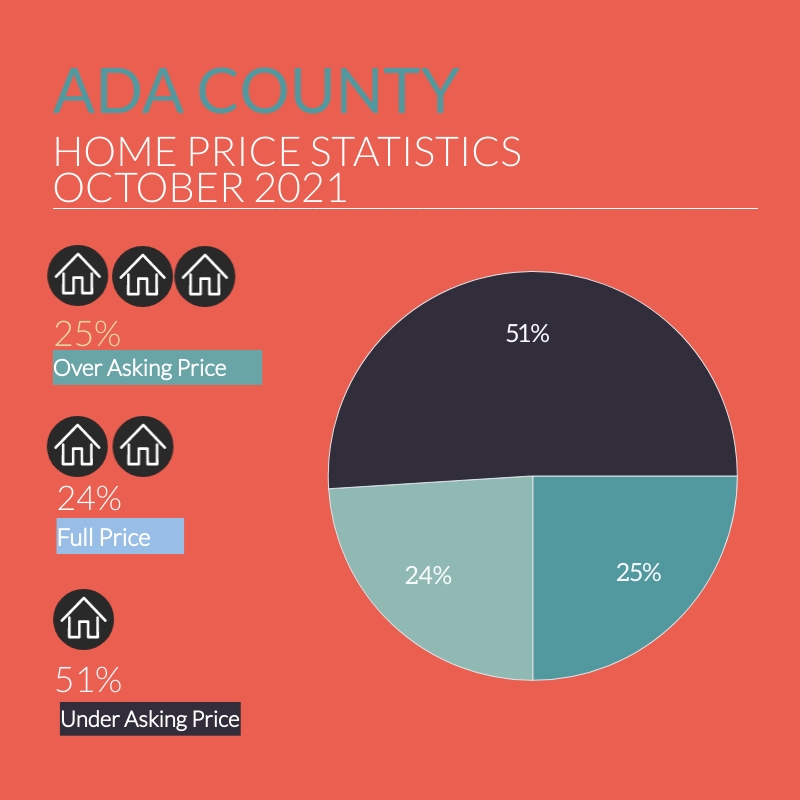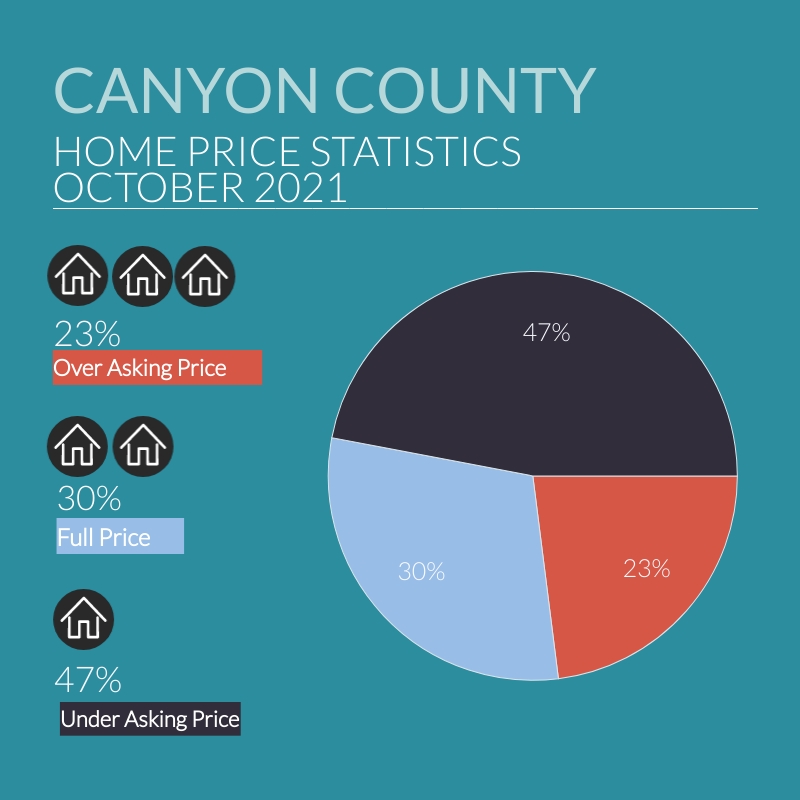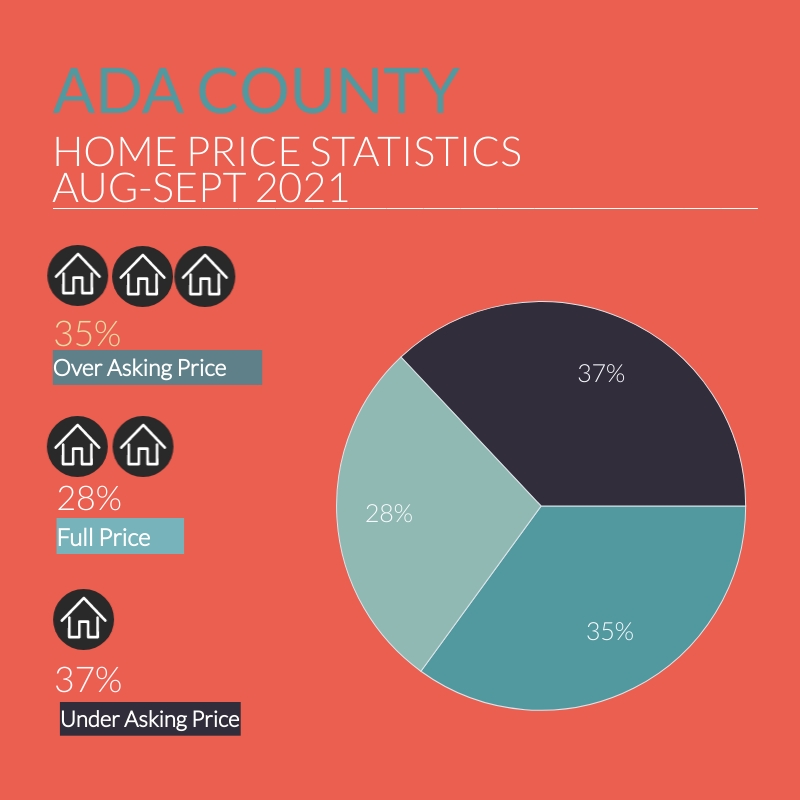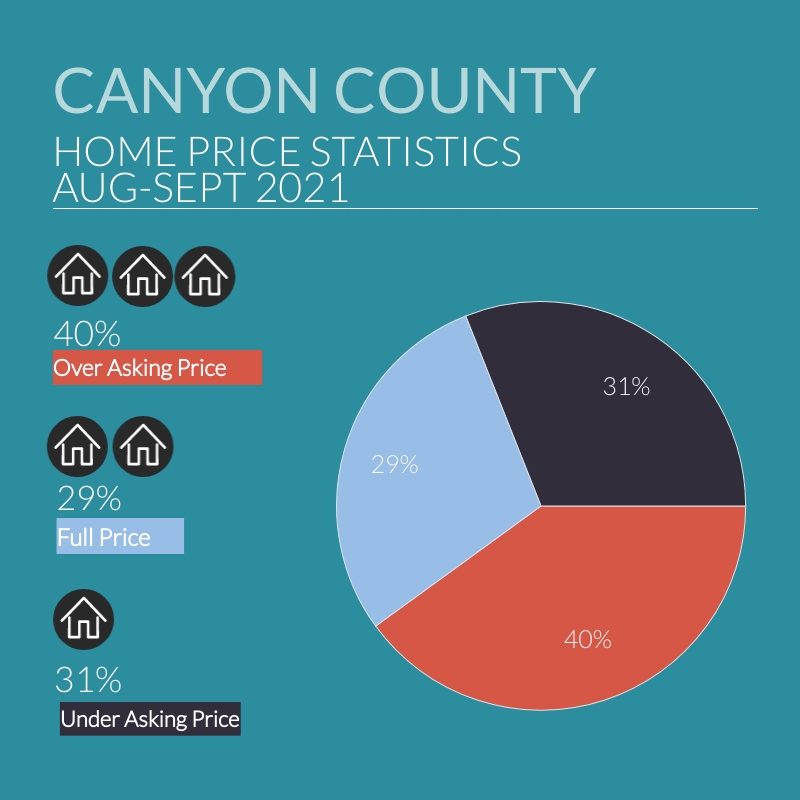 What to Expect Moving Forward
Does this mean this downward price trend will continue?  Most likely not.  Yes, home prices aren't rising exponentially as we've seen earlier this year and over the past several years, but we are still in a major home inventory supply shortage.  Even with the increase in home prices, there are still substantially more buyers looking to purchase a home, than there are homes to buy.
We can expect with the current demand for housing still being high and inventory still low that home prices will slowly continue to rise in 2022.  However, there are more homeowners now that are frightened we've reached the peak of the market and will most likely be listing their homes in Spring and Summer 2022 which will increase the inventory and keep prices from shooting up like the past few years.
Home prices will increase in 2022, but nowhere near like we've seen in past years.
How much inventory does Boise Metro Have?
Another factor impacting Boise homes selling below list price is the increase in inventory.  In October 2021 we had 1,145 homes for sale compared to 448 the year before.  At present we have about a 1.4 month supply of inventory, which is substantially better than past years, but still lags behind where we need to be for a balanced market.  A better way to explain this is that for a balanced market, one that favors the buyers and sellers equally we would need roughly 4,600 homes on the market.  With our current inventory, it is clear we are not there yet, however, the increase in inventory recently has played a role in impacting how much pricing has flattened lately.
Boise Metro Area had 1,145 homes for sale in October.  It needs roughly 4,600 homes on the market to be considered a balanced market.
Here's a chart from the Boise Regional Realtors demonstrating the market statistics compared to 2020.

Is it a good time to buy a home in Boise?
2022 should be a very interesting year for Buyers as we can expect more homes to enter the market in Spring and Summer.  If the mortgage interest rates stay low as they have been and with more inventory, buyers will have an increased opportunity of finding a home in the Boise area.  However, don't expect home prices to come down, but to gradually push upwards.  This is great news if buying, meaning that Buyers can still start building equity from the moment they purchase a home here in the Treasure Valley.  But Buyers should be aware that searching for homes at the median sales price or lower there will most likely be competition.  Buyers will need to carefully assess how to make their offers stand out against other offers.  Hiring a real estate agent that understands the market and the areas of interest is imperative to getting their offer accepted.
When should I sell my home?
We are still in a seller's market making it an excellent time to cash out that equity while the market is still hot and buyers are still looking for their next home.  Sellers should expect that their home may sit longer on the market than in previous years and that buyers paying top dollar are less likely to buy a home "as is", meaning they will want the home in top shape before purchasing.  Pricing the home correctly is imperative to attract multiple buyers and get the best offer.  Hire a real estate agent that knows your market, not a call center budget real estate firm to help you get your home ready to stand out against the competition and get you the best price and terms for your most important asset.
Here's the snapshot of Median Home prices as of October 2021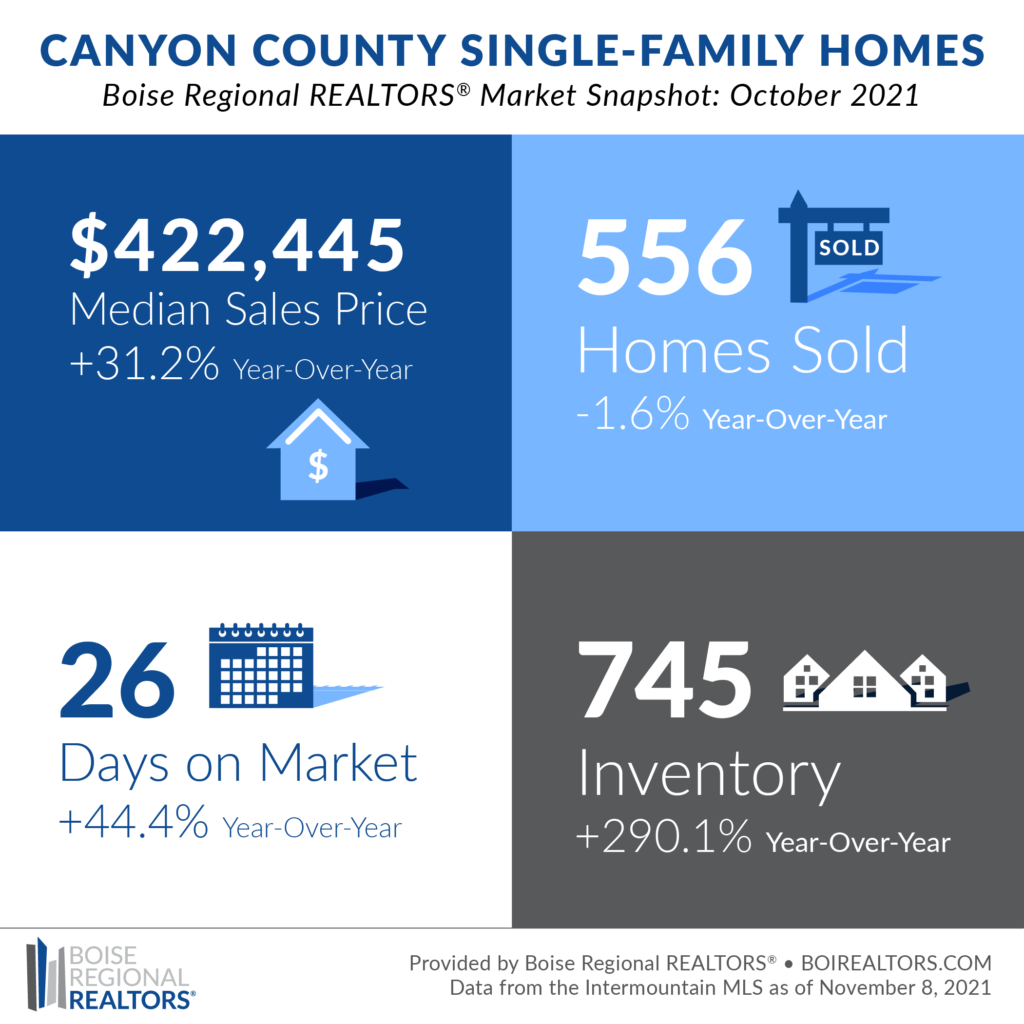 Median Sold Price
Nampa: 329 home sales $425,000
Middleton: 40 home sales $462,000
Caldwell: 156 home sales $388,000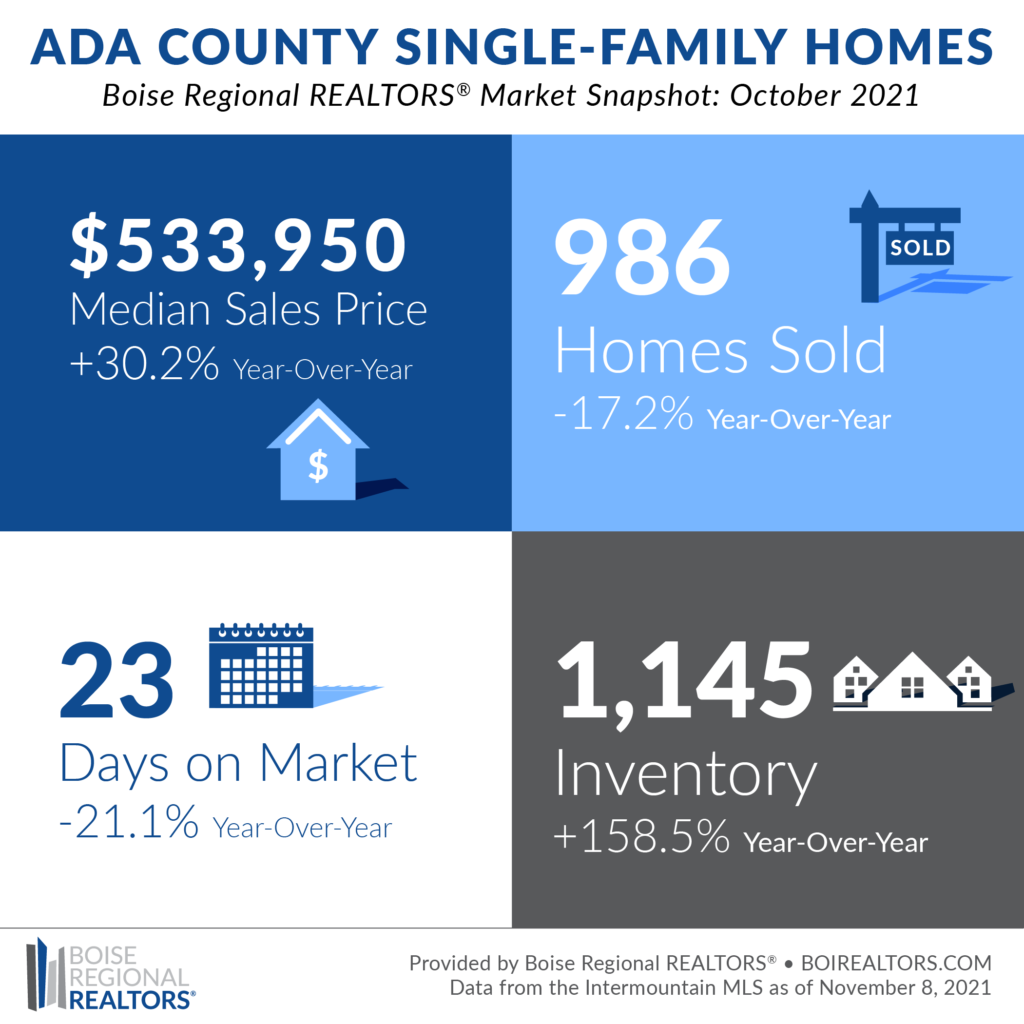 Median Sold Price
Boise: 492 home sales – $488,880
Meridian: 270 home sales  $511,000
Kuna: 109 home sales –  $448,000
Eagle: 95 home sales –   $851,500
Star: 63 home sales –       $563,000