The heat has turned up in Boise and it's hitting the real estate market too!  We've seen a surge of home buyers entering the market, despite the higher interest rates.  As homes trickle on to the market they are getting snapped up quicker than in the past year and we've also seen an up tick of homes selling at full price or over asking price compared to the past 12 months. The hotter real estate trend in Boise continues all Summer
The Facts Year-to-Date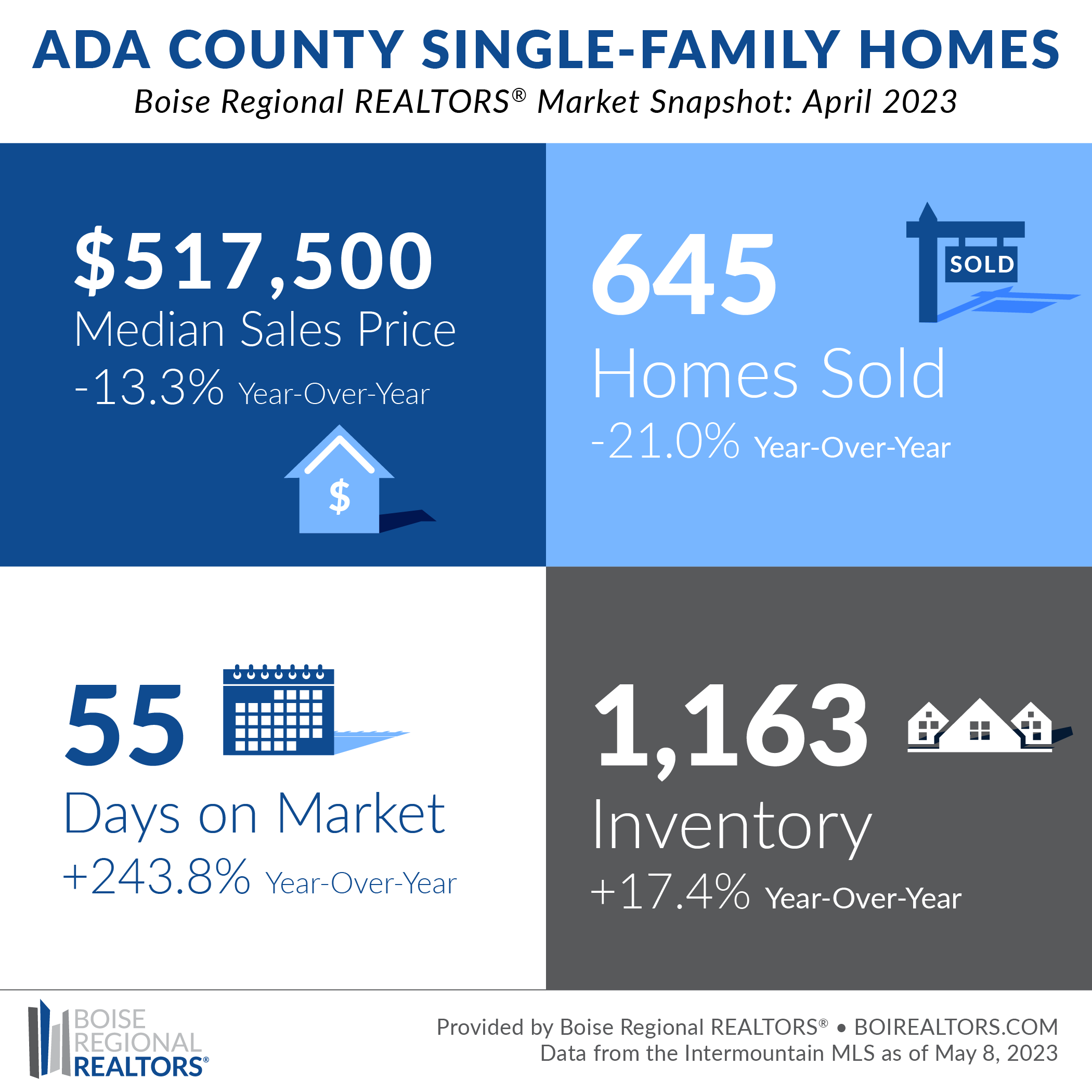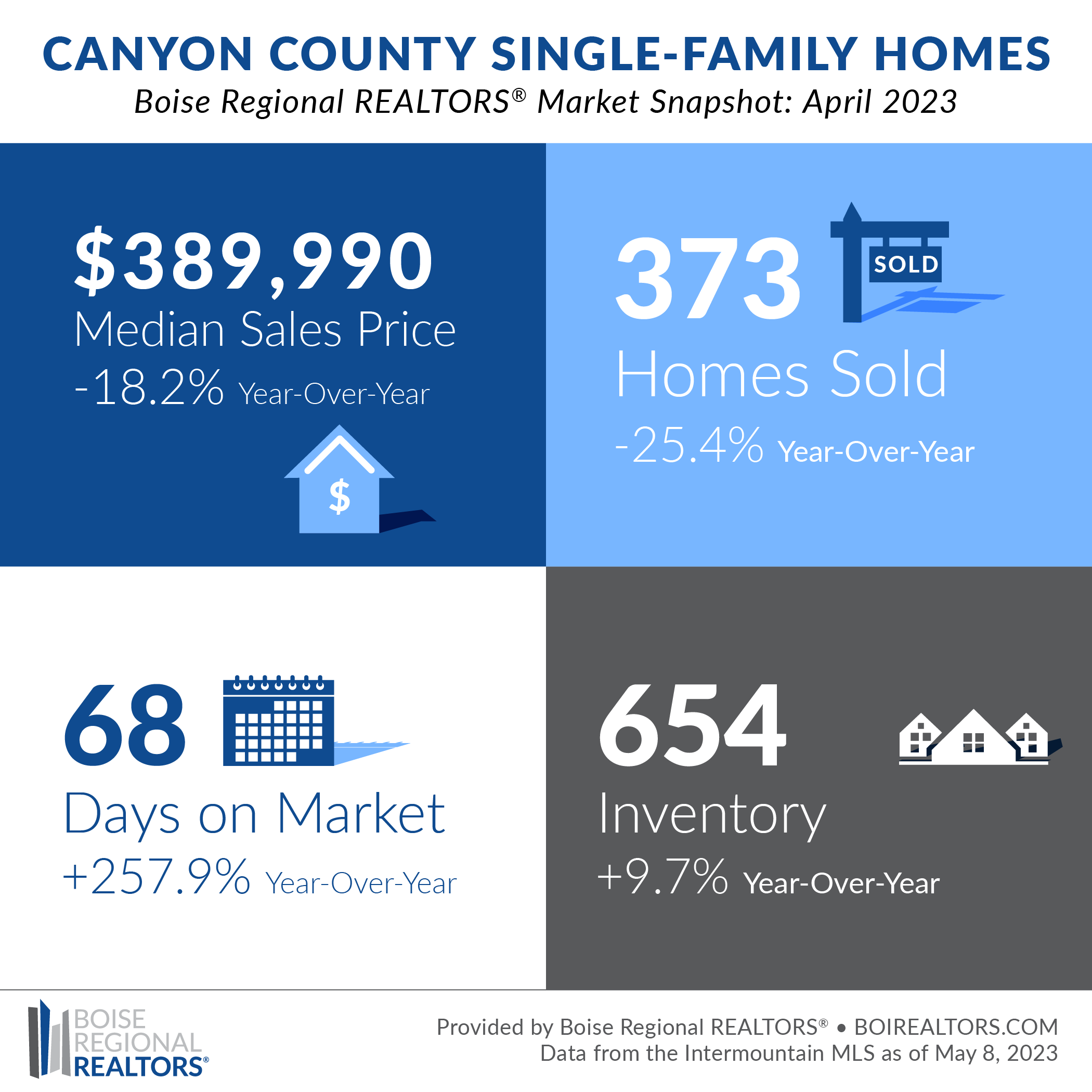 In April the median sales price in Ada and Canyon Counties bumped significantly from last month, but overall are still down from a year ago.  As a reminder, it was at the end of April/May that home prices started to decline in 2022. In March the median price in Ada County was $480,000 and in April it increased to over $517,000.  In Canyon County, the median price last month was $380,000 and in April it increased to $390,000.  The market is definitely hotter than it was just a couple of months ago and although there is more inventory than we've had in the past, we still have a supply/demand issue which is what is pushing the market upwards.  As a reminder a healthy market has six plus months of inventory, as you can see from the charts below we have about a 1.5-month supply, so even though inventory is higher compared to the previous year, it's still very low supply.  The number of homes for sale is around half of what it was six months ago.  With the increase in interest rates, some homeowners have held off selling their homes, not wanting to lose the interest rate they currently have which in many cases was locked in significantly lower than the rates today. With fewer homes on the market and more buyers we start to see homes sell closer to asking price and/or over asking price and a hotter real estate trend in Boise continues this Summer.
Here is a chart for Ada County and Canyon County's market statistics compared to the same time last year:

If we compare the median price, days on the market, and inventory you will see we are still not where we were a year ago, but compared with last month we can see things have jumped.  For example, last month the days on the market in Ada County was 72, and in April it was 55.  In Canyon County, the days on the market actually increased from 59 days in March to 68 days in April.  Canyon County is where we have a lot of new construction and that can affect the days on the market based on if a home has delays to finish construction and close.
Another new trend is the increase in cash buyers.  For the past 12 months, we saw a significant decline in the number of homes being purchased with all cash.  That was mostly due to the fact investors pulled back last year with the market shift as home prices fluctuated. For investors that remodel/flipped homes buying in a down-turning market didn't make sense and many pulled out of the market.  However, in April 24% of the homes that sold in Ada County sold for cash, a significant increase from the past several months.  The same for Canyon County.  Investors are back looking for homes to fix up and rent or flip.  Additionally, as the markets in other states started to move many homeowners were finally able to sell their homes and use the cash equity to purchase here.
What to Expect for the Remainder of 2023
Even with the increase in mortgage interest rates we will most likely see home prices remain stable and increase slightly through Summer.  For May/June things may slow a bit as kids get out of school and vacations start happening.  After July 4th we usually see an uptick in buyers out shopping and this will keep the market moving.  Rent prices continue to increase throughout the Valley and this is also pushing locals that have been renting to consider homeownership as a valid option now.  In many cases, buyers can purchase a home and keep their monthly payment close to what they would pay in rent, which in the long term makes more sense financially.  We can expect that real estate will be hotter in Boise and continue through Summer
Should I Sell/Buy Now or Wait?
If you are looking to sell your home, now is still a great time.  Buyers are out shopping again and homes that are priced right, and marketed correctly are still selling under the average days on the market.  It's important though if selling to keep your expectations realistic.  Homes, unless they are priced under market value, are typically taking 30+ days to get an offer on them.  Homes selling on a weekend are far and few between these days.  Additionally, getting the home market ready is more important now than ever.  With more homes on the market than in the past, buyers have more time to scrutinize before making an offer.  And buyers are asking for more repairs and credits for repairs or closing costs (buyer concessions) than in previous years.
It's imperative to talk to a real estate professional who understands the market you are buying and selling in to truly understand the best timing to sell and buy.  There are a lot of opinions out there on the Internet, or even trusted friends, colleagues, and family, but unless it's coming from someone with the pulse on the market you are dealing in, you might be getting the wrong data and that could potentially cost you thousands.  Set an appointment today to understand the market trends in Boise and the surrounding Treasure Valley.
With rent prices going up local buyers should seriously consider buying a home versus renting.  There are places in the US where it makes more sense to rent than to buy, but the Treasure Valley, unfortunately, has limited housing and has forced rent prices up.  For first-time home buyers Idaho has some great options to assist with down payment and closing costs don't forget, even though the market is picking up, you can still negotiate with the seller to have them help with closing costs or even buying down the interest rate to get you a lower monthly payment. Also, it was just recently announced that those who qualify for FHA loans can save thousands over the course of their loan.  I've just helped several first-time home buyers get fantastic deals on their homes in the Valley and are paying close to if not less than what they were renting for.
Schedule Your Consultation
Whether you are buying or selling consult first with a professional that understands this market and the best way to succeed.  Schedule a 30-minute no-obligation consultation with Jennifer Louis, Boise Metro Area Real Estate Expert at (208) 509-9122 or jenn@boiseandbeyondrealty.com.