Welcome to Boise and Beyond's blog series focusing on living like a local in Idaho.  If you are one of the many who have recently relocated to Boise and the Treasure Valley here are some of the best ways to fit in and acclimate to your new home.
Local Dining You May Not Know About, But Should
There is no doubt that the food/beverage scene is growing in the Treasure Valley, but there are some local establishments that have been here for years that I have somehow missed and only recently discovered.  They are so good that I'm regretting not finding them sooner and didn't want you to make the same mistake.  Here are some of the great hidden local dining spots around town that you probably have driven by a million times and may or may not have noticed, but should.
Food Land Market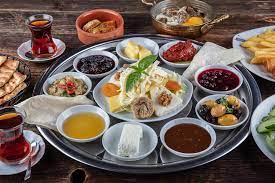 This place just blew my mind.  I've driven by this almost daily in the seven years I've lived on the Bench and never really noticed it.  I decided to take a look a couple of weeks ago and I was blown away.  Not only do they have some of the most out-of-the-world yummy grocery products from the Middle East like fig jam, dates, and Turkish coffee and tea, but they are also a Mediterranean restaurant and bakery.  The food was beyond yummy and the bakery with fresh baklava will take your breath away.  It's super bright and comfortable inside with a front dining area and a coffee bar that makes you feel like you've traveled back to the Middle East.
If you haven't checked it out, I highly recommend it.  Food Land Mediterranean restaurant and bakery:  710 N Orchard St, Boise, ID 83706
Sunshine Spice Cafe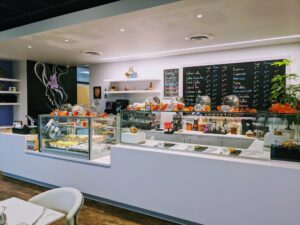 This is another one of the local Boise dining spots you may not know about, Sunshine Spice Café.  One of my good friends and long-time clients, Lisa loves to try new spots.  We try and meet monthly to check out a new coffee spot and this was her pick.  I never noticed it because of its location in a strip mall off of Fairview in NW Boise, but oh man, I wish I had discovered it before.  It's owned by four sisters from Afghanistan and it highlights Middle Eastern baked treats with an American/European twist. They are so friendly when you walk in and the café is pleasantly decorated with paintings from local artists available for purchase.
Sunshine Spice Café is so good that there was a line out the door when we were leaving and they were recently featured on the Food Network show, The Next Diners, Drive-Ins, and Dives last month.  You can try it out yourself here, Sunshine Spice Café and Bakery: 6911 W Fairview, Boise, ID 83704
Green Acres Food Truck Park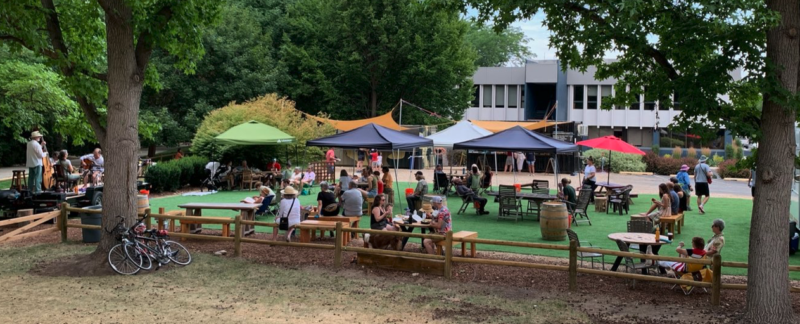 The up-and-coming popular food truck park is just a blast.  It's going on its third season and we discovered it last year.  My husband and I always thought we'd own a French-style food truck when we moved here from France many years ago, and we still toss around the idea sometimes.  It was during one of those "Should we start a food truck?" conversations that we started looking at the food truck scene in Boise more seriously and discovered this happy little spot nestled off the Greenbelt in Boise.  
What I love about the spot is that they have a bar and ice cream spot that is there the entire season and is owned by the actual owners/creators of the park.  Then daily new food trucks come in and you can try food from all over the world, different varieties and there is something for everyone.  On the weekends you can enjoy live music and if it gets too warm outside they even have a misting system set up to keep you cool.  It's definitely one of those warm days/evening spots that everyone in the family or a group of friends can agree on and what better than to eat good food and enjoy the beauty of the Boise River and the Greenbelt!  You would think more people would know about it considering its location, but for those moving to Meridian and and others around the Valley it can sometimes go undiscovered. 
This is another Local Boise Dining Spo0t You May Not Know About Green Acres Food Truck Park is located at 1401 Shoreline Dr, Boise, ID 83702
Spring and Summer are great times to get out and explore Boise and the surrounding Treasure Valley.  Looking to discover more about Boise and the surrounding Treasure Valley?  Follow Jennifer Louis, Boise Metro Real Estate Expert, and local relocation guide.  (208) 509-9122 or jennlouis@welcometoboiseandbeyond.com