It's feeling cold out there lately, and it's not due to the weather.  Boise Metro Real Estate has really cooled and everyone is feeling the chill.  Boise's real estate market has really shifted from the hyper-inflated, red hot market we've all become accustomed to and has quickly moved to a more volatile market where both buyers and sellers seem lost on how to best move forward.
Let's Look At The Data
Year to Date Ada County has seen over an 11% increase in single-family home values from one year ago. Yet, Days on the Market have increased.  Homes in Ada County are staying on the market roughly 21 days before going pending, compared to just 13 this time last year.  Additionally, in July 2021 there were approximately 2000 single-family homes for sale and if we look at this year in July there were 3,200 homes for sale.  A big jump in inventory.
Canyon County has experienced similar data.  A nearly 7% increase in sold prices since last year. Days on Market increased from 10 in July 2021 to 25 days on average before going pending last month. Canyon County had a 43% increase in the number of homes for sale in July of this year compared to one year ago.
With a significant increase in inventory, buyers are taking their time, and homes are staying on the market much longer than in past months and years. With buyers pulling back, due to higher interest rates as well as apprehension, coupled with an increase in the number of homes for sale the market has started to really shift.
Unfortunately, headlines are feeding into buyer apprehension.  Yes, the market has shifted, but some buyers in need of a home are holding out, expecting the bottom of the market to drop out due to negative articles featuring Boise as one of the most overpriced markets in the US.  It appears that some buyers are expecting home prices to come down dramatically. However, the data is showing a correction, not a crash.
With the buying frenzy we've witnessed over the past nearly 10 years sellers are struggling to understand that they need to price their homes in line with the market.  A recent article by Fortune Magazine said that "Historically speaking, home prices remain sticky until economics forces sellers' hand."  As the end of the rise in interest rates remains elusive, where prices will ultimately end up over the next months remains "sticky".  Corelogic predicts that Boise is one of the markets due for a pricing correction, but many Sellers' are struggling to follow suit. As sellers' have continued to push the prices higher and interest rates continued to rise, sellers have been forced to drop prices back to fair market value.  In past years each month home prices continued to increase, as that has not been the case the past few months, sellers who aggressively priced high have also had to aggressively price drop to find the market where the buyers are purchasing.  
With that said it's important to note that there is still a supply issue in the Boise Metro Area.  As of July 2022, we have roughly a three-month supply of homes for sale.  Sounds great, but a balanced market, in favor of neither the buyer nor seller is six months of inventory.  We're not quite there yet and most likely won't get there for some time.  Home prices most likely won't go up like in past years, but they won't be coming down much on price either.  Simple economics of supply and demand will continue to push Boise's market upwards.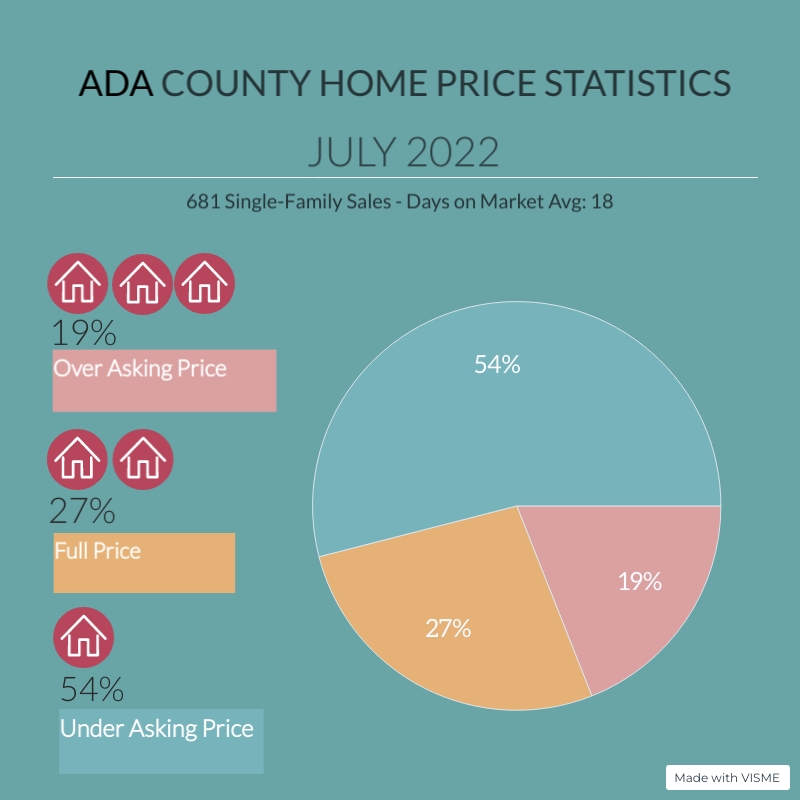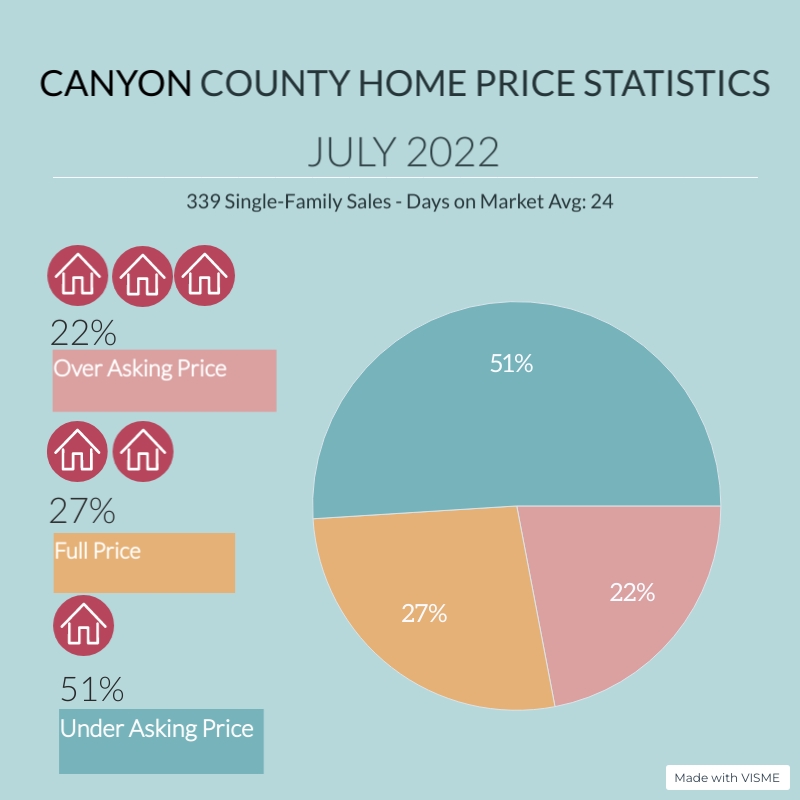 In Ada County in July, 671 single-family homes were sold, and this includes new construction and existing homes.  More than half sold under the asking price. In Canyon County 389 single-family new construction and existing homes were sold.  More homes sold under and at the asking price than over.  This is a big change from one year ago.  Additionally, the days on the market have increased in both Ada and Canyon County compared to the same time last year.
What to Expect Moving Forward
Boise Metro home prices have really shifted due to an increase in inventory, higher interest rates, and nervous buyers.  So we can expect homes to stay longer on the market through 2022 and home prices to remain flat or continue to decrease.  In 2023 as interest rates go back down more buyers will most likely enter the scene and home prices may start to trickle upwards.
Is it a good time to buy a home in Boise?
This is the first time in years that buyers are having the ability to negotiate with sellers as well as take a little more time in viewing homes, sometimes even two or three times before putting in an offer.  Interest rates are higher if a buyer is financing their purchase, however, many sellers are offering or may be willing to offer cash to buy down mortgage points to allow buyers to lock in a lower interest rate.  The interest rates will most likely go down in 2023 and home prices will start to trickle upwards, making purchasing a home more competitive.  Now, buyers have more purchase power, and is a great time to get into a home and start building equity.
It is also important to remember Idaho is a non-disclosure state, meaning sold prices are not published to the public, so Zillow and other online resources that provide Zestimates or home value estimates are inaccurate and in this volatile market, this is true more than ever.  Hiring a real estate agent that understands the market is imperative to understanding a home's current value and making the right offer.
When should I sell my home?
It may not seem like it, but we are still technically in a Seller's Market.  There are just three months of inventory meaning we have more buyers than homes for sale.  If selling during 2022 it is imperative to price the home correctly.  Over asking price offers and multiple offers have become less frequent, so understanding what buyers are willing to pay right now is key.  Also, sellers should expect their homes to stay on the market longer than in past months.
Having a turn-key ready home tends to attract more buyers, so if considering selling, now is the time to get the home market ready.  2023 should start to level out for sellers and things may pick up.  If you are considering selling now or even next year, start working with your real estate professional sooner than later.  They can help you to know what improvements to make to your home and how to get it market-ready.  Hire a real estate agent that knows your market.
Here's the snapshot of Median Home prices as of July 2022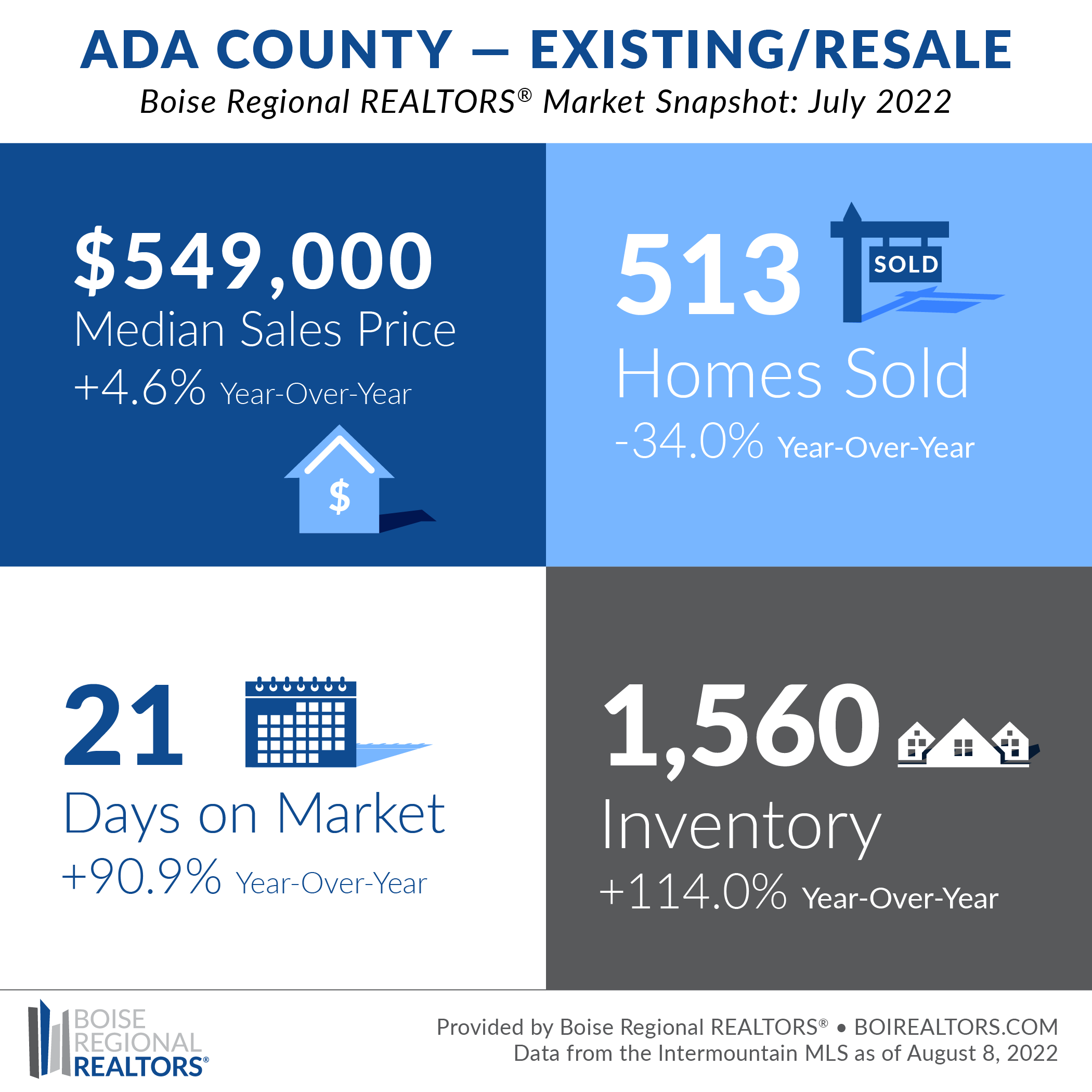 Median Sold Price July (includes new and existing homes)
Boise: 294 home sales – $525,000
Meridian: 189 home sales  $597,000
Kuna: 63 home sales –  $471,000
Eagle: 71 home sales –   $860,000
Star: 41 home sales –       $605,000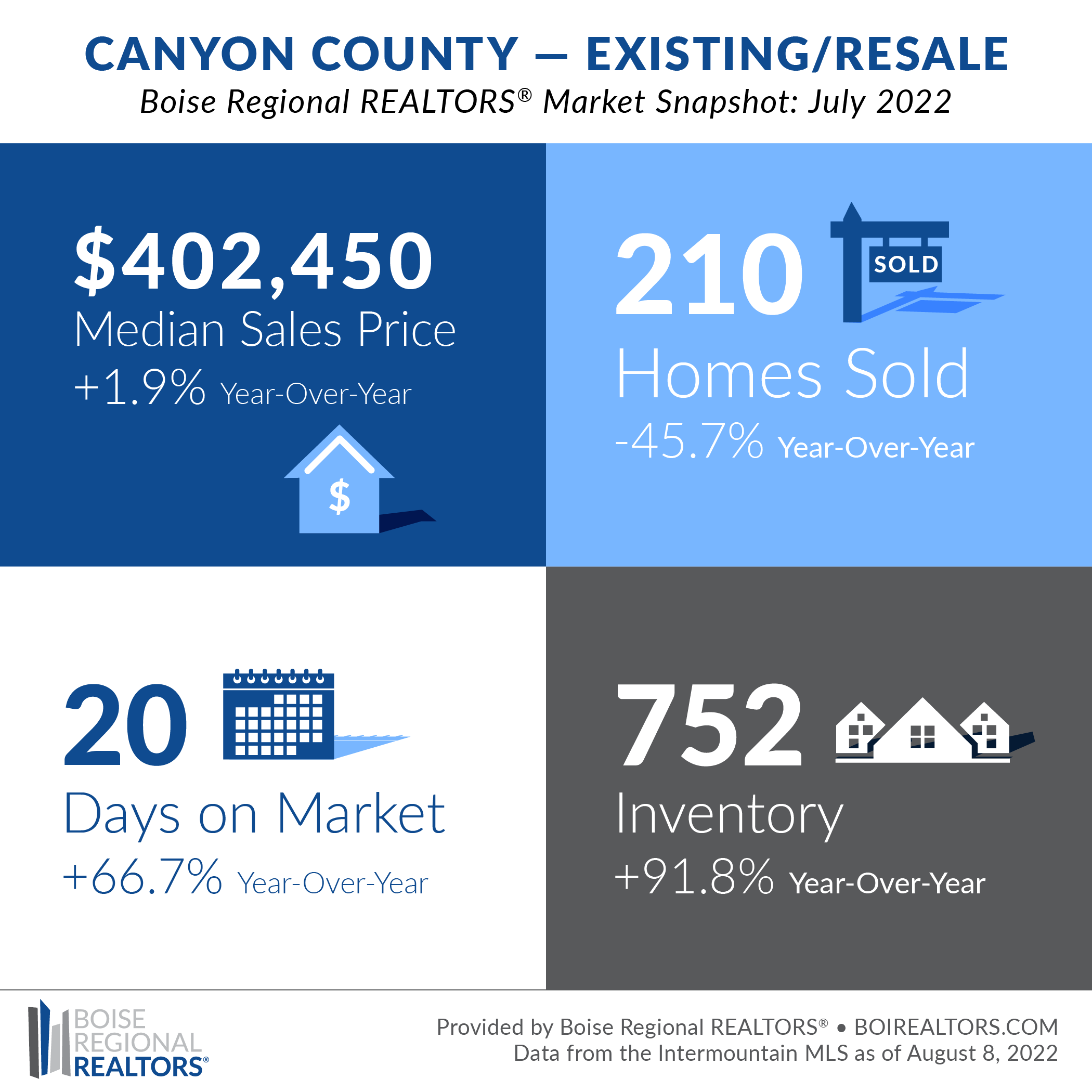 Median Sold Price July (includes new and existing homes)
Nampa: 193 home sales $438,000
Middleton: 28 home sales $507,000
Caldwell: 96home sales $425,000