ESCAPE THE HEAT IN BOISE
Summer in Boise brings lots of sunshine and at times a lot of heat.  One of the local's favorite ways to escape Boise's heat to cool off is to head to Bogus Basin, a Mountain Resort and Ski Area just 16 miles NE of the city. During the warmer months, visitors will find the snow-filled mountain landscape converted into a paradise of summer activities for nature lovers.  Here are a few of the activities you can find at Bogus Basin for the very adventurous and those who just want to cool down and relax.
ADVENTURE AT BOGUS BASIN
The Basin Gravity Park includes over 20 miles of cross-country mountain bike terrain.  Here is where you can find flow trails and some fantastic jumps.  The 14 trails all varying in style and difficult are designed for all levels, beginner or expert and you can take it slow or get some serious speed (and air).  Take a tour around the well-known Around the Mountain Loop then jet down through tree-lined paths leading back to the mountain base.
If after making it back to the mountain base and you are still in need of some speed a must is the Glade Runner Mountain Coaster.  Over 4,000 feet of a wild outdoor ride through the mountain with enough twists, turns, and thrills to fulfill any adrenaline seeker's dreams.
Still looking for fun?  There's more.  Don't forget the various other thrill-seeking activities located at the Base Area including Summer Tubing down a 300′ slide, Bungee Trampoline, Rock Wall, and more.
CHILL OUT ON THE MOUNTAIN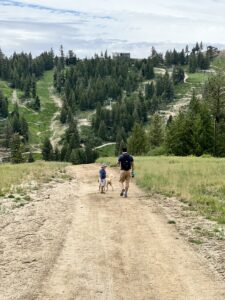 For those who prefer a more relaxing experience and want to escape Boise's heat Bogus Basin has you covered.  One of the best ways is to catch a ride up the mountain on one of their scenic chair lifts.  Ride up, enjoy the view and head back down just as you came, or take a hike on one of the many trails, and stroll back to Base.
After a beautiful hike is sure to stay for Music on the Mountain.  A free, full-production concert with some of the best views in the area.  Check out the event calendar to find the next concert.  If you enjoy music from local artists Music on the Patio is also a great way to relax.   Local musicians perform all summer long on Saturday and Sunday from 2-5 PM.  A great way to support local musicians, and relax, and the best part is it's FREE.
There's still more.  Yoga at Bogus Basin takes place Thursday Evenings, Saturdays, and Sunday mornings for one-hour sessions. All levels are welcome and you don't need to be a Yoga Guru to attend.  They just ask that you meet on the lawn in front of the main lodge at the mountain base and bring your own towel or mat.  Oh, and by the way, it's free as well.
You can purchase a season pass or pay for a day's adventure if you will be using the chair lifts or any of the thrill rides at the mountain base.  So, if you need to cool off and get a different perspective head to Bogus Basin while it's still hot.
Considering a move to Boise, Idaho?  Discover this great city, the most sought-after neighborhoods, and hidden gems only the locals know about and take a tour with relocation and real estate expert, Jennifer Louis. (208) 509-9122 or jennlouis@welcometoboiseandbeyond.com