For the first time in years we are seeing a shift in local real estate.  To understand what that means all you have to do is type "Boise" in any search engine and prepare to be flooded with articles and videos talking about the dark cloud hanging over Boise's real estate market.  Take these recent headlines:
Boise May Be Center of Real Estate Collapse – 247wallst.com – May 2022
The real estate frenzy is over – Axios – May 2022
Wages Can't Keep Up with Spike in Housing Prices – The New York Times – May 2022
Housing Market Fever Starts to Break in Boise – The Washington Post – April 2022
Boise Housing Market More Likely to Self Correct than Crash – Home Buying Institute – May 2022
It seems all eyes are on Boise and how the real estate market will respond to the continuous increase in home prices coupled with rising interest rates.  From the articles above, it doesn't seem many are optimistic that the real estate boom we've experienced the past several years will continue, but is that the case?
Let's Look At The Data
Year to Date Ada County has seen over a 16% increase in home values from one year ago.  Canyon County has experienced a nearly 13% increase since last year.  Mortgage rates are increasing, and homes are becoming unaffordable, so what is driving this increase?  It's the same story we've heard over the past years and months, low inventory, and high demand.  The majority of the demand is coming from out-of-state buyers, looking to cash out on their equity and invest in "more affordable" markets.
Boise keeps making headlines as unaffordable, yet for those coming from California, the Seattle area, New York, and other large metropolitan areas across the US, Boise's median home price of just under $600K is still appealing.  Yet, many local homeowners are holding on to their homes due to fear of what they can afford if they move, and with limited homes on the market, and builders not able to meet demand, the inventory remains low low low, driving up prices.
This trend, however, can't continue.  As other markets around the US soften, and it becomes harder for homeowners to sell their homes, the demand here will start to die down.  We are starting to see signs of this in some areas of the market already.  Homes priced over the median price of $600,000 in Ada County have  already being impacted. The same for Canyon County.  Homes are sitting longer on the market and multiple offers and bidding wars in this price range are becoming less frequent.
Here are the charts showing how homes are selling in May 2022.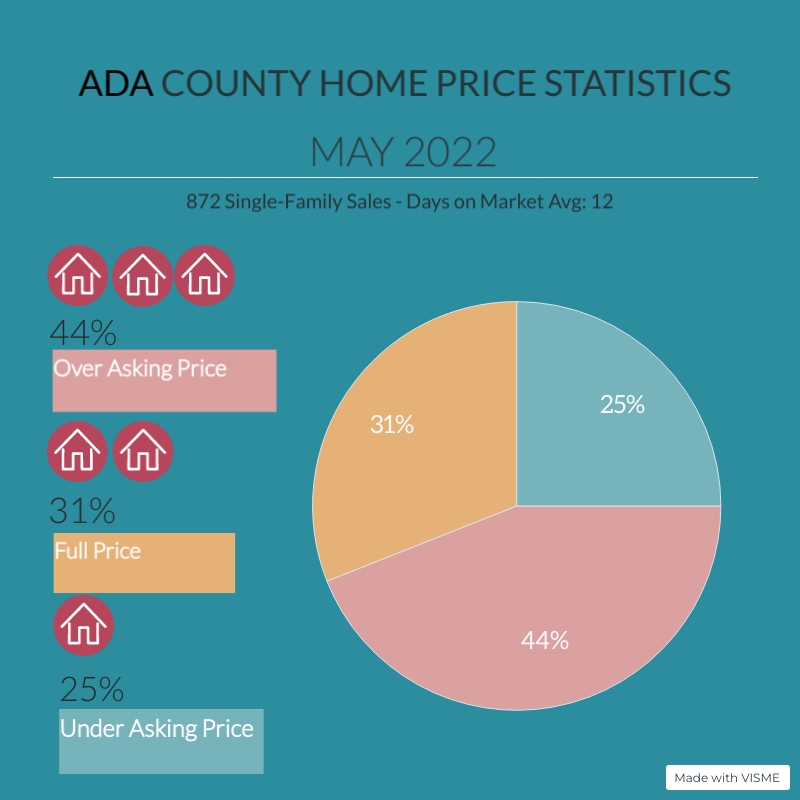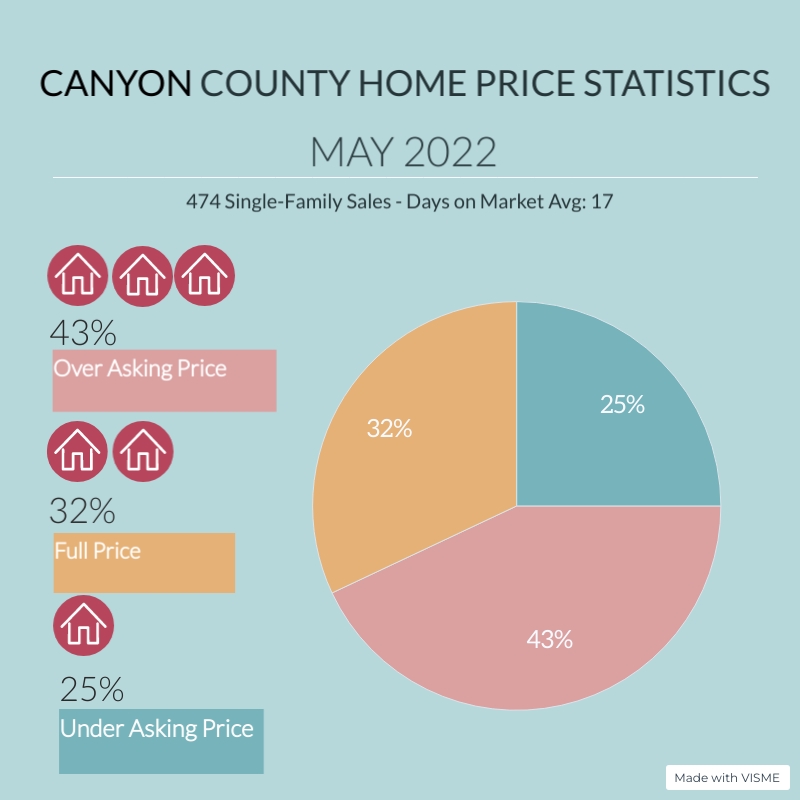 In Ada County in May, 872 single-family homes were sold, and more than half sold under or at the asking price, In Canyon County there 454 single-family homes were sold.  More homes sold under and at the asking price than over.  This is a big change from one year ago.  Additionally, the days on the market have increased in both Ada and Canyon County compared to the same time last year.
What to Expect Moving Forward
Low inventory has kept the market prices moving upwards, but as more and more people are squeezed out of the market, prices will likely begin to flatten.  Don't expect a housing crash like in 2008/2009, but be aware that the trend of increasing prices is gradually going to slow down.
As many homeowners are worried we've reached the peak of the market they may start to put their homes on the market as we move towards Summer and this in turn will increase the inventory and keep prices from shooting up like in the past few years. This will most likely create what  economists refer to as a "self-correction."
Inflation, higher mortgage rates, along with a sense of economic uncertainty could cool the real estate market as we approach the second half of 2022.
According to a recent interesting article on ZeroHedge.com, "New home sales are often viewed as a leading indicator of the state of the overall housing market.
Nationally, new single-family home sales dipped by more than 16% from March and decreased to nearly 27% from a year ago. New home sales dropped to the lowest level since the lockdown back in the Spring of 2020
The biggest drop in new home sales occurred in the under-$400k price range, indicating that high prices and rising mortgage rates are squeezing middle-class Americans out of the housing market.
WolfStreet broke down the current dynamics in housing.
Homebuyers struggle with spiking mortgage rates which make the high home prices that much more difficult to deal with. And with each increase in mortgage rates, and with each increase in home prices, entire layers of potential buyers abandon the market, and sales volume plunges."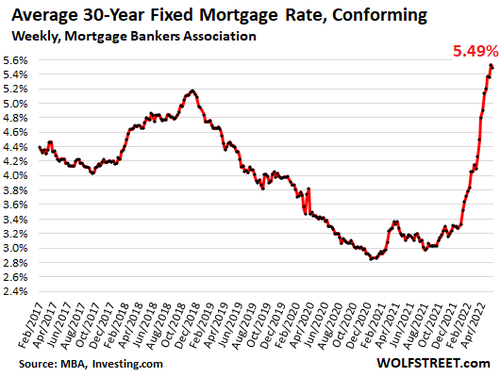 The Mortgage Bankers Association (MBA) data for April 2022 shows mortgage applications for new home purchases decreased 10.6% compared to a year ago. Compared to March 2022, applications decreased by 14%.
The Federal Reserve blew up this housing bubble when it artificially suppressed interest rates and bought billions of dollars in mortgage-backed securities. Now the central bank has pricked the bubble by allowing rates to rise ever-so-slightly."
So to sum it up we can expect demand for housing to start cooling in the second half of 2022, however, a crash is unlikely and home prices will most likely flatten and homes will sit longer on the market than in the past.
Is it a good time to buy a home in Boise?
As more homeowners rush to get their homes sold, buyers will start to see more choices when home shopping, however, they shouldn't expect home prices to come down dramatically, if at all.   Buyers should be aware that searching for homes at the median sales price or lower is where it is the most competitive.  Buyers will need to carefully assess how to make their offers stand out against other offers.  Hiring a real estate agent that understands the market and the areas of interest is imperative to getting their offer accepted.
When should I sell my home?
We are still in a seller's market making it an excellent time to cash out that equity while the market is still in favor of the sellers and while buyers are still looking for their next home.  Sellers should expect that their home may sit longer on the market than in previous years and that buyers paying top dollar are less likely to buy a home "as is", meaning they will want the home in top shape before purchasing.  Pricing the home correctly is imperative to attract multiple buyers and get the best offer.  Hire a real estate agent that knows your market.
Here's the snapshot of Median Home prices as of May 2022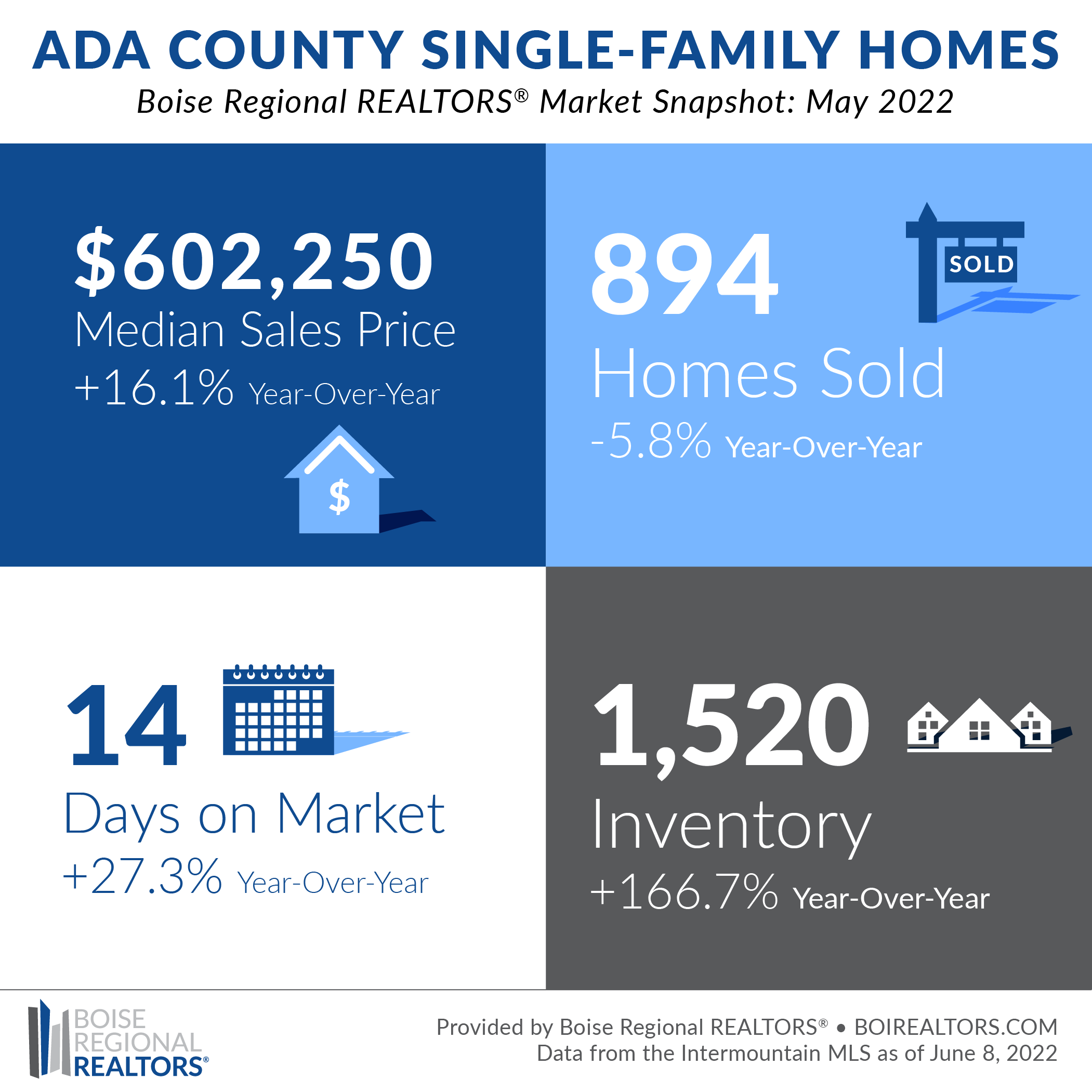 Median Sold Price
Boise: 580 home sales – $580,000
Meridian: 399 home sales  $580,000
Kuna: 109 home sales –  $490,000
Eagle: 122 home sales –   $929,500
Star: 74 home sales –       $645,000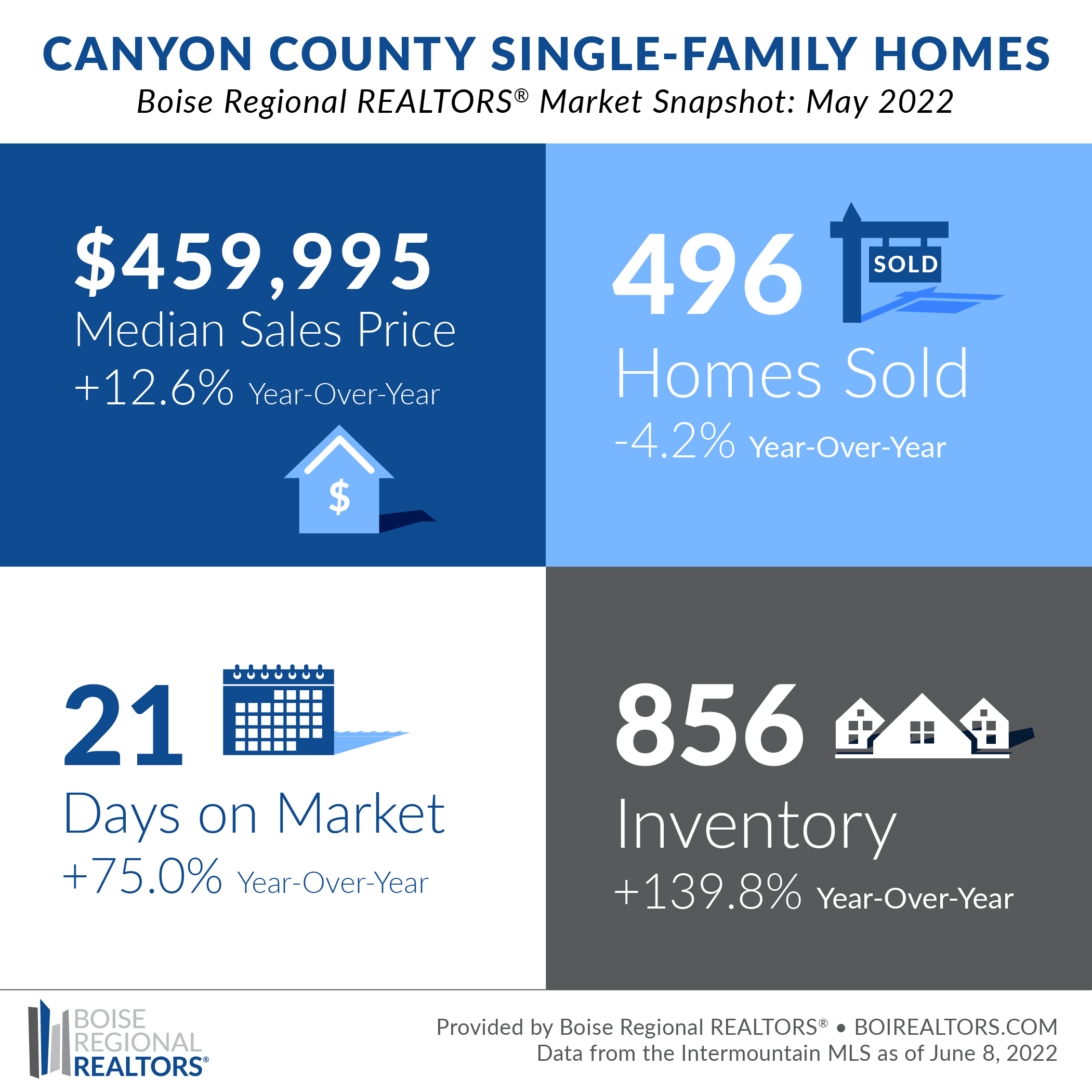 Median Sold Price
Nampa: 354 home sales $449,500
Middleton: 71 home sales $545,000
Caldwell: 175 home sales $420,000