It's this time of year that most real estate professionals will put together their Boise market predictions for 2023.  Predictions are typically based on the trends from the previous year, current and predicted interest rates, and local and national trends that could potentially affect the housing market.  With that said 2023 is proving to be a difficult year for many to predict and hence the reason there are widely varying predictions out there.  Moody's Analytics is quoted as stating that the Boise Metro real estate market could be expected to go down in value by 20%.  Other reliable sources say home values could decline by 30%.  Then Zillow and a few other sources predicted home prices in the Boise area will most likely increase by just under 5% this year.  The contrasting opinions are most likely due to the roller coaster year we experienced in real estate in 2022, coupled with the fact no one is sure where interest rates will end up this year which will greatly impact the future of real estate in the Treasure Valley.  So, before I throw my hat in the ring, let's look back at 2022 and then take a look at the trends I'm seeing as a relocation specialist for the area to come up with reasonable predictions for this year.
Looking Back at 2022
As predicted at the start of 2022, home prices shot up from early on in 2022 through the Spring.  Low inventory and relatively low-interest rates still in place continued to drive the market and home prices upwards.  However, around this time there was a lot of apprehension in the air as the talk of rising interest rates made headlines.  By Spring those rates started to climb, and home values peaked in value in April, a bit earlier than predicted.  With higher rates, many buyers found themselves losing buying power and suddenly they were unable to afford what they were looking for.  Those that could still qualify for a loan seemed to feel apprehensive about buying, concerned that prices would go down and it would be better to wait.  Homes started to sit longer on the market.  No longer gone in a weekend, we saw multiple open houses and only a handful of showings in the first couple of weeks.  As the apprehension continued, motivated sellers started having to do the unheard-of, "price drop".  Yet, many sellers weren't prepared to do this and kept hoping the market would stabilize, but the longer the homes sat on the market, the more pressure there was to lower the price to meet market demand.  The median days on market went to over 30 days, and by the end of the year, it was about double that.
The other trend we saw in 2022 was many buyers struggling to afford a home with the interest rates and closing costs associated with a home purchase.  To help buyers and sellers alike many sellers started to offer or agree to offer concessions to the buyers.  Concessions could be cash towards the buyers closing costs, lowering the price of the house, or offering funds towards buying the buyers interest rate down a point or two.  What a change from 2021 when buyers were feeling the pressure to relinquish most of their contingencies just to get an offer accepted over other buyers' offers, now by Summer 2022 the roles were quite reversed, with sellers willing in many cases to bend over backward to assist buyers to purchase their home.
Seller concessions, price drops, and longer days on the market remained the norm through the end of 2022, the only real change is we did see an increase in available inventory.  The increase in inventory allowed buyers more time to shop for the right home and did help curb pricing from not declining too fast.  Some of the larger builders in town found themselves with more inventory than expected and offered for several months incredible incentives to get buyers into homes.
Trends In 2023
Interest rates are still quite high from a year ago, and although they fluctuate some, they tend to hang out around 7%.  Many sellers from 2022 who weren't able to sell their homes last year either opted to rent out their home or pull it off the market right before the holiday season to wait and see if prices rebound if/when interest rates go down.  This created another lull in inventory by the very end of the year and we are seeing that in effect as of January 2023.  We've also been experiencing a colder-than-normal Winter in the Treasure Valley and many homeowners prefer to get their home on the market when the grass is green, sun is shining and flowers are blooming, so we could see the seasonal uptick of homes arriving on the market in March/April this year.  With more homes on the market, the question will be how will buyers respond during the typically busy home-buying season of Spring through Fall.
Looking at markets that neighbor Idaho such as California, Colorado, Washington, Oregon, Utah, etc. we see a slowdown in home prices as well, meaning it's taking longer for those looking to relocate to a State such as Idaho, longer than anticipated to sell their current home, however, those markets still have higher price values than the Treasure Valley and once their home sells, Boise is still a relatively affordable area to buy a home.  As a relocation specialist, I have been getting numerous calls from buyers considering a move to this area and eager to sell their homes where they are currently residing.  Boise still remains attractive for many reasons, even with a shifting market.  Homes are still less expensive than in neighboring markets, and although it has grown here in the past few years it is less crowded here than in most other major cities that are nearby.
So, we can expect that home prices will most likely stay where they are, if not slightly decrease through Spring of this year.  As more out-of-state buyers reach the area in late Spring/Summer and if interest rates take a slight dip we could start to see home prices trickle upwards again.  Don't expect another jump up in prices of 20-30%, but a slight increase in 2023 of 5% is definitely plausible.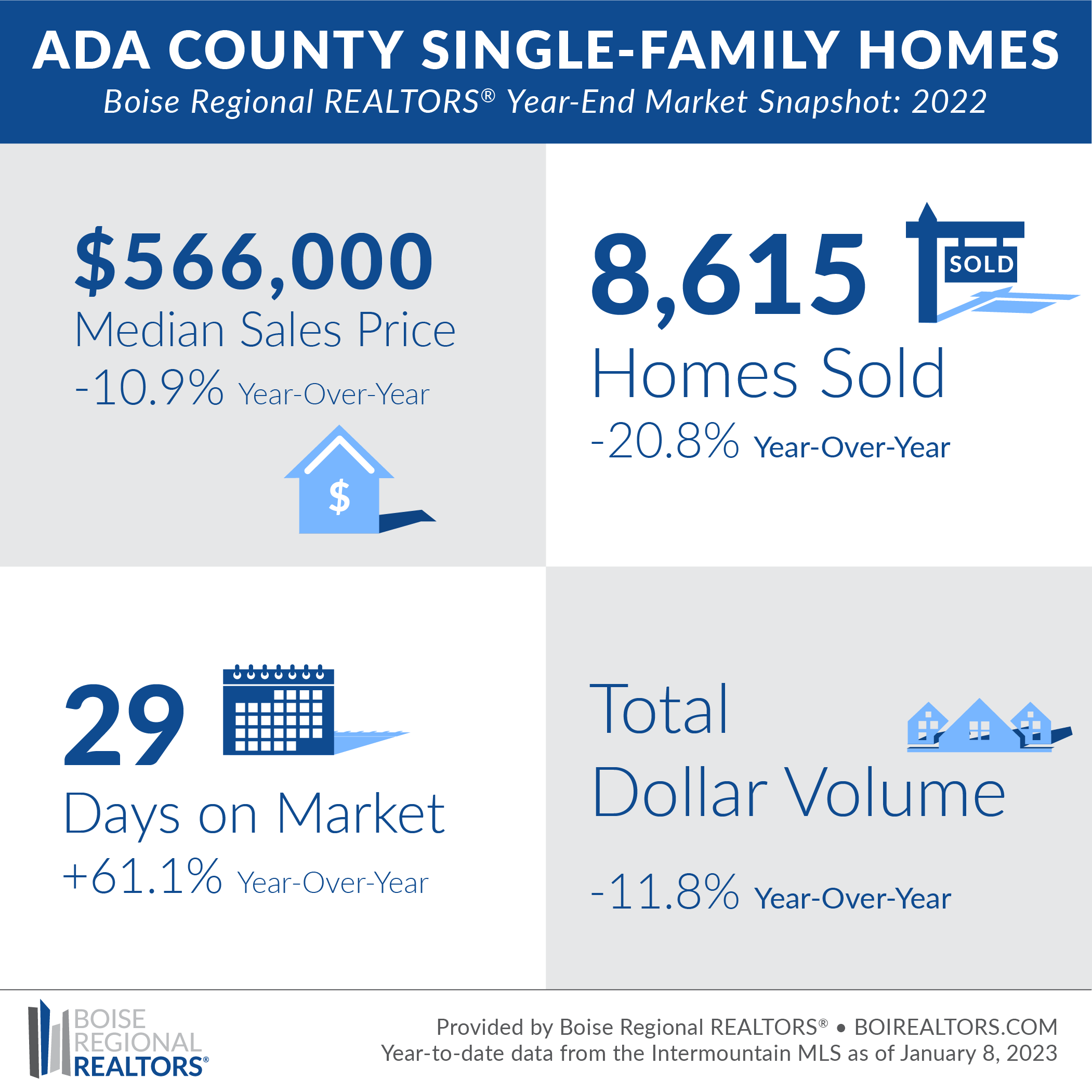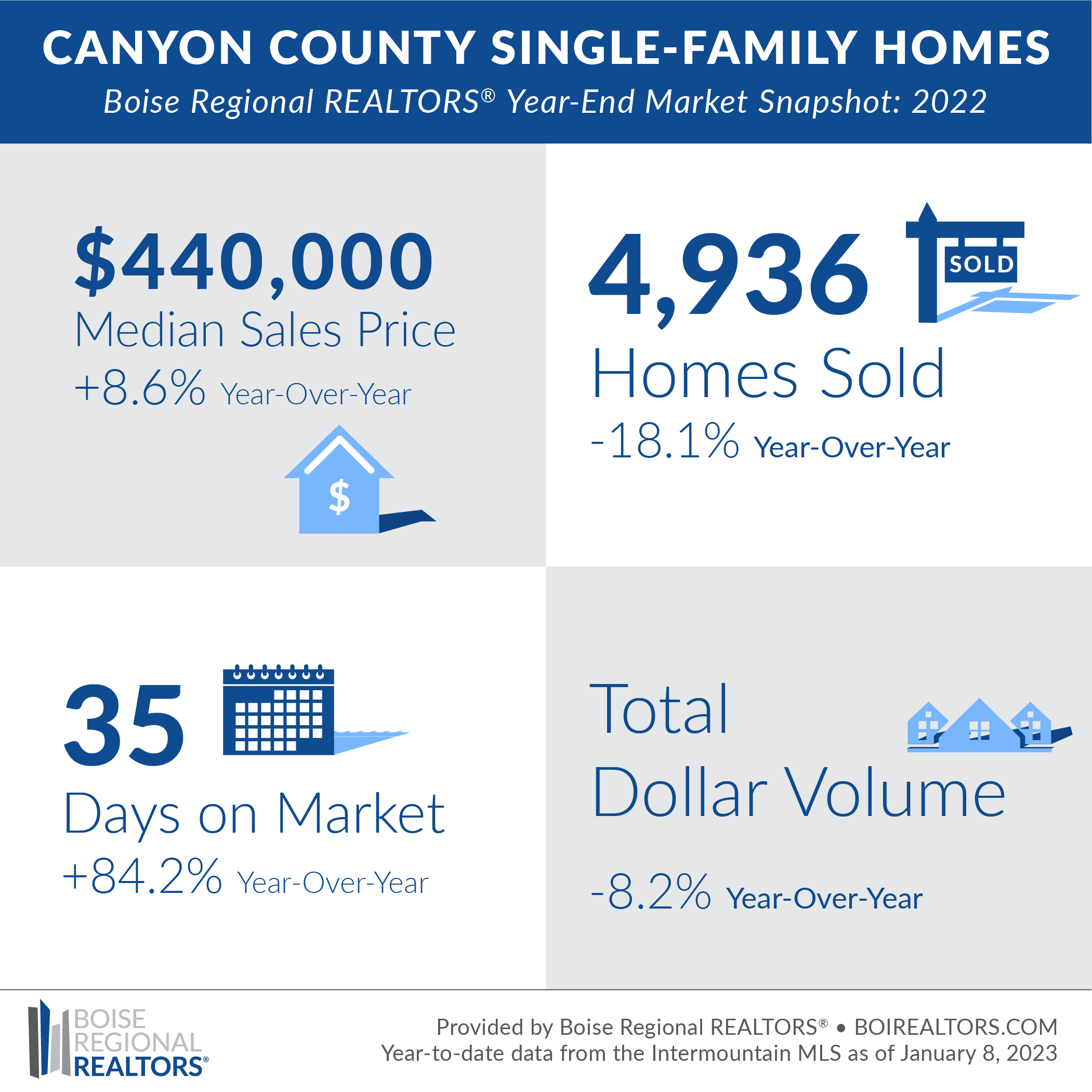 Here is a look at the Boise Regional Realtor's statistics of Single-Family Homes in Ada County and Canyon County in 2022.  
Should I Sell/Buy Now or Wait?
If you are looking to sell your home, now is still a great time.  You may be thinking, but it's Winter, it's cold and gray and you just said home prices could go back up by the end of the year.  Yes, yes, and yes, however, in real estate it's always better to sell when there is less competition.  Right now there are fewer homes on the market and homes that are priced right and marketed correctly are still selling quickly and for full price, in some cases over the asking price.  The main issue is that many sellers are overpricing their homes, and then using subpar real estate services.  What I mean by that is the home doesn't have professional staging, photography, or improvements needed to make it shine.  These things matter tremendously in this market!  Buyers start their home search online and if the home is unattractive or looks cluttered or dark most buyers won't consider it.  If the home is priced at the high end of the price value range and looks outdated or in disrepair it will sit on the market and eventually have to lower the price.  If homes are priced right from the start they sell quickly.  Most homeowners in the Treasure Valley are sitting on a ton of equity in their homes.  Homes prices in 2021 went up by over 20%, not to mention the tremendous increase in value over the past five years.  Yes, the peak home values of Spring 2022 have come and gone, but the prices are still high compared to the past.
Buyers should seize this shift in the market to snatch up good deals, get seller contributions to pay for closing costs, lower interest rates, etc.  There are currently 3 bedrooms, 2 bath homes on the market, move-in ready for under $300K.  This is something we have not seen in the past.  If you are considering buying let's set up a consultation to see how to get you into a home and find a great deal.  There are builders out there looking to offload inventory and offering great incentives.  If you are a buyer and willing to do some repairs there have never been so many fixer-uppers on the market that are actually available and not being bought up by out-of-state investors.  This is a fantastic time to get into a home now without having to deal with bidding wars.  Interest rates are higher, but you can often negotiate with the seller to buy down your rate, or refinance down the line once interest rates come back down.
Schedule Your Consultation
Whether you are buying or selling consult first with a professional that understands this market and the best way to succeed.  Schedule a 30-minute no-obligation consultation with Jennifer Louis, Boise Metro Area Real Estate Expert at (208) 509-9122 or jenn@boiseandbeyondrealty.com.