As the chilly weather has settled in here in Boise so has a colder real estate market.  As the hot seller's market fades away, Boise shifts into a Buyer's Market, something the Treasure Valley hasn't seen since 2008.
Yet, many Buyers are still on the fence about snatching up real estate at these new prices, mostly due to the higher interest rates, and uncertainty of where the market is heading.  There is a lot of headlines and news out there creating fear about real estate.  I'm typically skeptical when reading headlines, and I turn to the facts before making up my mind.  So…
Let's Look At The Data
In Boise over the past three months, 77% of the homes sold UNDER the original asking price.  This could mean the seller dropped the price, or a buyer offered less than the asking price, either way, the homes tended to have large drops, and some homes dropped over $100,000 from where they originally started.
On top of that 18% of those homes also offered the buyer closing cost contributions.  Most of those contributions were quite substantial. Most were around $10-$15K but a few were over $30,000.  Those contributions were used towards buyer closing costs or buying down the buyer's interest rate, or repairs on the home.
Canyon County saw a similar market in the past few months.  With 74% of the homes selling under the asking price and about 15% offering closing cost contributions on top of that.
Another interesting fact is that there were some homes in Boise and Nampa for example that sold at the original asking price and even over the asking price, but a percentage of those also offered closing cost contributions which brought the home price under the list price.
These percentages show just how much of a buyer's market we have entered.  Many sellers are nervous and waiting for the market to shift back in their favor, but the data points to pricing staying in the buyers' corner most likely through Summer 2023 as Boise continues to shift into a Buyer's Market
These are the facts, yet buyers are still uncertain.  I've had multiple buyers tell me they are waiting to buy until rates come down.  Another told me recently they are waiting for better pricing.  Here is the problem with those two options:
1  The Fed has stated they are still combatting inflation and rates will most likely stay close to where they are if not creep higher over the next several months.  Once the rates do start to come down, buyers will be back in droves rushing to buy.  More buyers equal multiple offers and prices going up.
2.  Many sellers are frustrated with the current market after years of watching homes disappear off the market in days or hours in some cases at unbelievable prices.  As the new buyers market trend has sunk in as here to stay for a while many sellers are pulling their homes off the market.  Less inventory equals higher prices.
We see buyers trying to wait out the market, but the truth is right now is a great opportunity to buy.  Buyers can negotiate pricing, terms, closing costs, repairs, etc. without the stress of having to bid over another buyer, or buy anything with a for sale sign out of desperation that there would be nothing else.
Let's talk About Interest Rates
At present interest rates are down a bit around 6.5%, but DID YOU KNOW that if the Seller is willing to offer a credit towards an interest rate buy down you can in many cases get that down to 5.5% possibly lower?  I just had two clients who received nearly 20K in closing cost contributions and used part of it towards the actual cost of closing, as well as buying down their interest rate.  Not to mention they bought the house at $20K under the asking price.
Here's the breakdown:
A $500,000 purchase price with a 20% down payment at today's interest rate of 6.5% would be roughly $2500/month with Principal & Interest, but if the Seller offered $17,500 towards a rate buy down this same loan would cost $2270/month for P&I.  Nearly a $300/month savings.
The other option is to use the $17,500 from the Seller towards closing costs which could be $7-10K and the remainder towards the price of the home.  Accept the higher interest rate and refinance once rates come down in the future.  Many lenders are offering to pay for some of the fees associated with refinancing if your original loan was through them during this time period.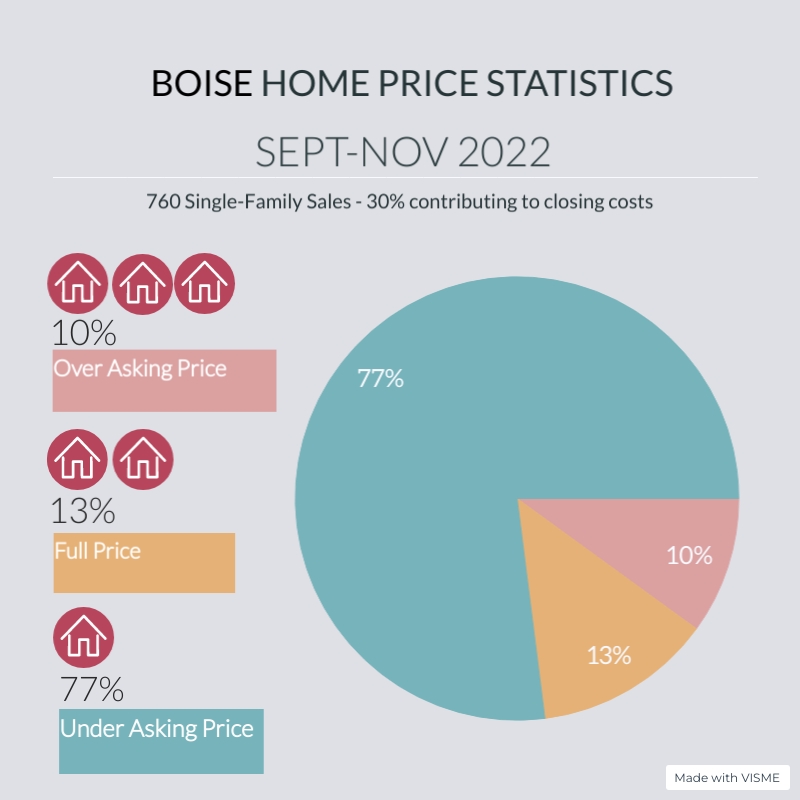 These two graphics differ dramatically from last year, the past ten years actually.  This is the first time we have seen substantially more homes selling under the asking price since the economic crisis of 2007-2009.  Yes, some homes are getting full price or over asking price, but roughly 20-30% of those sales also had contributed cash towards the buyer's interest rate buy down or closing costs.  The homes that did sell at full/over asking price were priced competitively from the start with the majority of them being turnkey or in highly desirable areas or subdivisions.  The Days on the Market have also increased.  In Boise from Sept-November, the average days on market were 36.  It has doubled if you compare it to the DOM at the same time in 2021.  Nampa was similar with 20 DOM in 2021 and 44 is the average from Sept-November this year.
What to Expect Moving Forward
As the holiday season ends, real estate will pick up again, especially since rates have dropped about a 1/2 point recently.  Prices will eventually stabilize this Spring into Summer, but homeowners looking to sell should not expect prices to go up in 2022 until at least the Fall, if then.  Buyers will continue to dominate the market and hold more negotiating power than in the past, so sellers need to up their game.  Prepare their home thoroughly to sell.  I can't tell you how many homes I just saw listed on the MLS with camera phone pictures of the interior, and laundry on the floor with blurry images.  It will be hard to sell a home for a top price in what is currently a buyer's market with subpar marketing and a home that doesn't stand out from the competition.  I offer full-service real estate service for all of my listings at no charge to my clients.  That includes a staging consultation, home preparation, professional photography and high-traffic open houses, and marketing tactics.
Buyers should seize this shift in the market to snatch up good deals, get seller contributions to pay for closing costs, lower interest rates, etc.  There are currently 3 bedrooms, 2 bath homes on the market, move-in ready for under $300K.  This is something we have not seen in the past.  If you are considering buying let's set up a consultation to see how to get you into a home and find a great deal.
Schedule Your Consultation
Whether you are buying or selling consult first with a professional that understands this market and the best way to succeed.  Schedule a 30-minute no-obligation consultation with Jennifer Louis, Boise Metro Area Real Estate Expert at (208) 509-9122 or jenn@boiseandbeyondrealty.com.