Spring real estate season is here, but starting off much slower than in years past.  Far fewer homes have shown up for sale on the market compared to previous Spring seasons, however, we have seen an uptick in buyers entering the market since the start of the year, despite higher rates.   This is causing a leveling out of home prices in Boise and beyond and we can expect the downward trend from last year to continue to wind down.  How will this impact the rest of the Spring and Summer seasons this year?  Let's take a look at the data so far.
The Facts Year-to-Date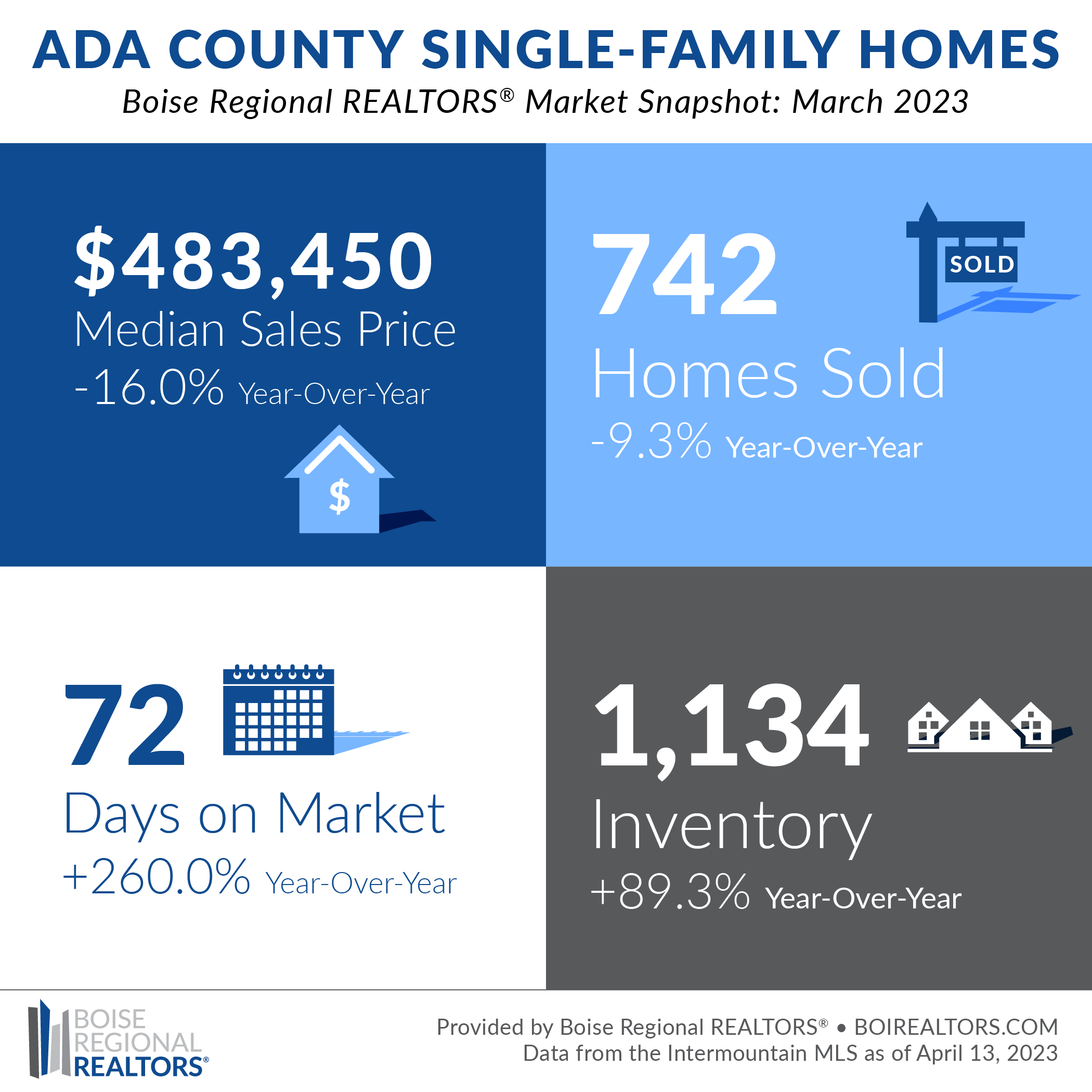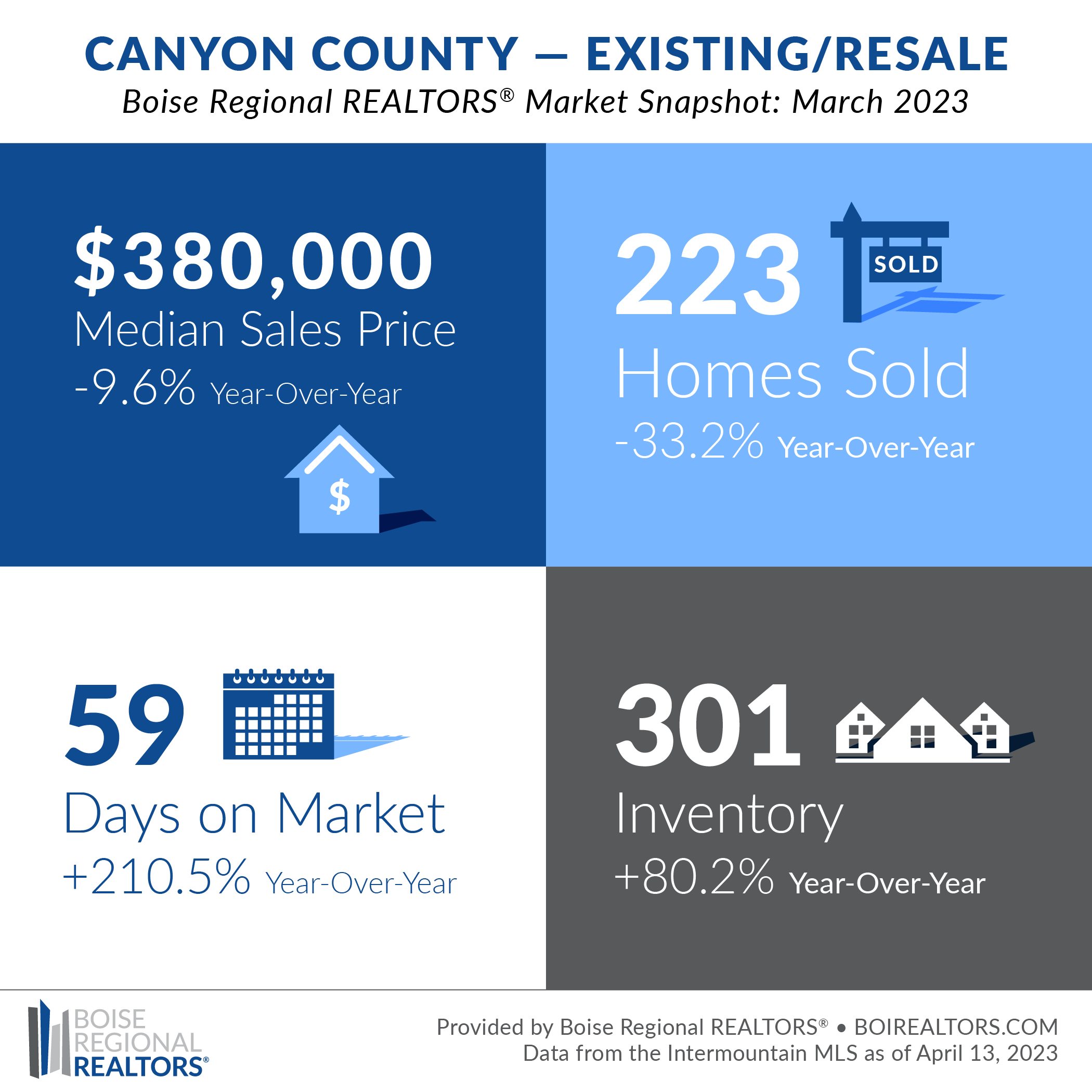 In March, the median sales price in Ada County was just over $483,000 which is about 16% lower than a year ago. Canyon County had a median sales price of $395,000 or a nearly 13% decrease from last year at this time.  Both Ada and Canyon Counties did see homes selling in fewer days on market compared with the previous month which could be attributed to fewer homes going on the market over the past couple of months.  You will see in the chart below inventory has increased from a year ago, but it's important to keep in mind when reviewing the data that many of those homes have been on the market for 90 days or longer.  As for the number of actual homes entering the market for sale, we are seeing much less than in previous years and this will most likely bring a more stable market.
We can attribute the decline in inventory for this time of year to the current homeowner's situation.  Most homeowners here in the Treasure Valley paid far less for their homes and are locked in at much lower interest rates, such as 4% or lower.  This makes buying something new less enticing when the rates are in the high 6% range.  Many of the existing homes selling are from out-of-state investors or homeowners moving out to state or that MUST sell.  Builders still have homes for sale which have made up a larger percentage of homes for sale on the market and their incentives to purchase have made them quite competitive with the existing resale market.
With fewer investors purchasing homes and fewer existing homeowners wanting to change homes that leaves first-time home buyers as the main category of buyers on the market right now.  The current interest rates are in the high 6% range, but first-time home buyers that qualify for the Idaho Housing Finance Association (IHFA) loan, can lock in a rate in the high 5% range (almost a point lower in most cases).  Less competition and better rates have encouraged first-time home buyers to get back out there and find a home and we are seeing many sellers still willing to offer some concessions, either cash towards closing costs or towards buying down the buyer's interest rate making it even more advantageous for first-time home buyers right now.
Here is a chart for Ada County's new construction and existing resale compared with the previous year:

What to Expect for the Remainder of 2023
If you've looked over the facts and read up to now you will see that the market is stabilizing.  Home prices have gone down, but with more buyers entering the market we should start to see the pricing level out through the warmer months of the year.  If the rumors are right and the interest rates tick down to closer to 5%,  then we could possibly even see home prices go up slightly.  As soon as the rates go down we will most likely see a large influx of homes hitting the market and buyers filling out loan applications. Supply and demand will come back into play and affect home values.  As of March 2023, we have a nearly 1.6-month supply of homes for sale in Ada County for existing homes.  That's still quite low for inventory.  A healthy supply or balanced inventory would be closer to six months, so just over a month of inventory is low should more buyers enter the market.
Should I Sell/Buy Now or Wait?
If you are looking to sell your home, now is still a great time.  Buyers are out shopping again and homes that are priced right, and marketed correctly are still selling under the average days on market.
It's imperative to talk to a real estate professional who understands the market you are buying and selling in to truly understand the best timing to sell and buy.  There are a lot of opinions out there on the Internet, or even trusted friends, colleagues, and family, but unless it's coming from someone with the pulse on the market you are dealing in, you might be getting the wrong data and that could potentially cost you thousands.  Set an appointment today to understand the market trends in Boise and the surrounding Treasure Valley.
Buyers should seize this shift in the market to snatch up good deals, get seller contributions to pay for closing costs, lower interest rates, etc.  There are currently 3 bedrooms, 2-bath homes on the market, move-in ready for under $350K.  This is something we have not seen in the past.  Here are some single-family homes in Nampa currently for sale and in Ada County as well.  If you are considering buying let's set up a consultation to see how to get you into a home and find a great deal.  There are builders out there looking to offload inventory and offering great incentives.  If you are a buyer and willing to do some repairs there have never been so many fixer-uppers on the market that are actually available and not being bought up by out-of-state investors.  This is a fantastic time to get into a home now without having to deal with bidding wars.
It's true interest rates are higher, but you can often negotiate with the seller to buy down your rate or refinance down the line once interest rates come back down.  Also, it was just recently announced that those who qualify for FHA loans can save thousands over the course of their loan.
Schedule Your Consultation
Whether you are buying or selling consult first with a professional that understands this market and the best way to succeed.  Schedule a 30-minute no-obligation consultation with Jennifer Louis, Boise Metro Area Real Estate Expert at (208) 509-9122 or jenn@boiseandbeyondrealty.com.