This Spring homes slowly trickle onto the market as more and more arrive from out of state looking to invest in a home or relocate to the area.  Needless to say, home prices continue to increase throughout the Treasure Valley.  What can we expect for the real estate trends in Boise through Summer in regards to home prices and inventory?  Let's look at last month's market statistics and the trends to see what lies ahead.
Recent data is showing that over 20% of homes being purchased in the Treasure Valley are owned by someone other than the primary homeowner.  According to BoiseDev.com, "The combination of record-low interest rates, a nationwide housing shortage and a renewed interest in single-family homes outside of major metro areas due to the COVID-19 pandemic is fueling a new wave of investor capital in American real estate." This along with those relocating to the area from out of state is what is driving the prices in the local real estate market.  With such high demand and no end in sight, we can expect prices to increase through Summer potentially up to 30% by the end of 2021 compared with last year.
Ada County Median Price $481,208 – April 2021 – 28.5% Increase Year Over Year

Canyon County Median Price $399,856 – April 2021 – 46.5% Increase Year Over Year
With the Boise Metro area continuing as one of the nation's top competitive markets does that mean all locals are excluded from purchasing a home?  Well, that depends.  For first-time homebuyers, it has never been a better time to secure a mortgage at record low-interest rates. These rates allow buyers to afford more house than they could two years ago, however with out being able to cash out on equity from a home many first-time buyers struggle to put together attractive offers that compete against cash or large down payments, adding a sense of security to the Seller when choosing a buyer.  We are also seeing more local homeowners start to tap into the equity they have built over the past several years and downsize or move to more affordable areas within the Treasure Valley.  Rather than refinancing some homeowners are selling their homes and reinvesting in a different type of property or going out further from Boise to get more house for the same price.
There has also been a myth that the majority of homes being purchased by out-of-state buyers are with cash, and the stats show that is not the case.  In fact in Ada County in April only 22% of the homes sold were from cash offers, which means nearly 80% of the homes sold were secured with either a VA, FHA, or Conventional loan.  In Canyon County, it was the same with 18% of the homes sold all cash and over 80% via financing.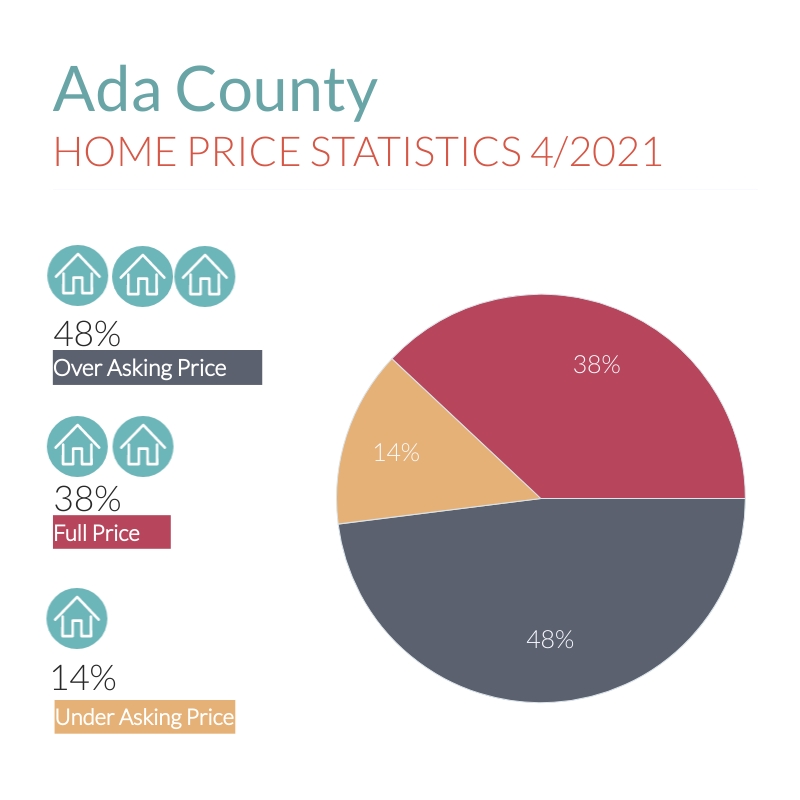 Another misconception is that ALL homes are selling over the asking price and the data is showing that simply is not true.  We are seeing multiple offers and homes selling substantially over the asking price typically when homes are competitively priced.  In Boise and Meridian homes at the median price point of around $450K and under tend to have multiple offers, as do "fixer-uppers" priced at fair market value.  We are seeing multiple offers and over asking offers on homes above $450K in Ada County, but these are typically homes in sought-after neighborhoods or areas or have large lots or newly remodeled homes.  Analyzing the data means we can expect a competitive market in hot neighborhoods and areas at the median price or below.
What About New Housing?
With the increase of demand for housing and more and more turning to new construction, we've seen some big changes in not only new construction pricing but also the process to secure a new home.  With the increase in the cost of materials to build new homes, builders are changing the way they market and sell their properties.  Recent data shows the national price of lumber and wood products increased by 28.8% since 2020, and by 30.5% since 2019. These costs are being passed along to homebuyers, and due to the uncertainty in the availability and price of materials, some builders are holding back available inventory until they are closer to delivery so they can price the property based on the actual build cost.
In the past you could secure a new home under construction with a build time of anywhere from 6-12months, now most builders are waiting to release their homes until closer to completion and asking for higher prices.  To secure a home now by a builder a purchaser may need to put down a hefty deposit and get on a waiting list that can take anywhere from 3-6 months.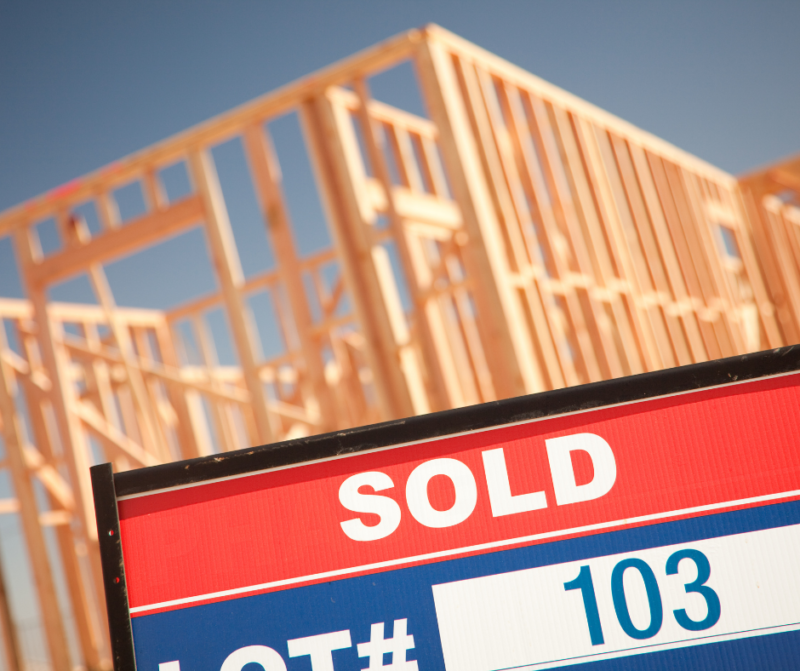 Once a property becomes available it's another 12-18months for construction.  For those moving to the area and needing to get into a home, waiting nearly 2 years for a home is not an option. 
Another thing to look out for when purchase a new home is their price escalation clauses included in the purchase and sales agreement.   A price escalation clause is a provision included in a purchase agreement as a way for builders to recover some of all of the cost increases over the course of the home build and can be adjusted between the builder and purchaser while under contract.
With the changes mentioned above, we are seeing increases in price across new construction, however since some prospective sellers are also holding back existing homes from the market,  either because of  COVID-19, but also so they can find their next home before listing their current one this has made new homes less expensive on average, than existing homes for the past several months.  According to Boise Regional Realtors, "these unprecedented trends of new homes selling for less than existing homes, the willingness of buyers to pay over list price, and the record fast market times illustrate the incredible demand we've been experiencing, driven by low rates and insufficient supply."
How to Successfully Purchase In These Market Conditions
Be Realistic.  In this market, it may be necessary to compromise on some of the ideal features you would like in a home.  Can you overlook the old carpet, outdated features, and budget in slowing remodeling the home yourself to your own taste?  Could you live with a two-car garage, over a three-car?  Compromising can save thousands and more importantly get you in a house in one of the greatest cities in the US now.
Broaden your search area.  Homes near the Greenbelt and downtown Boise go for a premium, as do newly built homes or homes with a large property.  Consider moving to neighborhoods that are less popular (now) with the knowledge that they may soon be a hot neighborhood to live in.  South Boise, West Boise has great neighborhoods and often with more affordable homes than more popular neighborhoods.  Check out homes in Nampa and Caldwell as these are great alternatives to get more house for less money,  just 20-30minutes from Boise.
Financing.  It is imperative that you have your financing in place BEFORE starting the home buying process.  A local lender, that understands this market and your options is the best place to start.  Have earnest money set aside as well as closing costs before you start the process, so you know how much you can afford and put your best offer forward.  If you are planning on using all cash to pay for a home have your proof of funds letter ready so this can be submitted with an offer, making your offer look reliable.
Put your best offer out there.  Remember, turn-key homes, or competitively priced homes in desirable areas attract multiple buyers.  To get your offer noticed, put together the best offer possible and remember most homes are selling at full-price or over asking price.  "Good Deals" aren't really happening right now.  Put your best number and terms out there that you can comfortably live with.  The right home always comes around so be patient that it may take a few tries before finding the right home, but have faith it's out there.
Selling a Home in a Sellers Market
Despite how easy it may look to sell a home in this market there are certain factors that homeowners should consider before selling their home.  The first factor is price.  Many homeowners rely on online real estate websites and the home that sold down the street to price their own home.  These are great places to start, but with Idaho being a non-disclosure state, Zillow's Zestimates and other online websites are typically dramatically off on price.  And unless you know what your neighbor sold his house for and how it actually compares to your home in the eyes of an appraiser you might be using the wrong information to price your home either too high or too low.
Having worked with many homeowners the past couple of years I notice that the common thought among many of them is to price high and see what the market brings.  Unfortunately, that line of reasoning usually leads to homes sitting on the market, drastic price cuts, and disappointed sellers.  Fair Market Value is the ideal place to price a home in this market.  Too low and you will most likely get multiple offers, but they may not go as high as if you started at the right price range.  Start too high and you scare away many buyers that may have potentially paid your desired price but were cautious not to start the process knowing that most homes sell over the asking price.  How do you find what is the Fair Market Value for your home? Find a real estate agent with experience selling homes in your area and home type.
In Treasure Valley's current housing market, we are seeing more than just price plays a role in the offer a homeowner chooses to accept.  The terms of the offer can often be more appealing than the price itself.   Over the past few months, more and more buyers are waiving their home inspection, or agreeing up front to purchase the home "as is", meaning not asking for any repairs.  Additionally, some buyers using financing to purchase may agree up front to make up any difference in price should an appraisal come in lower than the agreed-upon price.  This along with other terms can make an offer more solid and secure in the eyes of the homeowner and may be worth more than just the final price.
Here is the median price breakdown for single-family existing & new homes in Ada and Canyon County for April 2021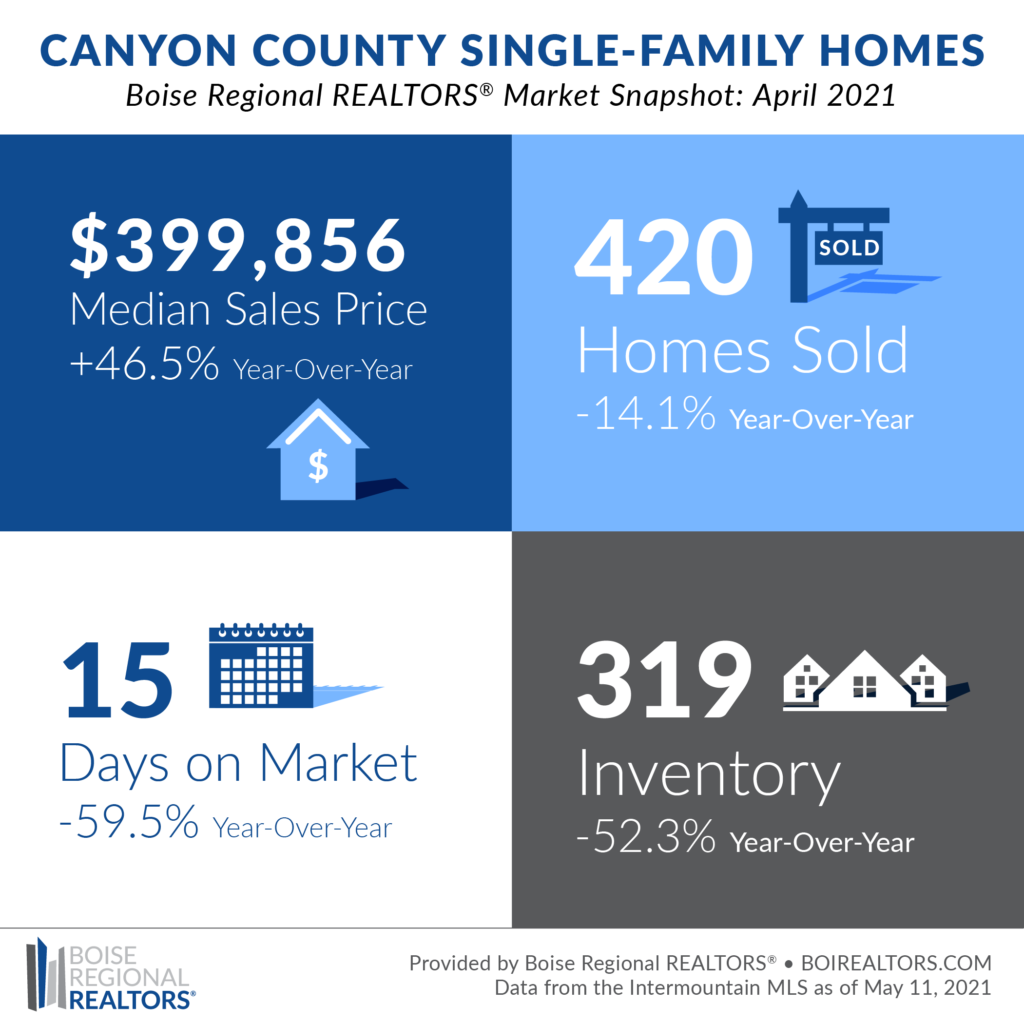 Median Sold Price
Canyon County: $399,856
Nampa: $385,817
Middleton: $441,000
Caldwell:  $370,000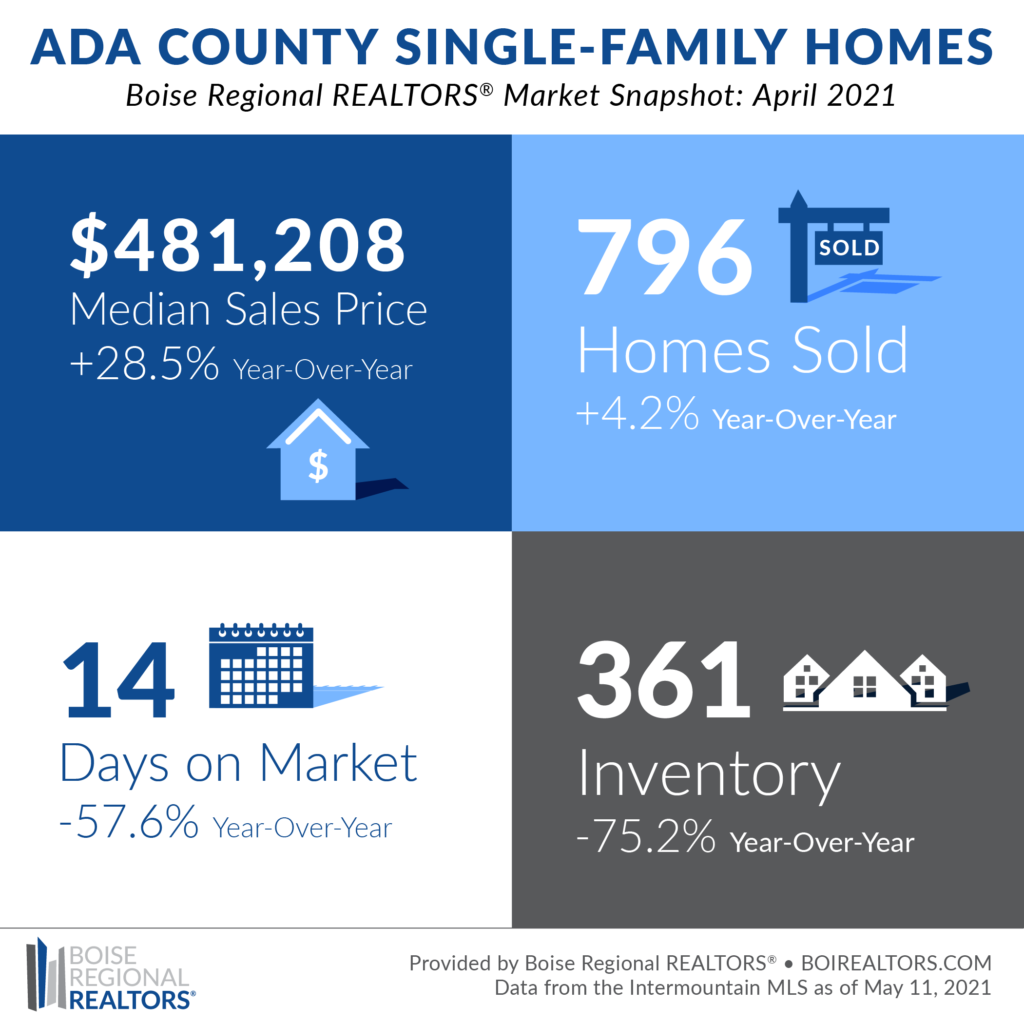 Median Sold Price
Boise $458,000
Meridian: $455,500
Eagle : $737,000
Star:  $485,000
Kuna: $417,000