Home prices have continued to increase breaking records in both Ada and Canyon County all Spring and Summer.  More and more first-time home buyers are finding themselves priced out of the market as home prices hit an affordability wall.  Should we expect the market to continue to soar as we move into the second half of 2021?  Let's look at the past few month's statistics and the current trends to get a realistic idea of where the real estate market is heading through the rest of this year.
Low Inventory Continues to Drive Up Prices
The historic low inventory across the Treasure Valley is the driver in the drastic price increases in homes the past few months and we are still nowhere near seeing it level out.  To better understand the situation homes that take 30 days or longer to sell would be considered a Buyers Market, homes under 30 days a Sellers Market.  Here across the Treasure Valley, we have seen for several years homes selling in record time, typically less than seven days.
Ada County YTD – 77% of homes have sold in 7 days or less and only 9% took 30 days or more to sell.

Canyon County YTD –  74% of homes sold in 7 days or less with only 8% selling in 30 days or longer.
We're not just in a Seller's Market, we're in a WHITE HOT SELLERS MARKET.  If we compare the Days on Market with last year we can see just how much things have changed.  2020 was known as a very hot market, but the numbers show that in Ada County 55% of homes sold in 7 days or less, and 26% took over 30 days to go pending.  That means homes are selling even 20% quicker this year than last year.
Will Boise Metro Home Prices Eventually Cool?
If we look at the homes on the MLS or market today (7/15/21), especially in Ada County, we are starting to see homes sit a few days longer than the past several months.  This could be contributed to the builders releasing more spec homes with longer closing times than existing homes, but it also could point to the fact we are nearing an affordability wall.  Meaning the median price of homes is becoming less affordable for the majority of buyers actively looking to purchase a home.
The median price for a single-family home in Ada County in June hit the mouth dropping $525,000 median price and $424,000 in Canyon County.
This pricing, along with a fast-paced market has made buying a home inaccessible to many who may otherwise have been home shopping.  Even with record low interest rates many home buyers are finding homes at these prices to no longer be affordable.
Yet, there is some light at the end of the home buying tunnel according to National Association of Realtors NAR Chief Economist, Lawrence Yun,
"Supply is expected to improve, which will give buyers more options and help tamp down record-high asking prices for existing homes."
As we see an increase in inventory, and less home buyers on the market due to affordability we should start to see the dramatic increase in prices taper off.
What to Expect Today on the Market
It's important to note, however, that homes priced in the fair market value range or below still have a tendency to sell for over the asking price.   As homes enter the market, multiple buyers are attempting to purchase the home, creating a competition to come up with the best offer.  What the best offer depends on the seller and what they are looking for, but generally price, financing, and days to close along with other terms to make the offer more appealing and are what will make one offer stand out from the others. Here's a snapshot of home prices so far this year: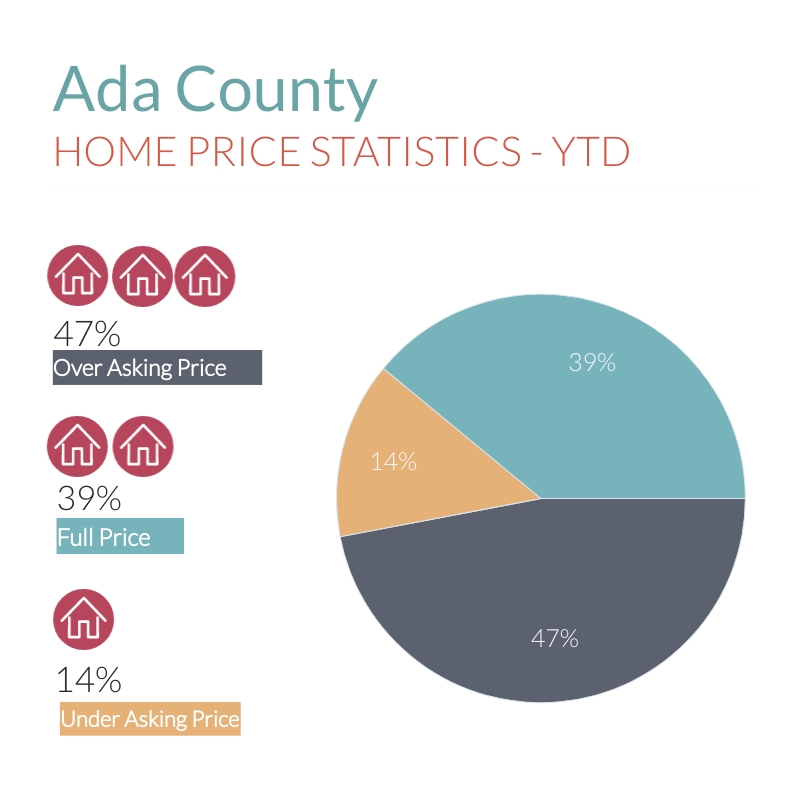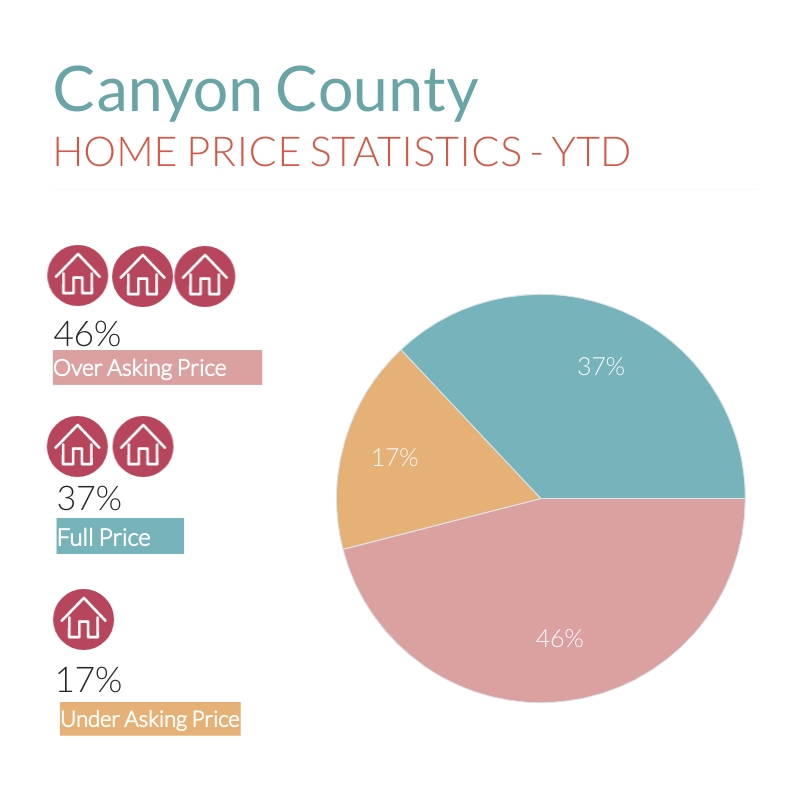 The charts demonstrate that the vast majority of homes this year have sold at the asking price and above.  Very few homes are selling under the asking price.  It will be interesting to watch as sellers attempt to increase prices if we will see these same statistics in the coming months.  Most likely we will see the prices start to flatten or level out, but only time will tell. Another interesting fact is that 22% of the homes sold in Ada County YTD sold with cash, a slight increase over last year, but still the majority of homes are selling with financing from a lender.  With interest rates still at historic low rates, and home prices going up many have opted to get a loan rather than use all their cash on a home purchase.   In Canyon County just over 18% of homes were purchased with cash and the remaining 82% with a financing from a lender.
There's Never Been a Better Time to Sell.
With the median sales price breaking records and buyers from out of state continuing to move to the area during the summer months the market remains hot.  Yet, the statistics and data above show a possible cooling in the market in the coming months, meaning that sellers shouldn't expect prices to continue to go up and sell as quickly as we've seen the past year.  One main clue is looking at new construction.  Builders are starting to release their inventory and we're starting to see price drops in many of the spec homes coming on to the market.
68% of spec homes actively for sale have dropped their price as of 7/15/21.
New construction is a great indicator of the market and the increase of inventory they are putting out on the market along with the price reductions point towards a cooling of home prices across the board..  Homeowners who have been considering selling would be wise to start getting their homes prepared to sell now to maximize the sales value and have a chance at getting multiple offers.
Here is the median price breakdown for single-family existing & new homes in Ada and Canyon County for June 2021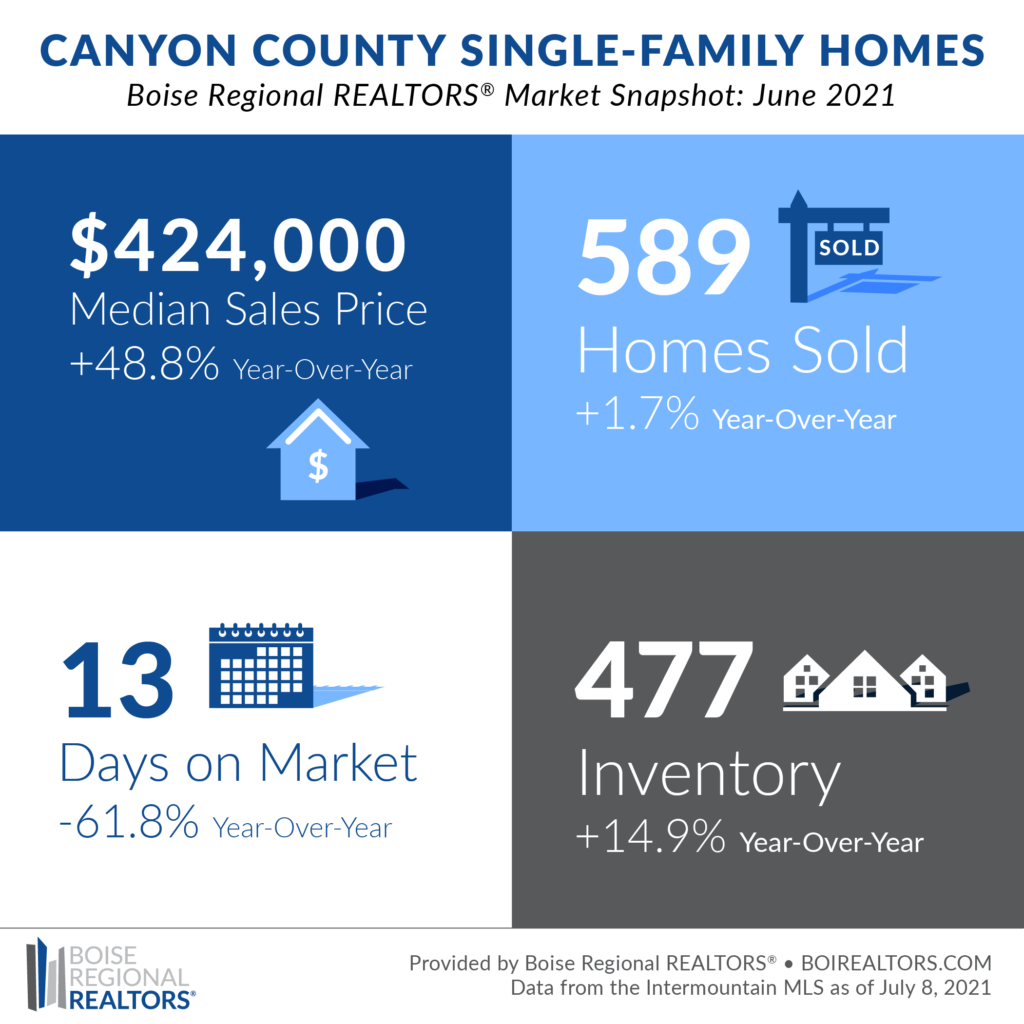 Median Sold Price
Nampa: $415,000
Middleton: $430,000
Caldwell: $404,000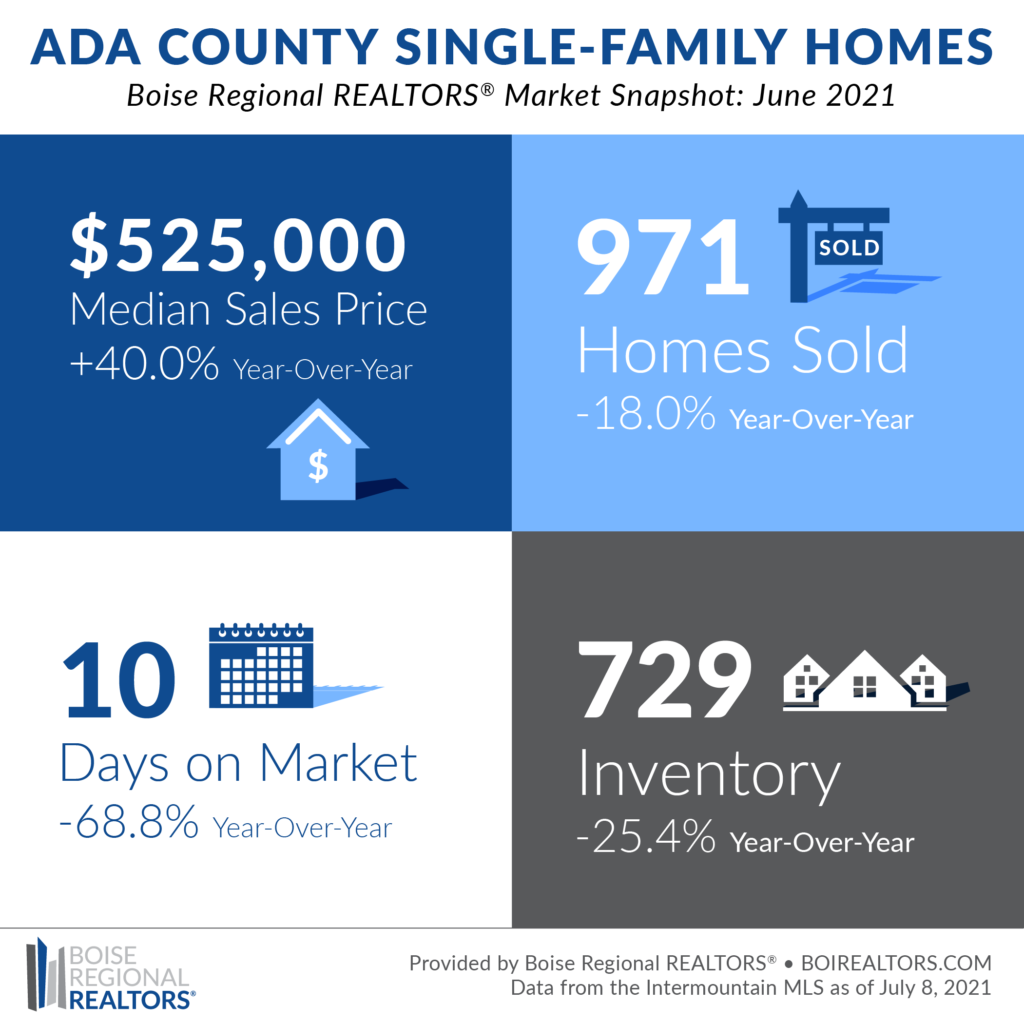 Median Sold Price
Boise $500,000
Meridian: $455,500
Eagle : $849,000
Star:  $532,000
Kuna: $455,000