Boise area home prices have recently dipped in many neighborhoods, and homes are sitting longer on the market than we've seen in the past year.  Do these changes point towards a new real estate market in the Treasure Valley or is there another explanation?  Let's examine the recent facts and trends.
Why so many price drops?
Historically in residential real estate in the Treasure Valley during Fall, we see home prices start to go down until Spring.  In 2020 we didn't have the same seasonality change from previous years so the recent seasonal dip we are experiencing may have caught many off guard.  Additionally, towards the end of this Summer, many of the larger builders released a lot of their homes, dropping prices and offering promos which increased the overall inventory of homes for sale in the Valley.  This was a major contributor to the price drops we saw.  For example in Ada County in January-July 60% of the single-family homes sold over asking price and only 16% under the list price.  Compare that to August and September where 35% of homes sold over the asking price and 37% sold below the list price.  That's a big shift.  The same happened in Canyon County. From Jan-July only 19% of home sales sold below asking price and that jumped to 31% in Aug-Sept.  Below is the chart showing how much homes dipped over the past two months compared with earlier in the year to give you a clear idea.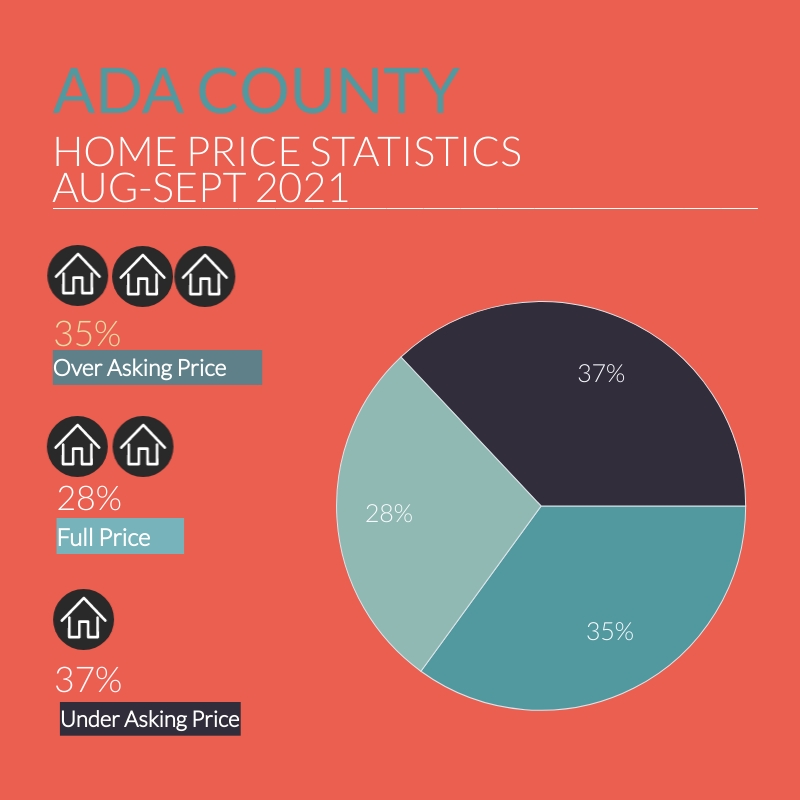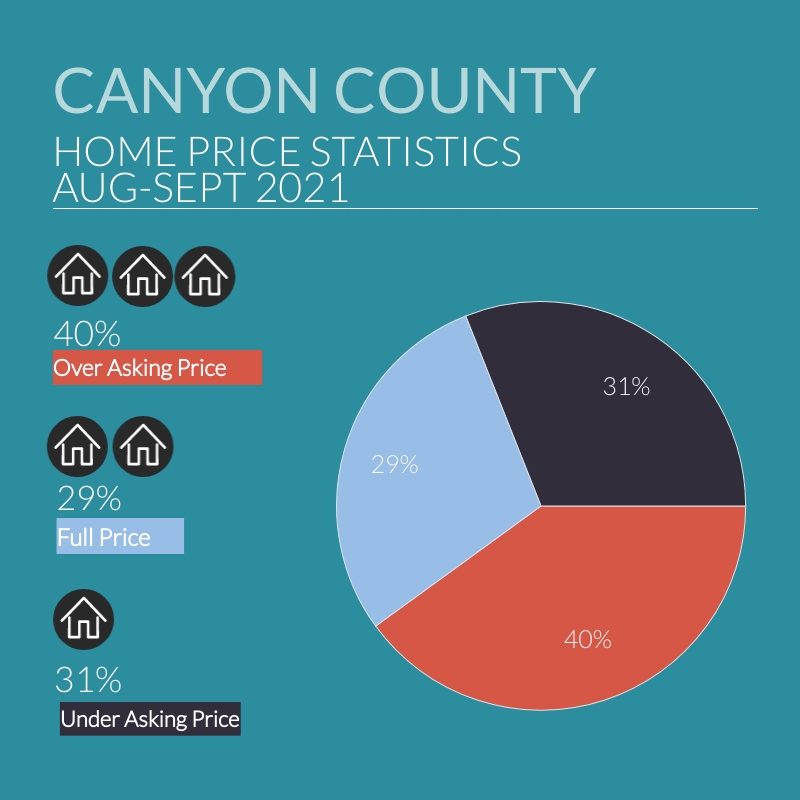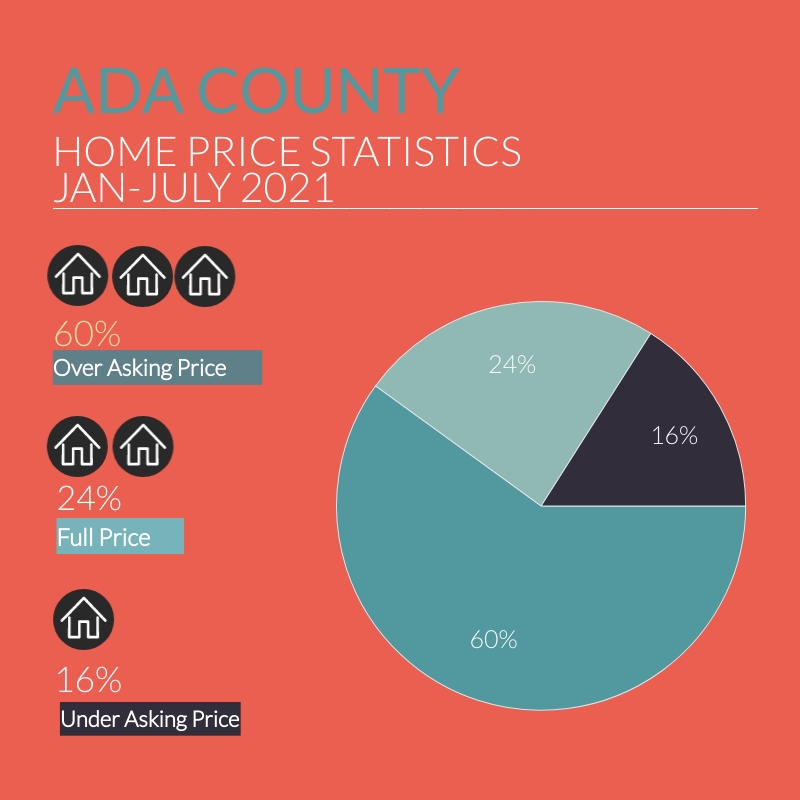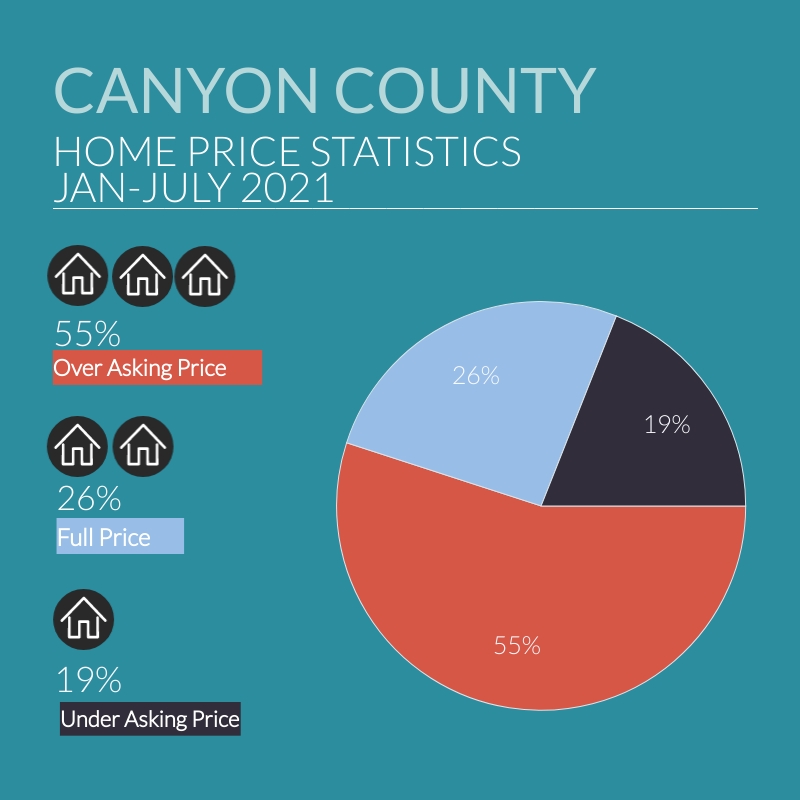 Another factor is the affordability wall that the Boise Metro Area has hit.  Ada County's median home price last month was over $530,000 and Canyon County hit a record $422,000 in September.  Homes priced above the median price are seeing the most price drops and sitting longer than other homes in the same area.
For most first-time homebuyers the dramatic increase in prices in 2020-2021 has priced them out of the market.  What this means is with fewer buyers, and more inventory we have seen a slight drop in home prices and an increase in the time homes stay on the market before selling.
Ada County homes in Aug-Sept spent  an avg 14 Days on Market compared to 11 in January-July.

Canyon County homes in Aug-Sept spent an avg 13 DOM compared to 9 from Jan-July of this year.
How much inventory does Boise Metro Have?
It's important to note that even with the increase in inventory we saw in the past few months, we are still nowhere near where we need to be in order to be considered a balanced market (six months of inventory).  In fact, we only have about six weeks of inventory available in both Ada and Canyon County.  This is nearly a month increase from a year ago at this time, but still far from what is needed comparing to the demand.  To explain it differently, in September we had 1,249 homes available for sale, in order for it to be balanced, we would need to have nearly triple that number available.  Check out the stats produced by Boise Regional Realtors giving a 2020/2021 comparison in the inventory shift we're witnessing.

What can we expect in 2022?
Supply and demand will continue to spur the price increases in the Valley.  We can expect that home prices will remain relatively flat until Spring of 2022 and then as more buyers enter the market we will start to see prices increase.  By how much?  A lot of that depends on how many buyers there are.  However as we stated earlier we have hit a price wall for many first-time home buyers, and if mortgage interest rates were to increase we can expect fewer buyers in the mix next year compared to the past year. Fewer buyers mean higher supply and although home prices will continue to increase, we can expect less dramatic increases than we've seen the past few years.  With that said homes may stay on the market longer than we are used to.  Instead of 7 Days on Market, we may see that number double.  This also may mean fewer bidding wars taking a bit more of the selling power away from Sellers that they have come accustomed to.
Is it a good time to buy a home in Boise?
Buyers, this is an excellent time to invest in real estate in the area.  As this article showed Boise home prices have dipped and led to a bit more inventory to choose from compared to the past.  This along with low-interest rates means buyers are able to get into a home with a bit more ease than we've previously seen.  The facts and trends area all showing that home values will continue to increase due to supply and demand which means investing now will equal quick equity in a home.
When should I sell my home?
We are still very much in a seller's market and homes prepped, staged, and priced correctly are still selling relatively quickly and for record pricing.  It's imperative to hire the right real estate agent to sell your home.  You may be tempted to use a budget real estate service, or someone you know, but in Southern Idaho's unusual, fast-paced real estate market hiring an expert who knows, understands your home and area is key to getting you the best price and terms on your sale.
Here's the snapshot of Median Home prices as of September 2021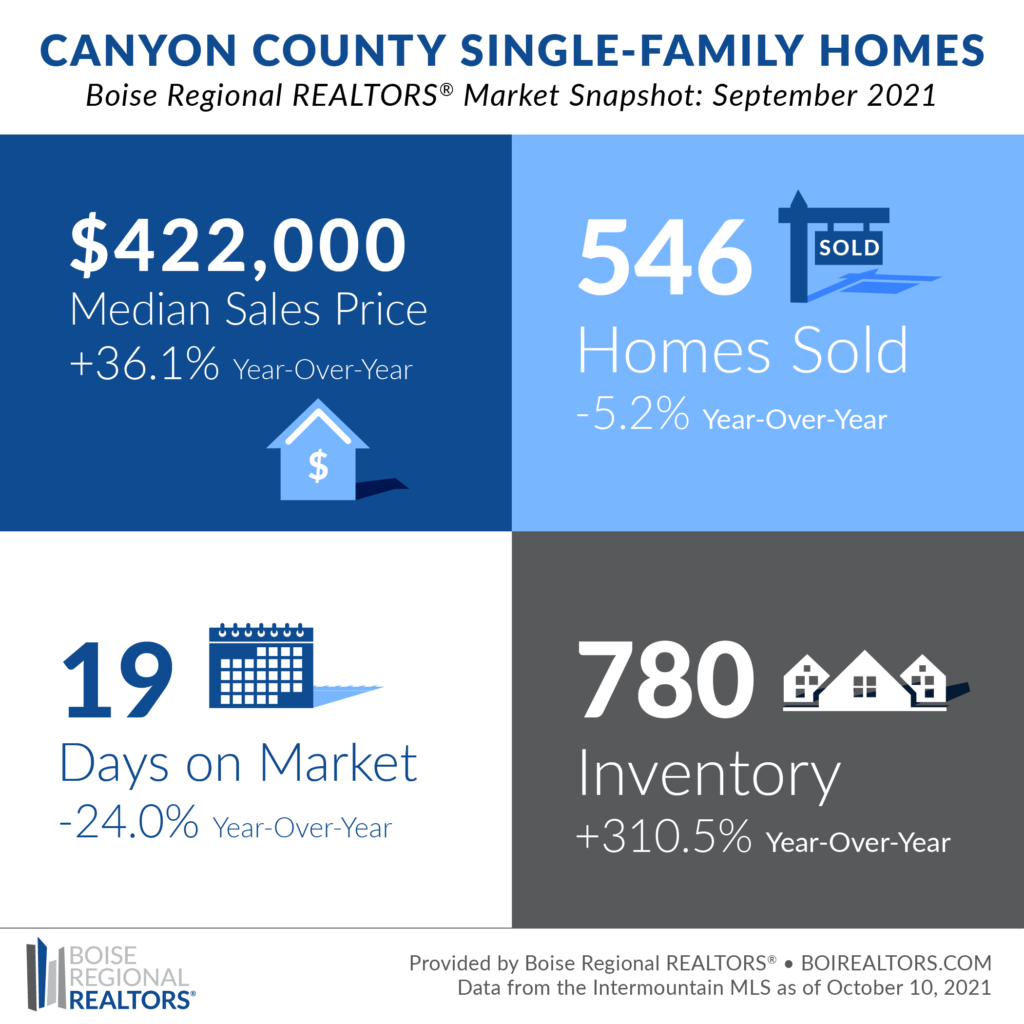 Median Sold Price
Nampa: $417,000
Middleton: $475,000
Caldwell: $400,000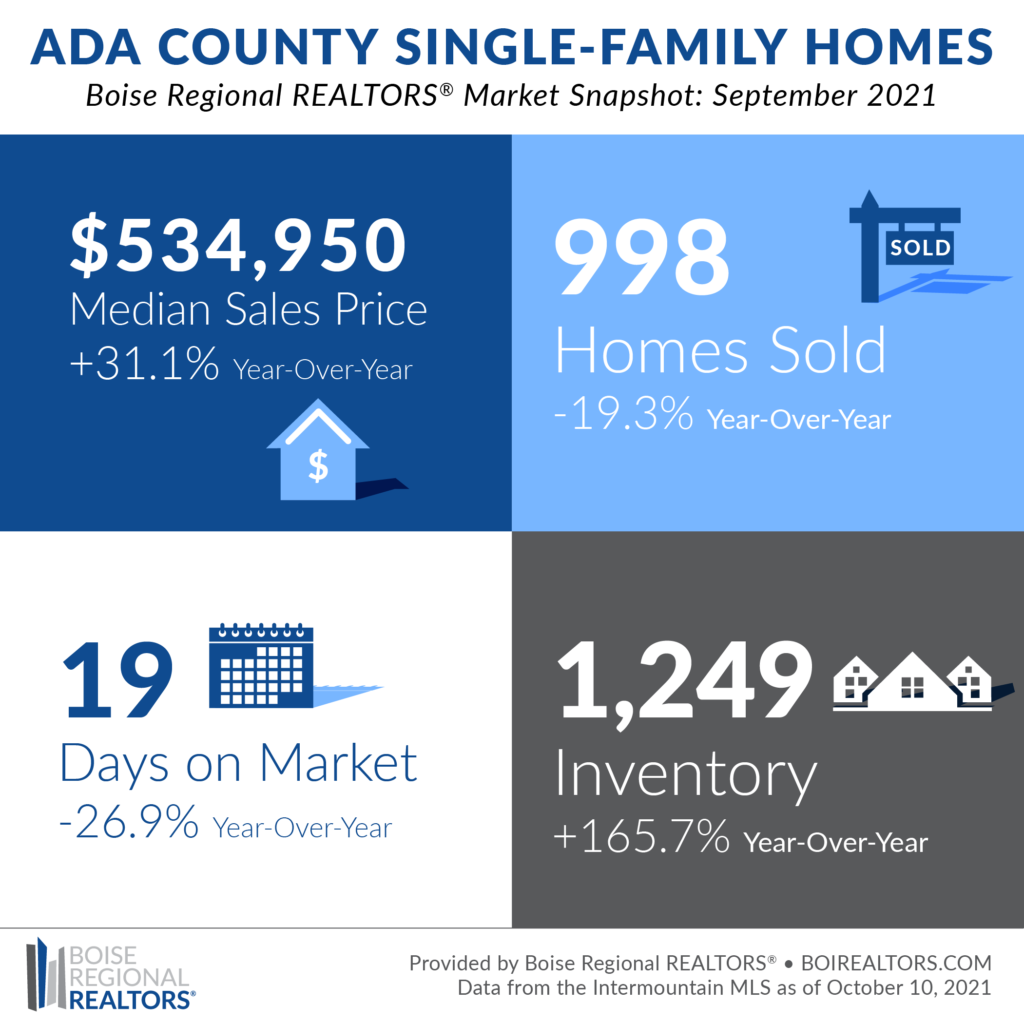 Median Sold Price
Boise: $546,000
Meridian: $545,000
Kuna: $436,000
Eagle: $765,000
Star: $543,000